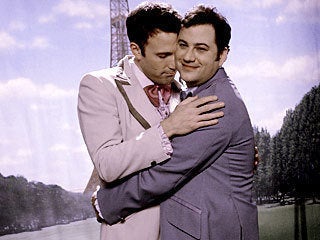 How did this bold pairing come about?
I remember seeing Matt's [video] and thinking to myself, ''Oh, it would be funny to do one with me and Jimmy.'' They called and immediately I was like, ''Yes, it should be this idea...,'' and they had the same idea more or less already. I have a lot of respect for the group over there -- they're really good comedians -- so I just committed to it. Everything I got from them was really funny and made me excited. Although some of it was a little bit like... [Laughs] I looked at it on paper and thought, ''Wow. Okay. I can do this. I can handle it.''

What took you by surprise? The tight outfits? The toe-painting?
You couldn't really do it half-speed. You had to be painting toes and blow-drying hair. At one point we were going to take a bath together, but the bubbles couldn't get high enough, so that ended up getting scrapped. The little outfits, the short shorts, the hands in the pockets -- it wouldn't have been funny if you didn't really commit to it.
Meanwhile, Jimmy spoke with People and had nothing but nice things to say about his onscreen lover:
"Ben could not have been more sporting," he told PEOPLE of his video costar. (The song was designed as a retaliation against Kimmel's girlfriend Sarah Silverman for her clip, "I'm F---king Matt Damon.) "He told us, 'Listen, if we're going to do this, we've got to do it right. I don't want you guys to worry about my image.' "
Popular in the Community