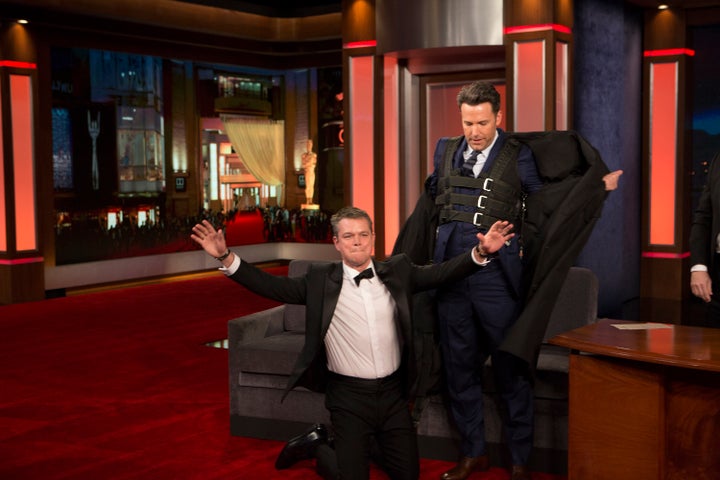 The best moment of the 2016 Oscars might've happened after the Academy Awards were over. 
Best friends Matt Damon and Ben Affleck proved that they've got dad jokes for days on Sunday night's Oscars edition of "Jimmy Kimmel Live!" Affleck attempted to sneak the "Bourne" actor onto the show, despite Damon's years-long "feud" with Kimmel. With the help of a good disguise and some superhero strength, Affleck almost got away with it. 
"No offense, I really don't mean to put you in an uncomfortable position, but you've really ballooned up," Kimmel said when he saw Affleck's new "shape."
"Ah, thanks, I didn't know this was going to be about body-shaming tonight," Affleck countered, before Kimmel started getting suspicious and decided to open up the actor's moving, stuffed coat. 
Watch the hilarious moment unfold in the video below:  
Just after Kimmel opened the coat, Damon emerged, breathing heavily. 
Affleck attempted to settle Damon and Kimmel's ongoing feud, and the talk show host even let Damon sit in a guest chair. But -- true to form -- Kimmel eventually had the "Bourne" actor thrown out.
The prank was similar to one two Redditors pulled earlier this year, with one friend sneaking the other into a movie theater by carrying him. They were a bit more successful than Affleck and Damon and ended up getting away with the prank: 
They should win an Oscar for that performance! 
REAL LIFE. REAL NEWS. REAL VOICES.
Help us tell more of the stories that matter from voices that too often remain unheard.
BEFORE YOU GO
PHOTO GALLERY
Best-Dressed Oscars 2016