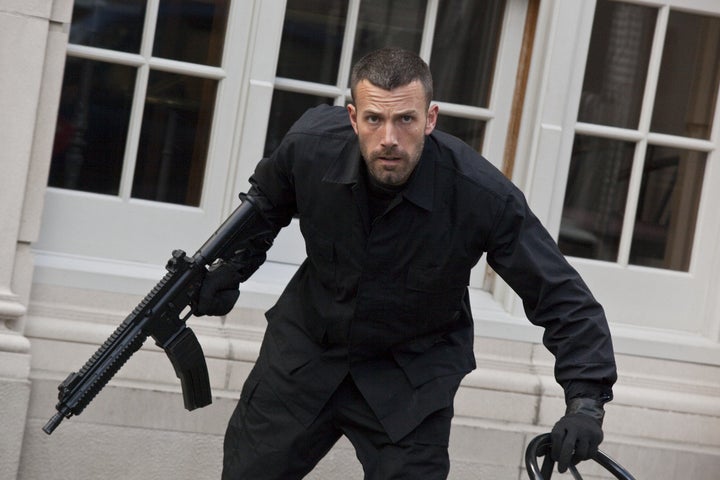 In a conference meeting on Tuesday, House Majority Whip Kevin McCarthy (R-Calif.) showed a scene from the film in which Doug MacRay, a bank robber played by Ben Affleck, asks his friend to participate in a violent revenge attack. It was an odd note to sound during a debt ceiling debate -- and more than that, it was an unusual way of fostering unity among the ranks.
On Wednesday, Affleck -- who wrote and directed "The Town" -- said that he too found the whole scenario a touch bizarre. And in a statement his spokesperson provided to The Huffington Post, he suggested that Republicans use a different one of his movies next time they need to whip votes.
"I don't know if this is a compliment or the ultimate repudiation," said the actor, who is currently in Turkey directing and starring in "Argo," an adaptation of the Tehran hostage crisis. "But if they're going to be watching movies, I think "The Company Men" is more appropriate."
That latter Affleck flick focuses on the plight of middle age men who have been laid off during the recession. (One of them, depressed about being unemployed, later kills himself.) Whether that message would resonate in the GOP caucus is anyone's guess. But the likelihood is that McCarthy knows his members a bit better than Affleck. According to the Post, Rep. Allen West (R-Fla), one of the most intransigent Tea Party members of the freshman class, was won over by the gambit.
House Majority Whip Kevin McCarthy (R-Calif.), the party's vote counter, began his talk by showing a clip from the movie, "The Town", trying to forge a sense of unity among the independent-minded caucus.

One character asks his friend: "I need your help. I can't tell you what it is. You can never ask me about it later."

"Whose car are we gonna take," the character says.

After showing the clip, Rep. Allen West (R-Fla.), one of the most outspoken critics of leadership among the 87 freshmen, stood up to speak, according to GOP aides.

"I'm ready to drive the car," West replied, surprising many Republicans by giving his full -throated support for the plan.
Popular in the Community