What's better than Ben & Jerry's ice cream? Ben & Jerry's beer.
And if you can have beer and ice cream at the same time, while possibly doing good for the environment, well, that's hard to beat.
Ever the socially conscious company, Ben & Jerry's partnered with Colorado-based New Belgium Brewing to meld minds (and ingredients) and create a new limited-edition beer and ice cream that not only tastes really good together, but hopes to raise awareness of climate change.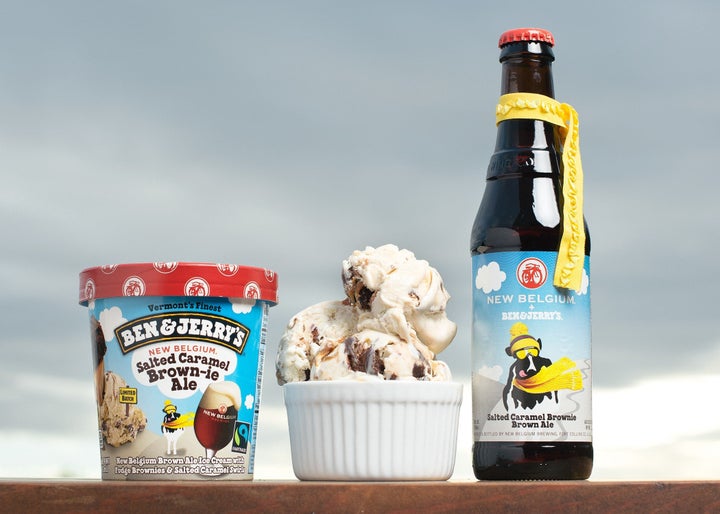 Ben & Jerry's new ice cream flavor, called Salted Caramel Brown-ie Ale, is made with New Belgium Brown Ale, salted caramel swirls and chunks of fudge brownie.
We were lucky to try it, and it tastes creamy, with an aftertaste that brings out the notes of the beer. And in good news for those of you who don't love beer, it doesn't have a strong beer flavor.
Also being released is an accompanying beer, New Belgium's limited-edition Salted Caramel Brownie Brown Ale. Drop a scoop of the ice cream into the ale, and you've got a match made for each other -- literally. The limited-edition beer is dark in color but medium-bodied with hints of chocolate and vanilla; not too sweet, but not too heavy.
Both are available in stores now through the holiday season, or while supplies last.
"Beer and ice cream are a beautiful pair and getting to turn folks onto the work of POW makes this collaboration that much more meaningful," said Bryan Simpson, the PR director for New Belgium Brewing.
"Never has the phrase 'polishing off a pint' been so perfectly poised in any partnership for a delicious double-entendre," Ben & Jerry's said in a statement.