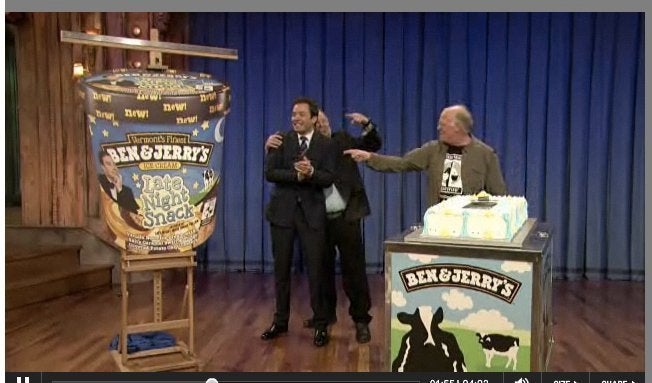 In honor of the second anniversary of the Late Night With Jimmy Fallon show, Fallon celebrated with an ice cream cake trotted out by Ben Cohen and Jerry Greenfield of Ben & Jerry's. It was an opportunity to officially unveil their newest ice cream flavor, Jimmy Fallon's "Late Night Snack," a Fair Trade vanilla bean ice cream with a salty caramel swirl and fudge covered potato chip clusters.
This flavor works well for late night "munchies," Ben and Jerry explained, when you can't decide between salty or sweet.
The verdict? Slashfood gives the flavor an "A," explaining that "the fudge-covered potato chip clusters of 'Late Night Snack' add a nice texture, but the clusters don't get in the way of the smoothness and creaminess of the ice cream and caramel."
[La]st night famed San Francisco-based ice cream shop Humphry Slocombe tweeted: "Wow, nice new flavor Ben & Jerry. When's the last time you had dinner @Sporksf?"

Turns out that Sporks Restaurant in San Francisco exclusively serves the "After School Special" ice cream produced by Humphry Slocombe which has nearly the identical ingredients...
In an email to Eater, Humphry Slocombe co-owner Jake Godby said Ben & Jerry's "[took] the work of a small neighborhood ice cream shop." Concluding, "Rude."
When Ben & Jerry's responds to the flavor's uncanny similarity with Humphry Slocombe's "After School Special," we'll let you know.
The story Ben & Jerry's will presumably be sticking to is that "Late Night Snack" was inspired after last summer's sketch, "Ladysmith Snack Mambazo," which highlighted how much Fallon and his crew loved Ben & Jerry's ice cream. So, the Vermont-based company sent Fallon ice cream and the idea for a flavor partnership was born, as The Feast explains.
Related
Popular in the Community