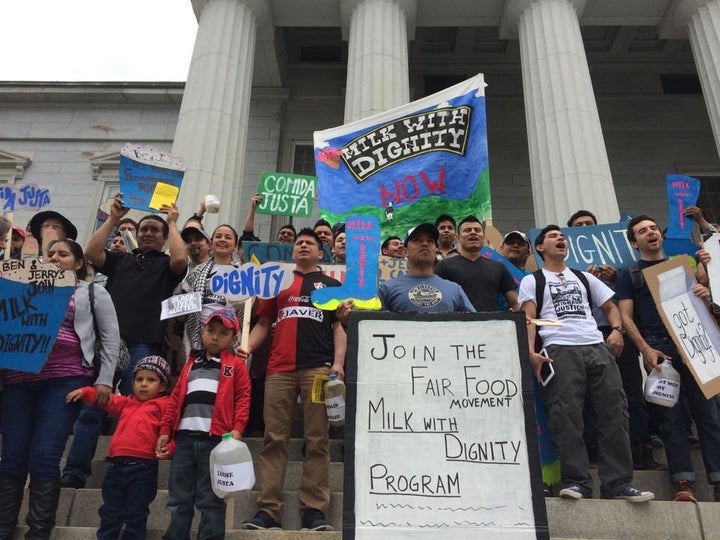 If you're planning on lining up at your local Ben & Jerry's scoop shop for Free Cone Day on April 4, you may come across more than just 5-gallon buckets of Phish Food and Chubby Hubby. There may be protests held outside the doors and folks eager to educate you on something called "Milk with Dignity."
Will Lambek at Migrant Justice explained the program to HuffPost: "The Milk with Dignity program is a worker-driven social responsibility program that has been created by Migrant Justice that dairy companies can sign on to, sign a contract with Migrant Justice and implement the program within their supply chain. We've approached Ben & Jerry's to give them the opportunity to be the first company to make that move."
"In 2015, the commitment that was signed [between Ben & Jerry's and Migrant Justice] was a commitment to work with Migrant Justice to implement that program in their supply chain, and that's what they've yet to do," Lambek elaborates.
And that's why you may find people holding signs outside your local Ben & Jerry's scoop shop, hoping to educate you on the Milk with Dignity campaign.
Ben & Jerry's is a beloved company that's very vocal and active in its stance on social justice, which is why Migrant Justice reached out to them in the first place. So why is Ben & Jerry's dragging its feet on making a change?
We talked to Ben & Jerry's to see what was taking so long. Rob Michalak, the Global Social Mission Director at Ben & Jerry's, said that it's all "dependent upon when everyone can sit back down at the table again and talk openly about issues, as soon as we can work through final details." Michalak explained that while it feels like two years have passed and nothing has taken place, there has actually been a lot of work going on behind closed doors from the two parties.
When asked about how Ben & Jerry's feels about the action taking place on Free Cone Day, Michalak said, "We're very much supportive of people's right to make the statements they need to make."
Think about that while you line up for your free ice cream.