A neurotic gay man laments his romantic fate in "Something New," Ben Baur's charming and refreshingly diverse film that sheds light on the self-imposed obstacles that come between many people and satisfying relationships.
HuffPost got a sneak peek at the independent short, slated to debut online Thursday after a successful festival run, with the clip above. Directed by TJ Marchbank, "Something New" follows the unlucky-in-love Jonah (Baur), whose fear of intimacy is compounded by memories of his ex-boyfriend, Scott (Doug Locke). He finds solace in chats with his bestie, Val (Ruby Hanger), as well as a steamy rendezvous with a Grindr hookup, Adam (Johnny Sibilly). Things take an awkward turn, however, once Adam suggests he and Jonah move their relationship out into the daylight.
Baur said he got the idea for "Something New" from an ex "who had all these hangups about how we met," and winks at a number of romantic comedy tropes in a tongue-in-cheek effort to be seen as "a gay male Meg Ryan." The actor and writer believes the film depicts how ― as in "When Harry Met Sally..." and "Sleepless in Seattle" ― love can truly be found in a hopeless place.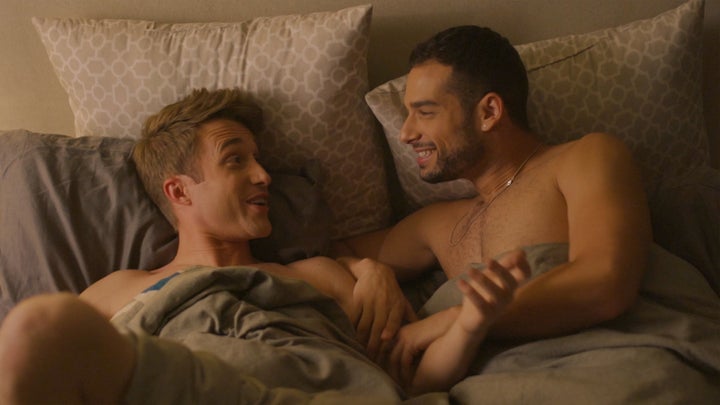 "Showing the struggle that we, as members of the [LGBTQ] community, face day-to-day is so important," the 31-year-old Oregon native, whose credits include the online series "Hunting Season," as well as appearances on "Difficult People" and "General Hospital," told HuffPost. "However, I wanted to tell a story about a guy whose struggles are that of any heroine in any mainstream rom-com, who just happens to be gay. I think that kind of representation is just as important."
"I hear a lot of people say that it just makes them feel good," Baur said, "which makes me feel good."
Ultimately, Baur said he hopes viewers will come away from "Something New" with the understanding that "love doesn't have to look like anything."
He then quipped: "If he broke your heart, unfollow him!"
"Something New" debuts online Thursday. Head here for more details.