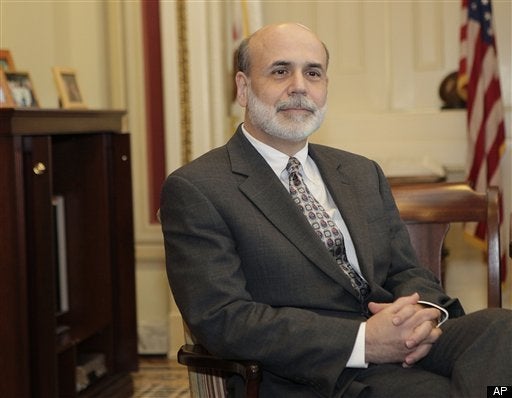 The Senate confirmed Ben Bernanke to a second term as Federal Reserve chairman on Thursday after a furious lobbying effort from the administration and threats from leading Democrats and Wall Street investors that the market would tank if Bernanke was turned back.
Seventy seven senators voted to end a filibuster, but when the final vote came, only 70 voted to support him, meaning seven cast one vote to move him forward and one vote against. The 30 no votes against Bernanke were the most any Federal Reserve chair nominee has ever received.
The White House relied on 22 Republicans and 48 Democrats to push the nominee through.
A coalition of rank-and-file senators from both parties made the case against Bernanke, arguing that he failed to see a housing bubble that blew up and brought down the economy, chose not to enforce consumer protection laws, blocked congressional attempts to obtain documents that would shed light on his actions before, during and after the financial collapse, testified on behalf of cuts in Medicare and Social Security, and failed to regulate the derivatives market, which nearly took down the global economic system.
"In short, Bernanke's decisions over the last eight years -- as a member of the Federal reserve Board, as [President Bush's] Chair of the Council of Economic Advisors, and as Chairman of the Fed -- helped set the fire that destroyed the economy," Sen. Jeff Merkley (D-Oregon) told his colleagues in a letter opposing his nomination.
Sen. Patrick Leahy (D-Vt.), who voted for Bernanke's confirmation, said that he heard one senator on the floor reason "Better the devil I know than the devil I don't know."
Sen. Chris Dodd (D-Conn.), chairman of the Banking Committee, cast the first vote to end the filibuster after spending the last two weeks warning his colleagues about what rebuffing Bernanke would do the stock market. "Warren Buffett was asked on CNBC on this nomination. All he said, 'If you turn him down, let me know in a day or two of advance because I would like to sell off stocks.' Why? 'Because the message to the stock market would be a devastating one,'" Dodd told the chamber.
Dodd, other Senate leaders, and the White House, with the personal involvement of President Obama, cajoled senators reluctant to support Bernanke in a difficult political climate.
As the final vote came to a close, Sen. Richard Shelby (R-Ala.), the ranking Republican on the committee and a Bernanke opponent, noted to Dodd that a few people who had said they'd be no votes had changed their minds.
Dodd could be overheard in the press gallery correcting his terminology. "They were reconsidered," Dodd said, as he and Shelby shared a laugh.
Dodd then turned to Sen. Evan Bayh (D-Ind.), who was casting his aye vote, waved and said, "Thank you." Bayh nodded back.
The seven senators who voted for cloture but against Bernanke included six Democrats and Florida Republican Sen. George Lemieux, who is retiring in 2010. Sen. Ted Kaufman (D-Del.) is also retiring. Senators on their way out often promise leadership they will "be there on cloture," but are then freed to vote against final passage. Sen. Byron Dorgan (D-N.D.) is also retiring and voted yes on cloture but no on final passage.
Democratic Sens. Barbara Boxer (Calif.), Al Franken (Minn.), Tom Harkin (Iowa) and Sheldon Whitehouse (R.I.) also flipped their votes.
Whitehouse told HuffPost after the vote that it would have been hypocritical of him to filibuster the nominee, because he'd been critical of his colleagues who abused the filibuster in the past. "I'm for moving through cloture on this stuff. I've been annoyed by the Republican cloture blockades and I've been critical of members of my caucus who've denied the leader cloture. It would be highly inconsistent to vote against cloture," he said. "I hope that my vote against him will help send a message to economic leadership that they need to pivot and they need to back off the record of, 'Banks win every dispute with consumers and the public.'"
Franken expressed a similar sentiment. "While I voted for cloture because I believed this nomination deserved an up or down vote, I couldn't in good conscience support it," Franken said in a statement after the vote, after declining to talk to a HuffPost reporter in the hallway.
Franken said he opposed the nomination because he didn't get the assurances he wanted about consumer protection. "A strong Consumer Financial Protection Agency and other consumer protections are essential to securing our economy for Main Street and the middle class," Franken said. "I needed to know that a robust CFPA would be a part of financial regulatory reform in order to support Chairman Bernanke's confirmation to a second term. As governor of the Federal Reserve and then Chairman of the Federal Reserve, Bernanke did almost nothing to protect consumers and when he did, it was too late. I needed the assurance that would improve. And I didn't get that."
"I wasn't somebody who wanted to prevent a vote on it," Dorgan said after the vote.
The lesson here: Centrist and conservative senators are willing to deny an up-or-down vote on policy they oppose, but progressive senators often are not. That dynamic tilts political power toward leadership and conservative priorities.
Bernanke's opponents pointed to the relative success of their push against his confirmation, which was considered a virtual certainty two weeks ago but became an open question following the election of a Republican, Scott Brown, in the Massachusetts Senate election. "I think it's important for him to note that he did have 30 votes-plus [sic] against him. I think the message is, take a look at Main Street, not just Wall Street," Sen. Barbara Boxer (D-Calif.) said.
Sen. Bernie Sanders (I-Vt.), one of Bernanke's earliest and most vocal Senate opponents, said that message should be heard on Pennsylvania Avenue as well. "In this particular fight we were taking on the powers of Wall Street -- those guys don't lose very often -- and in fact the White House pulled out all the stops on this one," Sanders said. "Obviously I wish we could have gotten more votes, but we did get more votes in opposition to the reappointment of a Fed chairman than at any time in history, and I hope that at least sends a signal to Mr. Bernanke and to the White House that the Fed has finally got to begin to protect the interests of the middle class and working families and small businesspeople of this country rather than the CEOs of Wall Street."
Undecided Democrats who did ultimately vote for Bernanke said his experience made the difference. "I had to think about it, but I voted for him. Continuity, and the fact that he's been through questioning, et cetera, may be good," said Sen. Jay Rockefeller (D-W.V.).
Related
Popular in the Community