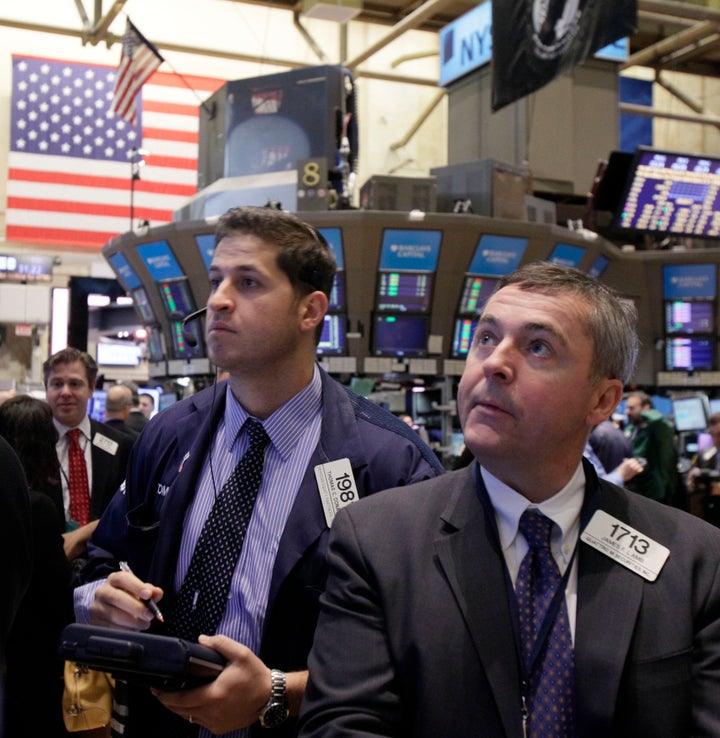 Wall Street's addiction to free money is on full display today.
The Dow Jones Industrial Average was up more than 100 points at lunchtime on the East Coast, while the Nasdaq was up more than one percent and the S&P 500 was up nearly one percent.
The primary reason? Federal Reserve Chairman Ben Bernanke made some notably downbeat comments about the economy today, seeming to put the kibosh on market expectations that the Fed could raise interest rates sooner rather than later.
Bernanke's dedication to low rates also means the Fed is still capable of launching its third round of quantitative easing -- buying up every bond that's not nailed down in an effort to pump more cash into the economy. Pimco chief Bill Gross tweeted today that he thinks the Fed will hint at more QE, or "QE3," in April. Of course, Gross stands to gain by cheerleading investors into thinking the Fed will buy more bonds, because Pimco has been buying bonds in a heavy bet on QE3, Reuters notes.
But Gross is not alone. "[W]e can conclude that QE3...remains on the table as a possibility for later this year should growth fail to pick up," IHS Global Insight chief U.S. economist Nigel Gault wrote in an email about Bernanke's remarks on Monday.
"This isn't a clarion call for more QE, but it strongly indicates that the Fed has not ruled out further easing, nor is likely to exit as early as the market now expects, in our view," wrote Bank of America Merrill Lynch economist Michael Hanson in a research note.
Meanwhile, Germany finally appears to be willing, after resisting for months, to build Europe's "firewall" higher to protect core Europe from being splattered by the debt crises in southern Europe. And this firewall is made of piles and piles of cheap European money, not unlike this guy's house.
So, free cash on both sides of the pond. Little wonder that stocks are higher on both sides of the pond, too.
This was happening despite yet another lousy reading from the U.S. housing market on Monday. The downer du jour was the National Association of Realtors' index of pending home sales, which fell 0.5 percent in February, short of the one percent gain economists expected -- despite freakishly good weather and freakishly low mortgage rates.
And maybe it has hit bottom. But Bernanke and European policy makers still do not think their respective economies are in the clear, obviously. Rather than take this as a sign that maybe they should stop and take inventory after a 100 percent rally since March 2009, investors are taking this as the all-clear to pile still more money into the stock market.
And why not? The Fed has consistently for the past three years picked up the market every time it skins its knee. If the economy beats Bernanke's downbeat expectations, then stocks should rally. If the economy tanks, then the Fed will pump more cash into the market, and stocks will rally.
Seems like a can't-miss proposition. Sort of like housing in the mid-2000s.
REAL LIFE. REAL NEWS. REAL VOICES.
Help us tell more of the stories that matter from voices that too often remain unheard.
BEFORE YOU GO