NATIONAL HARBOR, Md. -- A day after Ben Carson all but officially ended his presidential campaign, his supporters at the annual Conservative Political Action Conference this week are still holding out hope that he'll continue to run.
Carson said in a statement on Wednesday that he didn't see a "path forward" for his candidacy and that he would skip Thursday's GOP debate in Detroit. He's scheduled to speak at the CPAC gathering on Friday, at which point he's expected to address his political future.
Sitting at a booth here, handing out Carson bumper stickers, Carson magnets and pamphlets of Carson's policy proposals, Beth Trivett said she wasn't entirely convinced that he will get out of the race.
"We all had tears at first because we all thought he was dropping out, but I don't know that he's dropping out," Trivett said.
Kathy Steveson, seated at the same booth, was likewise not convinced that Carson is dropping out. She also agreed with his decision to skip Thursday's debate.
"I think maybe there's a bigger plan in the picture for Dr. Carson. I'm glad he doesn't have to participate in the debate because it's a brawling match and he's the gentleman of the five," Steveson said. "I don't know if he's withdrawing. It's not official if he's withdrawing, and wherever he goes, he has over 1 million people supporting him and I believe we'll all stay with him."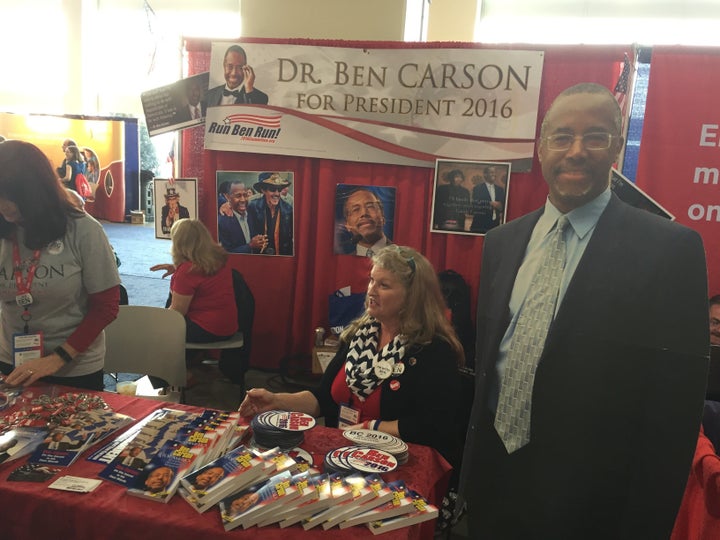 Steveson, who volunteered with Carson in Iowa, said that she was attracted to his honesty, integrity and humility and that she didn't think he'd been treated fairly during the Republican debates.
"The debates are entertainment basically, and instead of concentrating on the issues, it's like the media wants them to go at each other. And because he won't participate in that, he's just a sideshow," she said.
After Carson's almost-withdrawal announcement, Donald Trump began asking for the former neurosurgeon's supporters to back him. Sen. Ted Cruz had similarly urged other Republicans to drop out of the race and unify behind him on Tuesday.
Steveson said she could not vote for Trump alone, but would consider the possibility if he named Carson as his running mate.
"I just don't believe he is a great example of my evangelical beliefs," she said. "I never thought I would hear myself say, 'I will not vote.' In the last election, I had friends who didn't vote because they want to go with the establishment, and I thought I'd never do it, but I've said it."
As for Cruz, Steveson said she couldn't support him because his campaign sent out a misleading report that Carson was dropping out the night of the Iowa caucuses, which she said hurt Carson in that state.
Jonah Wendt, another supporter volunteering at the CPAC booth, had a bit more somber reaction to Carson's announcement.
"He only ran because he thought God opened the door for him to run for president, and he said that he would only stop when he felt God was closing the door," Wendt said. "And given that we've had however many states vote and he has not done better than fourth in any state, he has made the determination that God has closed the door on him running for president."
"It's solemn," Wendt continued. "People are like, 'What's gonna happen?' There is this sobering reality because some of the people here are like, 'He's gonna keep running,' and he's really said he's not."
Calling all HuffPost superfans!
Sign up for membership to become a founding member and help shape HuffPost's next chapter
BEFORE YOU GO
PHOTO GALLERY
Ben Carson Through The Years