JOHNSTON, Iowa -- Minutes before the second Republican debate began on Wednesday, a group of Ben Carson supporters sitting in folding chairs around a small flat-screen TV joined hands and prayed.
"Dr. Carson is a great man of integrity and honesty, and we pray that he will shine through tonight," one woman said, standing in front of the group. "We're sending Dr. Carson positive energy as he takes the debate stage tonight," another said, bowing her head. 
The group of 30 Iowans took their seats in the lobby of the "Win Ben Win!" super PAC's office in a shopping center in Johnston, munching on BBQ pulled pork. The group was a picture of diversity, with college students sitting alongside retirees, and several ethnicities and nationalities represented. 
There was no cheering, hooting or hollering from this group as Carson took the stage; just a quick round of applause. Many of the supporters exuded a demeanor similar to Carson himself: calm and deliberative.  
"I've been supporting Ben Carson since he first got on the scene in 2013 at the prayer breakfast," said John Hartman, 77, of Steamboat Rock.
Hartman isn't alone; others in the group say Carson piqued their interest at the National Prayer Breakfast -- where he famously took on President Barack Obama for Obamacare and other national policies -- and they wanted to learn more.
"I started to look into Dr. Carson and I read [his autobiography] Gifted Hands," said Bruce Heilman, 66, of Urbandale. "I've been hooked ever since."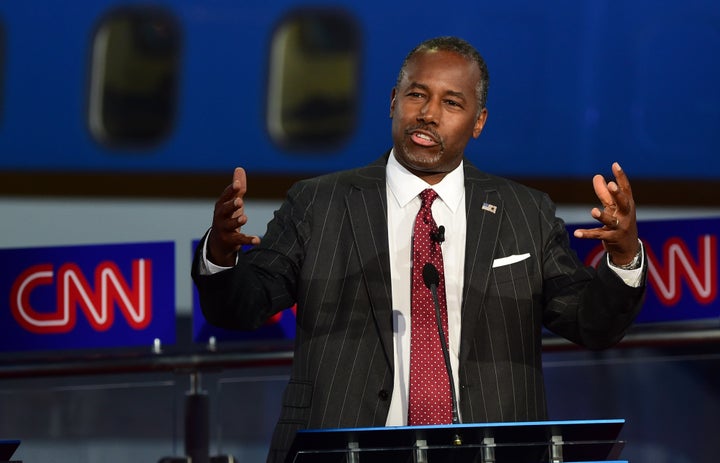 Voters here say Carson has both the outsider status and the soft touch -- hitting the campaign trail, holding events in small city halls and banquet halls and getting to know people -- something that appeals to 23-year-old Bryce Williams of West Des Moines. Williams says every Carson event he's been to has been overflowing with supporters.
"A lot of different ages, a lot of different races, a lot of different people," Williams said. "A lot of people gravitate towards him. I know people that were Democrats that were there and they were just listening. You might not get that with other candidates."
Carson's campaign style is completely different than Trump's. You won't find Carson landing a helicopter at the Iowa State Fair; he's emerging as the anti-Trump, Hartman said.
"The problem with Donald Trump is he is too much of a bully," he said. "If you listen to what Ben Carson says, he says almost the same thing, but in a more intellectual way, and he's not real loud about it."
With the TV volume blaring across the small office, the group watched as Carson remained relaxed, declining to attack the other GOP hopefuls standing beside him -- even after CNN moderators prompted him to do so throughout the evening.
"He doesn't demean his opposition," said Heilman during the first commercial break of the debate. "He won't run them down. He's been baited constantly to say something bad about people and he won't do it." 
Carson had about 13 minutes of airtime in the primetime debate, but some thought he didn't have enough of an opportunity to make a splash.
"It's hard to say how Dr. Carson has done, because the CNN format hardly allows him to speak," Hartman said. "It's guided towards those who are way down in the polls."
The watch party began to disperse as the debate wore on to its third hour. Many supporters complimented Carson's performance but faulted CNN's format and the number of candidates on the stage, saying they seemed to be drowning out his message.
"I think there is always going to be room for improvement," said Acacia Smith, a 22-year-old student working toward her teaching degree.  "I would have liked to see him interject into more … anytime anybody hears Carson speak, they want to hear more."
Smith, one of 10 supporters who stayed until the debate's conclusion, said she didn't think CNN was unfair in any way.
"I think that it's hard to distribute fairness when there is that many people out there. You know, everyone is going to be asked a lot of questions," Smith said. "Yes, of course I'm biased. I'd like to hear Carson say more." 
PHOTO GALLERY
CNN GOP Debates Sept. 16, 2015
REAL LIFE. REAL NEWS. REAL VOICES.
Help us tell more of the stories that matter from voices that too often remain unheard.