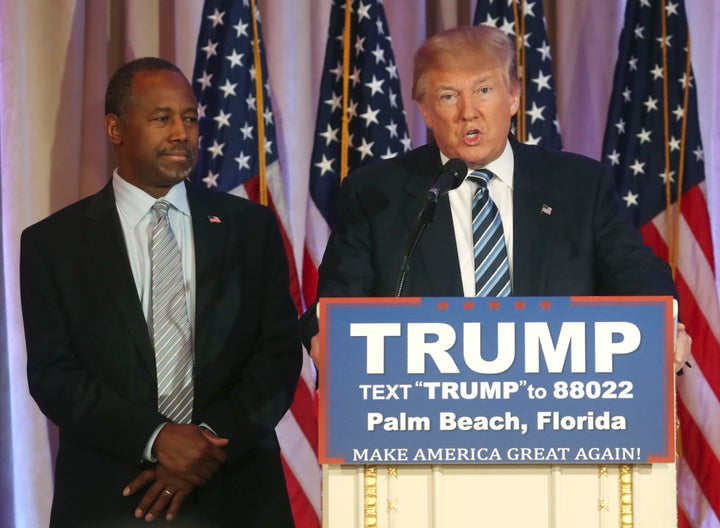 As a surrogate for Republican presidential nominee Donald Trump, Ben Carson's job is to speak on behalf of his former rival and paint him in a positive light. But the gaffe-prone Carson, attempting to defend Trump's endless waffling on immigration, suggested Tuesday that the GOP presidential nominee's positions on the issue are "relatively irrelevant" because he is still learning.
"It is what it is," Carson told CNN's Jake Tapper. "He is the nominee and has to come up with rational and workable plans, has to work with various advisers and experts in terms of the best way to do this, and it needs to be done in a fair and compassionate way that is consistent with the way we in America do things."
When Tapper asked Carson to clarify, the former GOP presidential candidate replied, "What you talk about during a campaign and what actually happens, as you know, in all administrations are different. You get different information, you learn things along the way, and you make adjustments along the way."
Soon after providing his endorsement, Carson conceded that Trump was not, in his opinion, the best option for president.
"Is there another scenario that I would have preferred? Yes — but that scenario isn't available," he told Newsmax TV. 
Still, Carson said he was fine with the outcome, because "we're only looking at four years" of a Trump presidency.
"Are there better people? Probably," Carson said.
In some cases, Carson also inadvertently argues against Trump.
On Tuesday, he said that Trump should "get all of the, you know, the hate and rancor out of the way" and apologize for his infamous claim that President Barack Obama was not born in the U.S.
"Bear in mind, I don't believe that [Trump] was warned that that question was coming, and I don't think he really had a chance to really think about it," he said.
Sometimes, Carson makes his own headlines while trying to help Trump. Accompanying the GOP nominee on a visit to a predominantly black church in Carson's hometown of Detroit on Saturday, he did a live TV interview, but awkwardly walked away to look for his luggage while still on camera.
REAL LIFE. REAL NEWS. REAL VOICES.
Help us tell more of the stories that matter from voices that too often remain unheard.
BEFORE YOU GO
PHOTO GALLERY
Ben Carson Through The Years