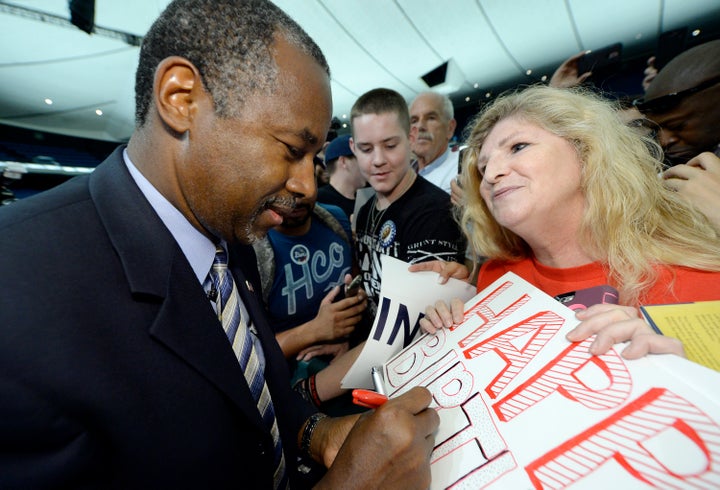 Toward the end of his interview with Fox News' Megyn Kelly on Tuesday night, Republican presidential candidate Ben Carson said something that was demonstrably untrue.
"I'm not competing with anybody," he told Kelly.
Carson, who is competing against 16 other candidates for the Republican presidential nomination, didn't mean for his claim to be taken literally. Instead, he was seeking to embody the subdued, "happy warrior" persona -- so diametrically opposed to Donald Trump's hyperactive, insult-dispensing tack -- that has worked so well for him thus far.
"I'm not competing with Mr. Trump," Carson added. "But I do have a vision for this nation, which I think is shared by a lot of Americans." 
As surprising as Trump's early success has been to just about everyone, other than the candidate himself, Carson's rise to second place in the national polls has perhaps been even more unlikely.
After all, he's pulled off this feat with a fraction of the media attention that Trump has received, and he has done it at a decibel level that barely registers, while his catchphrase-wielding opponent seeks to move the needle into the red at every turn.
The world-renowned neurosurgeon has yet to air a negative ad against any of his opponents and had his greatest moment of success so far at the first GOP debate, in which his laid-back demeanor led pundits to initially declare that he had faltered before the polls quickly showed otherwise.
Carson wasn't always so demure in the political arena.
He first set Republicans' hearts aflutter in early 2013, when he personally reprimanded President Barack Obama at a national prayer breakfast and then leveraged that appearance into a career as a tell-it-like-it-is Fox News pundit and bestselling author with a penchant for arguing that the U.S. was on the verge of becoming another Third Reich.
At the campaign's outset, it was reasonable to peg Carson as the latest iteration of a familiar kind of Republican also-ran: a conservative bomb-thrower with minimal political experience, a facility for provocation and zero chance of getting elected.
But over the last few months, Carson has turned away from Nazi analogies, taking a starkly subdued tone to a 2016 presidential bid that remains a long-shot, but can no longer be ignored. 
Perhaps even more important than the national polls -- in which Carson is now ranked second for the Republican nomination -- is a Monmouth University poll released last week, which had him tied with Trump for first place in the kickoff voting state of Iowa. 
Carson is resonating especially well with the state's highly disenchanted, deeply conservative GOP caucus-goers, some of whom have rallied behind Trump. But Carson's supporters, by contrast, seem to be attracted to a surgeon's steady hand more than a carnival barker's fulminations and boasts.
"Ben may have a quiet voice, but he has a very strong message," said Ryan Rhodes, who is helming Carson's Iowa effort. "Once people see him and get to talk to him, all of a sudden they're fully bought in because he's just so genuine. That's the thing that's resonating in Iowa. His entire life has been spent helping people and going out of his way to do things for others, and you just see that instinctively in him."
Yet that likability factor is suddenly being put to the test. Carson has shown signs this week that he has become less interested in pulling his punches. On Tuesday, he took an opportunity to criticize Trump's plan for deporting all of the country's undocumented immigrants as unrealistic. 
And Carson dropped the hammer on Wednesday after a well-attended rally in Orange County, California, when a reporter asked him about what he saw as the biggest difference between him and Trump.
"I realize where my successes come from and I don't in any way deny my faith in God," he said.
Carson's surprisingly acerbic shot at Trump's faith appeared designed to chip into his bombastic opponent's surprisingly strong standing among evangelical caucus-goers in Iowa.
As someone who talks frequently and easily about his own faith, Carson has long been a particular object of admiration in Iowa's politically active homeschooling community -- a key constituency for any socially conservative Republican who hopes to triumph in the caucuses.
Carson has not yet spent as much time on the ground in Iowa as some of his opponents have, but all of his events there this year have generated strong turnouts, and his campaign there is well-organized.
With the highest favorability rating in the GOP field, it's clear that Carson's low-key demeanor, combined with his religiosity, is paying dividends.
"Carson has an advantage with social conservatives and evangelicals," said Shane Vander Hart, the founder and editor-in-chief of the Iowa-based Christian conservative news and commentary site Caffeinated Thoughts. "They simply trust Carson more than Trump on the issues of religious liberty, life and marriage."
Though he currently shows no sign of fading, Carson has faced significantly less media scrutiny than other major GOP candidates have so far. This is his first campaign for political office, and the possibility that he will commit a grievous error on the stump remains.
So does the near-certainty that Carson's GOP opponents -- who, up until now, have laid off of him almost entirely -- will soon put him to the test in debates and ads. And they certainly won't hold back when it comes to engaging in policy debates.
Trump didn't waste any time before hitting back on Thursday morning over Carson's comments on his faith, telling CNN that his low-key rival makes Jeb Bush "look like the energizer bunny." 
In spite of the recent spat, however, Carson may be disinclined to engage in an extended insult exchange with Trump that doesn't befit his style.
And like Trump, he has managed to slide by while his platform remains relatively light on specifics. He's focused instead on his "vision" -- a luxury for an under-the-radar candidate that's unlikely to be available to him much longer.
"The real test of Carson's candidacy is yet to come, as his positions, or lack thereof, are analyzed and put under the white hot lights of the national press and blogger corps," said Iowa GOP strategist Tim Albrecht.
"Ben Carson's humble demeanor will get him in the door with Iowa conservatives, but they'll be watching closely to see if he puts any specifics behind the benign policy platitudes we've seen him offer thus far."
Calling all HuffPost superfans!
Sign up for membership to become a founding member and help shape HuffPost's next chapter