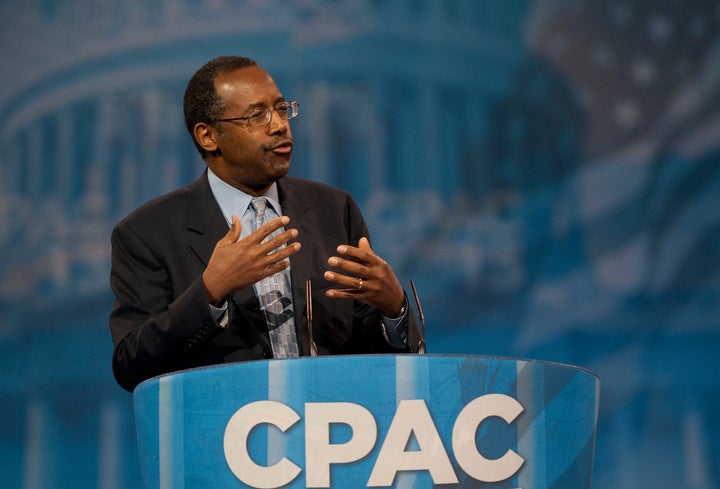 Renowned neurosurgeon Ben Carson managed a unique feat when he drew fire twice in barely a week's time. First he knocked President Obama at the Conservative Political Action Conference (CPAC). He drew big applause from the hardline conservative throng there. Some were so enraptured by Carson that they even took a complete flight of sanity and tossed around the ridiculous notion that he could be a presidential candidate in 2016. Carson topped that a few days later when in a seemingly intemperate off the cuff silly quip on a talk show he referenced gay marriage to bestiality. Carson quickly walked it back with the usual wail that his remarks were garbled, and taken out of context and profusely apologized. It didn't help that Carson tottered very close to being disinvited to be the keynote speaker at the commencement ceremony at Johns Hopkins in a few months. And he's still not totally out of the woods on that.
But Carson didn't walk back his conviction that gay marriage is wrong and blathered the stock fundamentalist, pseudo biblical refrain that marriage is solely between a man and a woman. Unlike his knock of Obama and the inference that gay marriage comports to bestiality, there was not much of a peep of protest from the majority of blacks. There is no surprise at that -- that's because he speaks for many of them.
Despite the profound sea change in public support toward gay marriage 37% of black voters still say it's wrong. But that number soars to 62% among black Protestants. In fact a Pew Forum poll in March 2012 found that they are even more rabidly opposed to gay marriage than white mainline Protestants. The percent of traditional Protestants that oppose same sex marriage, in fact, substantially dropped from a prior Pew Poll in 2010. But that was not the case with blacks.
Carson strongly hinted at that in his apology when he was firm in his view on marriage. Carson in his medical profession and belief brings together the two retrograde rationales that many blacks, religious and non-religious, have persistently cited as the reason for their dogged resistance to gay marriage. One is obvious. Conservative black preachers have scripture saber rattled gay marriage for two decades. The first big warning sign that the gay marriage issue would inflame, polarize, and even energize blacks within and without the black pulpit came in 1997 when the Green Bay Packers perennial all-pro defensive end Reggie White, an ordained minister, touched off a firestorm of protest from gay groups with a rambling hour-long talk to the Wisconsin legislature in which he took a huge swipe at gay rights and gay marriage. He later barnstormed through several Midwestern cities pushing the anti-gay gospel at pro-family rallies.
Before his untimely death in 2005, White apologized for his anti-gay remarks, but he was unrepentant in his view about homosexuality. He was a conservative black minister and homosexuality still violated his biblical conception of the proper roles for men and women.
The other belief that Carson reflects in his gay marriage assail is that gay marriage poses another dire threat to the shaky stability of the black family. Countless ministers and other blacks rail that far too many black children are already in single parent homes, and the malignancy of crime, violence, educational dysfunctionality, and poverty that the absence of a two parent -- man and woman -- household supposedly can be attributed to the fractured black family. Gay marriage, in this view, would impose a gender identity crisis and further division among black men and women. This notion has been totally debunked in countless studies, surveys, and interviews. But for the gay marriage opponents, belief, the more mistaken the worse, will always trump facts.
The saving grace in this is that the titanic sea change in support of gay marriage has not bypassed African-Americans. All major civil rights organizations have shed their reluctance to take a stand on the issue and have dropped their one time argument that gay marriage should not be likened to the civil rights movement. They now firmly endorse the right of gays to marry and cast it as an important and compelling anti-discrimination fight. More and more black independent religious groups and ministers have publicly voiced support for gay marriage. And have said that they would if the request was made perform a gay marriage ceremony.
Though blacks were the shock troops for GOP backed ballot initiatives banning gay marriage in some states in years past, including California, where they gave top heavy support to Proposition 8, it's unlikely that blacks including many black evangelicals would be out front again in big numbers exhorting their followers to flood the polls to support an anti-gay ballot ban. That day has almost certainly passed. But Carson's fervent belief that gay marriage violates the sanctity of religion and is an impediment to black life hasn't.
Sadly, he spoke and for, and at least for the moment still speaks for, many blacks.
Earl Ofari Hutchinson is an author and political analyst. He is a weekly co-host of the Al Sharpton Show on American Urban Radio Network. He is the author of How Obama Governed: The Year of Crisis and Challenge. He is an associate editor of New America Media. He is the host of the weekly Hutchinson Report on KTYM 1460 AM Radio Los Angeles and KPFK-Radio and the Pacifica Network.
Calling all HuffPost superfans!
Sign up for membership to become a founding member and help shape HuffPost's next chapter