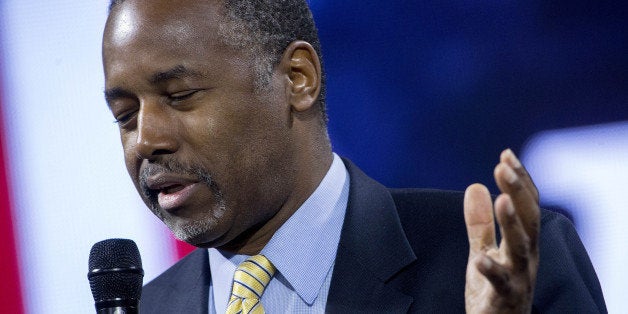 One thing I have learned over the years is to beware of anyone telling you how honest they are.
In his 1990 autobiography Gifted Hands, Carson recalled a 1970s incident in which he painted himself as the only honest person in a Yale class of about 150 students who took a course called "Perceptions 301" because he didn't walk out of a hoax exam.
Saturday questions about this matter were raised by the conservative Wall Street Journal, not by so-called liberal media. The WSJ is owned by Fox News Founder Rupert Murdoch's News Corp.
The WSJ report and Carson's response motivated me to pen two prior posts on these matters. Rather than re-hash old news, I am going to assume the reader is aware of the basic facts; otherwise, here are links to my earlier articles on this subject:
Click here to read "A Whale of a Tale at Yale."
Click here to read "The Yale Tale Grows - Does His Nose?"
According to BuzzFeed, there is now an alleged witness named Curtis Bakal, who reportedly is a former staff member of the Yale Record who says he recalls many of the details of the prank. They report that Mr. Bakal helped write the fake test, and that he was "99% certain the way Carson remembers it is correct."
The Yale Record was a parody newspaper of the Yale Daily News. The Yale Record would publish fake stories that sounded serious. In one such article, they informed students that the relevant exam had been destroyed and they needed to redo them. Mr. Bakal is described as "an editorial assistant at the satirical Yale Record," and was not present at the phony exam.
Someone asked me if I was going to write an update in light of this purported witness. The answer is yes.
For sake of argument, let's assume everything Mr. Bakal reportedly said is 100% accurate. Now let's compare some of Mr. Bakal's versions of facts to those of Dr. Carson.
1. Mr. Bakal reportedly stated "Several students showed up" for the fake test.
Carson said about 150 students attended.
2. Mr. Bakal reportedly stated " . . . at the end what few students remained -- it may have just been one or two, I wasn't there -- received a small cash prize."
Carson claims he was the only one who stayed to the end.
3. Mr. Bakal reportedly stated that someone from the Yale Record "impersonated a proctor to give the test."
Carson said that "The professor came toward me. With her was a photographer for the Yale Daily News who paused and snapped my picture." He further claimed that the teacher stated, "We wanted to see who was the most honest student in the class. And that's you." Carson further stated "The professor then did something even better. She handed me a ten-dollar bill."
BuzzFeed also reportedly interviewed Len Schwartz, who wrote for the Yale Daily News. He is quoted as stating they had reported on the hoax because "I guess we had heard that some folks had showed up," and "To my knowledge we didn't send anyone over to cover the story." The Daily News had partly penned the story to clarify that they had been impersonated by the Record.
Saturday's Wall Street Journal article on this subject simply noted, "No photo identifying Mr. Carson as a student ever ran, according to the Yale Daily News archives, and no stories from that era mention a class called Perceptions 301. Yale Librarian Claryn Spies said Friday there was no psychology course by that name or class number during any of Mr. Carson's years at Yale."
Nothing in the BuzzFeed article contradicts this WSJ report. There was no evidence that any such photo ran, and there is no proof of any course called Perceptions 301. (There was a course entitled "Perceptions 10, but that was not the course number Carson supplied in his book and upon which the WSJ relied.)
Why does any of this matter? It wouldn't, EXCEPT Carson himself related the story to demonstrate how honest he was. He is the one who made his honesty an issue in this very anecdote. If you are going to tell a story about how honest you are, you should be sure to be completely truthful in doing so.
Under the circumstances, it is fair to check the veracity of his statements on this matter. The man is running for President of the United States, and he is not immune from public scrutiny. And he had been vetted by the Wall Street Journal-- not by some liberal publication.

If you accept his version of the facts, he was the only honest person, thus being rewarded with a $10 bill. Perhaps he also was the only one gullible enough to believe the phony stunt. I would have given him a $3 bill.
One more thing. In addition to honesty, humility is a worthy trait. The Guardian has published photos of Carson's home entitled "Ben Carson's house: a homage to himself - in pictures." This provides some more insight into Dr. Carson. Click here to see.
REAL LIFE. REAL NEWS. REAL VOICES.
Help us tell more of the stories that matter from voices that too often remain unheard.