Housing and Urban Development Secretary Ben Carson spoke Tuesday about transgender individuals' access to homeless shelters, saying women "were not comfortable" being in a shelter with "somebody who had a very different anatomy."
"[We] obviously believe in equal rights for everybody, including the LGBT community. But we also believe in equal rights for the women in the shelters, and shelters where there are men and their equal rights," Carson responded. "So we want to look at things that really provide for everybody and doesn't impede the rights of one for the sake of the other. So it's a complex issue."
When Quigley then asked how protecting the rights of transgender homeless individuals would infringe on the rights of others, Carson replied, "I'll give you an example. There were some women who said they were not comfortable with the idea of being in a shelter, being in a shower, and somebody who had a very different anatomy," Carson said.
On Tuesday, LGBTQ advocacy group GLAAD denounced Carson's statements in a release, saying it perpetuated a "derogatory myth" about the presence of transgender people threatening others' safety.
"It is because of derogatory myths like this, which have been debunked time and time again, that the transgender community faces disproportionate levels of discrimination and homelessness," GLAAD president Sarah Kate Ellis said. "Today's blatant and factually inaccurate anti-transgender rhetoric is the latest in a long line of uninformed and biased statements about LGBTQ people that make Dr. Carson unfit to be the head of the Department of Housing and Urban Development."
Last year, HUD removed guidelines from its website meant to provide training to homeless shelters on how to ensure equal access to transgender people, Newsweek reported earlier this year. In March, activists filed a lawsuit against HUD seeking documents to determine whether the Trump administration was directing federal agencies to undermine efforts to protect LGBTQ Americans.
In July 2017, a group of Democratic senators wrote in a letter to Carson that the removal of the HUD resources around LGBTQ rights was "concerning," and asked that the agency restore them to its website.
Nearly one-third of transgender Americans have experienced homelessness at one point in their lifetime, according to a 2015 survey of transgender people in the U.S. What's more, 70 percent of transgender respondents who had stayed in homeless shelters reported being mistreated, including being harassed, sexually or physically assaulted, or kicked out because of being transgender.
Before You Go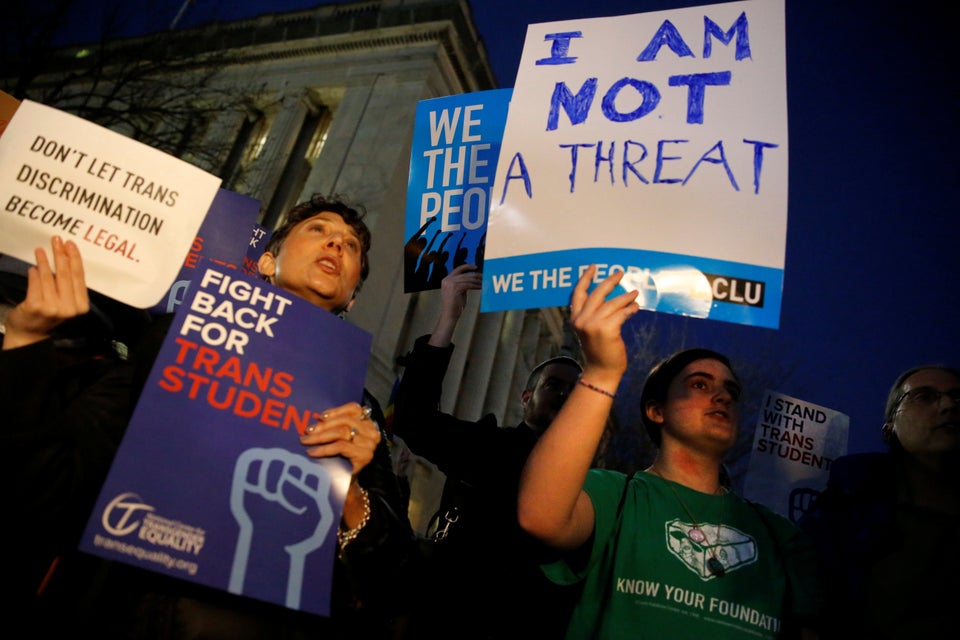 LGBTQ Groups React To Trump Revoking Trans Protections
Popular in the Community