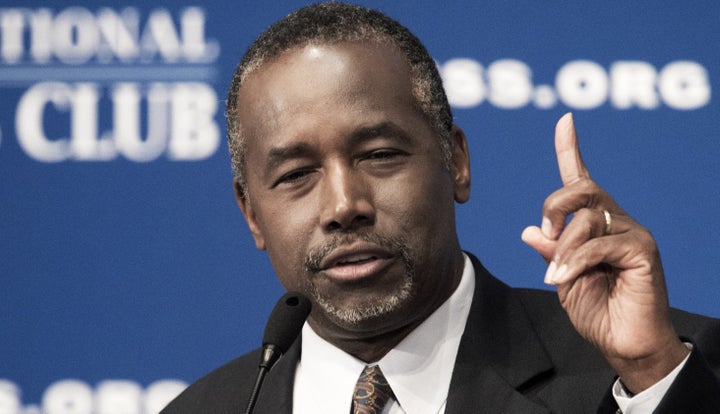 Carson, a neurosurgeon, is now in first place with 28 percent of the vote against Trump's 20 percent among those likely to attend the Iowa Republican caucus. The numbers represent a significant shift from a September Quinnipiac poll that showed Trump leading the field with 27 percent and Carson at 21 percent. 
Sen. Marco Rubio (R-Fla.) is in third place with 13 percent of the vote, and Sen. Ted Cruz (R-Texas) stands close behind with 10 percent. Sen Rand Paul (R-Ky.) has 6 percent and former Florida Gov. Jeb Bush, along with former Hewlett Packard CEO Carly Fiorina, each have 5 percent. No other Republican candidate captures more than 3 percent of the vote.
According to the HuffPost Pollster Iowa Caucus chart, which aggregates all publicly available polls, Carson has jumped ahead with 26 percent, and Trump has dipped down to 21 percent. 
Carson's boost comes primarily as a result of increased support from women. Thirty-three percent of female voters now support Carson and 13 percent support Trump, the poll found. One month ago, female voters were almost evenly split between Carson and Trump in a Quinnipiac poll. Men are evenly divided among both candidates. Twenty-five percent support Carson, and 24 percent support Trump. 
Carson's support is also strong among white Evangelical Christians. Thirty six percent of white Evangelical Christians support him, versus just 17 percent who support Trump. 
Carson tops the list as the candidate that voters consider the most honest and trustworthy, and nearly 9 in 10 voters said he shares their values.
He is also the most likable candidate in the field with a 74 percent net positive favorable score. Rubio follows with a 55 percent net favorable rating, while Trump has a 10 percent net favorable. Jeb Bush has a net negative 8 percent favorable rating. 
Nationally, Trump continues to lead the field. According to the HuffPost Pollster National chart, Trump is in first place with 30 percent, and Carson is in second with 22 percent. 
Quinnipiac University surveyed  574 likely Iowa Republican Caucus voters using live interviews to landlines and cell phones from Oct. 14 through Oct. 20. 
PHOTO GALLERY
Scenes From 114th Congress And Capitol Hill
REAL LIFE. REAL NEWS. REAL VOICES.
Help us tell more of the stories that matter from voices that too often remain unheard.