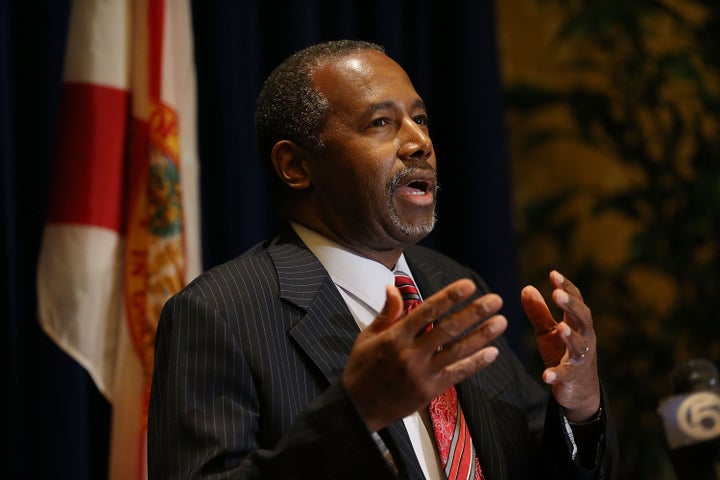 "Show me somebody, even from your business, the media, who is 100 percent accurate in everything that they say that happened 40 or 50 years ago," Carson told ABC's George Stephanopoulos by phone. "Please show me that person. I will sit at their knee and I will learn from them."
Carson wrote in his 1990 autobiography that he'd been named the most honest student in a Yale psychology class, "Perceptions 301," because he was the only one not to walk out after the professor hoaxed the class by telling them they'd have to retake their final exams. However, a Wall Street Journal article published Friday found no record of the class nor of a Yale Daily News article that Carson said was written about the incident.
Speaking Sunday on ABC's "This Week," Carson admitted that the course name that appeared in his book was inaccurate, but said his campaign had found the student newspaper article and would release it.
"I wonder why, with all their investigating abilities, they can't find it. We found it and we're going to be putting it out," he said. "The course, I guess was called Psychology 1-0. You know, when you write a book with a co-writer and you say that there was a class, a lot of time they'll put a number or something just to give it more meat. You know, obviously, decades later, I'm not going to remember the course number."
Later on Sunday, Carson shared a syllabus for a 2002 psychology class called "Perception" on his Facebook page, writing "Allow me also to do the research for the Wall Street Journal reporter. Here is a syllabus for the class you claim never existed. Still waiting on the apology."
"If a recruiter or somebody who's trying to get you to come there, was trying to get you to do that, those are the words that they would use," he said.
Carson said he saw no need to change anything about his campaign, telling Stephanopolous that "we tell the truth, we deal with the issues" and that he'd seen continued support from voters over the past week.
Asked by Stephanopoulos to respond to Trump's criticism, Carson said, "What does it say about people who immediately jump on the bandwagon if they hear something bad? Rather than waiting and finding out what the truth is?"
"Well, let me put it this way," he continued. "I would not be anxious to have a commander in chief who acted that way."
Making the rounds on the Sunday morning shows, Carson said he was facing a unique level of scrutiny.
"I have always said that I expect to be vetted," he said on "Meet the Press." "But being vetted and what is going on with me -- you said this 30 years ago, you said this 20 years ago, this didn't exist, this didn't exist -- I have not seen that with anyone else. If you could show me where that's happened with someone else, I will take that statement back."
He said he was being targeted because he was "a very big threat" to progressives.
"They can look at the polling data, and they can see I'm the candidate who's most likely to be able to beat Hillary Clinton," he said. "They see that. "
This story has been updated to note that Carson posted the "Perception" syllabus on his Facebook page and to include quotes from Carson's appearance on "Meet the Press."
Popular in the Community