WASHINGTON -- Republican presidential candidate Ben Carson said that he would not support a Muslim running for president of the United States.
On NBC's "Meet the Press" on Sunday, host Chuck Todd asked Carson whether a president's faith should matter. The question of how the Republican presidential candidates approach Islam has arisen since businessman Donald Trump was asked Thursday when the country could "get rid of" Muslims.
Trump said he would be "looking at a lot of things," in response, and did not correct the suggestion that President Barack Obama is a Muslim and "not even an American."
Carson, who placed third in the CNN/ORC poll of the Republican presidential field released Sunday, said a president's faith would matter to him depending on what that faith is.
"If it's inconsistent with the values and principles of America, then of course it should matter," he said. "If it fits within the realm of America and is consistent with the Constitution, I have no problem."
He said that Islam, as a religion, is incompatible with the Constitution.
"I would not advocate that we put a Muslim in charge of this nation. I absolutely would not agree with that," he said.
But Carson did not suggest that Obama is a Muslim or was born outside of the U.S.
"I have no reason to doubt what [Obama] says," Carson said.
The Council on American-Islamic Relations, which calls itself the largest Muslim civil rights and advocacy organization in the U.S., later called for Carson to withdraw from the race.
"Mr. Carson clearly does not understand or care about the Constitution, which states that 'no religious test shall ever be required as a qualification to any office,'" the group's executive director, Nihad Awad, said in a statement on Sunday. "We call on our nation's political leaders -- across the political spectrum -- to repudiate these unconstitutional and un-American statements and for Mr. Carson to withdraw from the presidential race."
Todd also asked Trump on Sunday about his latest controversial comments.
Trump said he believes "strongly that Muslims are excellent. I know so many Muslims that are such fabulous people."
But he continued, "We can be politically correct and say there is no problem whatsoever, but the fact is, there is a problem with some and it's a very severe problem and it's a problem that's taking place all over the world."
When asked by Todd whether he'd support a Muslim president, Trump evaded the question.
"Would I be comfortable? I don't know if we have to address it right now," he said. "Some people have said it already happened."
On "This Week with George Stephanopoulos" on Sunday, Sen. Marco Rubio (R-Fl.) said it was "a big waste of time" to continue to dwell on Obama's faith and citizenship.
"He's born in the United States. He's a Christian. He's the president of the United States for the next year and a half and we're going to move on," Rubio said.
This story has been updated with comments from Rubio and the Council on American-Islamic Relations.
UPDATE: 10:13 p.m. -- Doug Watts, a spokesman for Carson's campaign, responded to the controversy on Sunday night, telling NBC News that the candidate will likely reach out to the Muslim community.
"He did not say that a Muslim should be prevented from running, or barred from running in any way," Watts said.
However, he added that Carson "just doesn't believe the American people are ready for that."
Watts also doubled down on Carson's claim that Islam "is inconsistent with the values and principles of America."
"Dr. Carson is a strict adherent to the First Amendment -- freedom of religion. That includes people of all faith," he said. "He has great respect for the Muslim community, but there is a huge gulf between the faith and practice of the Muslim faith, and our Constitution and American values. That can be disputed. That can be debated. But there's pretty strong evidence to that effect."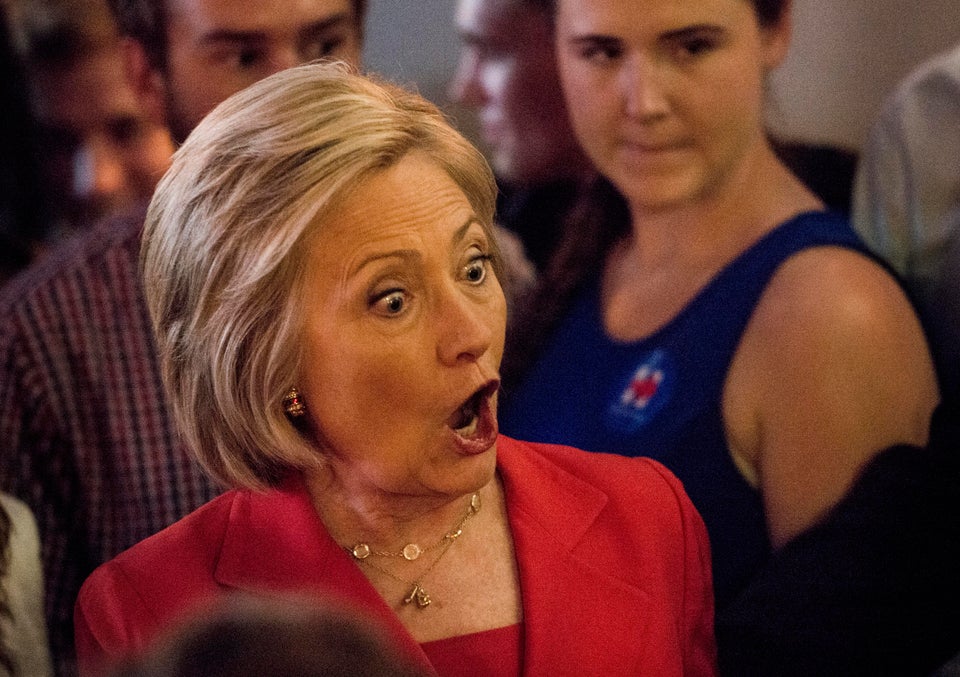 Most Awkward Moments On The 2016 Campaign Trail
Popular in the Community