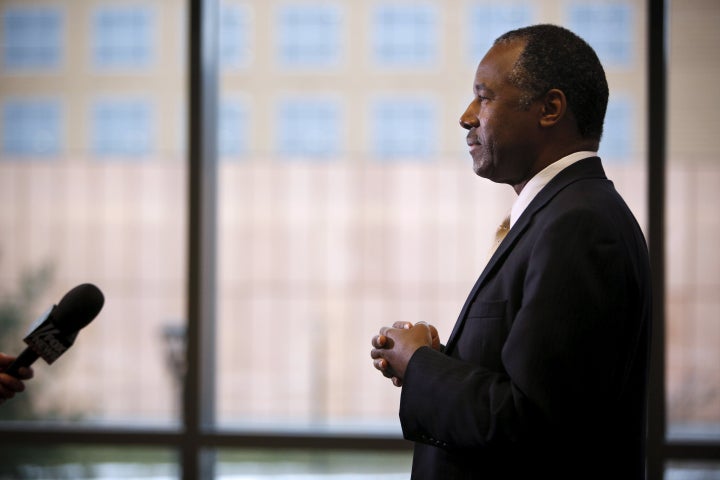 ORANGEBURG, S.C. -- He's got them right where he wants them.
That, at least, is the contention that Ben Carson attempted to make on Thursday when asked about the likelihood that he will become the next president of the United States.
"I think the chances are good because you have to recognize, it's like the all-American pastime: baseball," Carson said. "You don't call the game after the 2 or 3 inning. There's a reason for that. And I think as time goes on, people begin to really pay attention to what's being said. They really become serious."
Carson described himself as a "realist" and noted that unlike typical politicians, his scientific background taught him how to make decisions based on reason.
But those disappointing results have not slowed down Carson -- a bestselling author, who maintains a full Secret Service detail wherever he goes -- from continuing to make his case.
Appearing alongside New Orleans Saints tight end Benjamin Watson during a visit to the historically black South Carolina State University, Carson faced a mostly skeptical crowd of students on Thursday, as he repeatedly referred students to his website when they pressed him for details on his policy positions.
Nakea Pennant, a sophomore biology major who intends to vote for Hillary Clinton in the South Carolina Democratic Primary, said that she came to hear what Carson had to say but left disappointed.
"It's kind of like, I can read it on your website, but I'm here, so
you can tell me in person what exactly you plan on doing," she said. "I would've liked if he'd addressed our questions properly and given us actual answers."
Carson did succeed, however, in addressing topics that could have been viewed as a little out of left field.
In an event that was billed as "bridging the gap town hall," Carson spoke exhaustively on one of his favorite subjects: the self-described Islamic State group.
Carson said that after taking advantage of the porous Mexican border, ISIS operatives from North Africa and the Middle East have already been establishing terror cells within the United States.
"A lot of terror cells sitting right here, waiting to be activated," he said. "We're not doing anything to stop that."
South Carolina Republican Party Chairman Matt Moore, who was seated next to Carson at the event, took the opportunity to interject.
"There are Muslim-Americans in this room," Moore said. "I want you to know that you are as American as me and Dr. Carson and Ben Watson. You guys should know that. And I despise any anti-Muslim rhetoric in this country, and the Republican Party should despise it as well."
As many of the students on hand applauded, Carson said that he agreed with Moore's sentiment.
"And to emphasize that point, I grew up in Detroit where there are more Muslims than any place in the United States," Carson said. "I had a lot of Muslim friends and playmates and schoolmates. Nothing wrong with Muslims, as long as they accept our culture and our Constitution. Not a problem."
Earlier in the campaign, Carson demonstrated a proclivity for drawing frequent allusions to Nazi Germany and making other incendiary comments on a range of topics.
On Thursday, however, the candidate said that he regretted a lot of the inflammatory language that he'd used in the past.
But when a student referred imprecisely to a comment that Carson had made in comparing the merits of Obamacare to those of slavery, the candidate took umbrage.
"No, I didn't," Carson said. "I said it's the worst thing since slavery. There's a big difference."
Popular in the Community