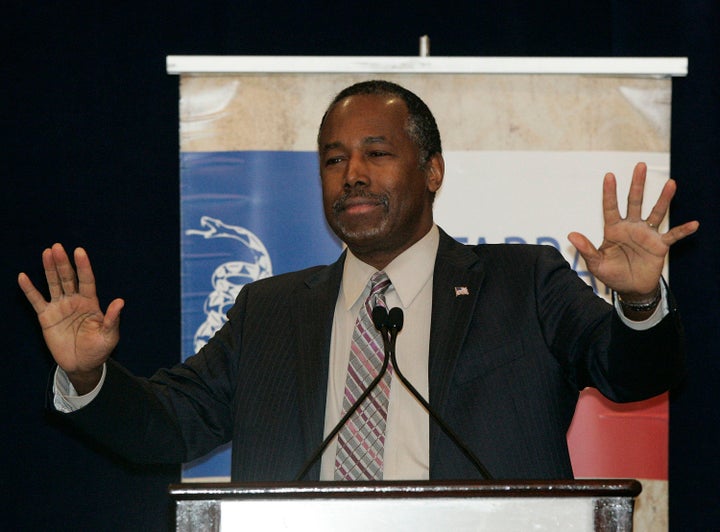 Former neurosurgeon Ben Carson's admission Wednesday that he does "not see a political path forward" for his campaign adds yet another variable to the Republican presidential race.
While Carson's brief reign as front-runner is now ancient history, he exits the race with considerably more support than rivals like former Florida Gov. Jeb Bush or New Jersey Gov. Chris Christie had when they made their own departures. National polls taken before Super Tuesday show Carson at an average of about 9 percent. 
If all of Carson's supporters were to now gravitate toward someone else, that could be a considerable bump for whichever candidate picks them up. The problem, though, is that Carson's backers look less like an orderly voting bloc and more like a jumble of a fruit salad, split mainly between Sen. Ted Cruz (R-Texas), Sen. Marco Rubio (R-Fla.) and businessman Donald Trump.
In NBC/SurveyMonkey polls conducted during the past week, 25 percent of voters backing Carson named Rubio as their second choice, with 24 percent picking Cruz, 21 percent going for Trump and another 10 percent choosing Ohio. Gov John Kasich.
Recent Morning Consult polling shows a similar divide, with Carson supporters splitting 29 percent for Cruz, 25 percent for Rubio, 19 percent for Trump and 8 percent for Kasich.
The extent to which Carson's supporters are scattered reflects the somewhat divided nature of his appeal as a candidate, which seems to have been roughly threefold: He's outspoken about his faith, he's not a career politician and he's run a relatively positive campaign tied to an inspirational backstory. 
Cruz, who's competed with Carson for evangelical votes, is likely to be the greatest beneficiary from his departure. But voters who admired Carson's outsider status and penchant for blustery rhetoric may find a more natural home in the Trump campaign. The rest of Carson's onetime supporters might find something to like about Rubio's humble upbringing and upbeat message (again, relatively speaking).
If either Rubio or Cruz follows Carson out of the running, things could shift yet again. The NBC/SurveyMonkey poll found that in the event of a two-man race, 61 percent of Carson's supporters would choose either Rubio or Cruz over Trump.
Carson, who remains highly popular among Republicans, could affect the race in a much clearer way by making a formal endorsement, something he hasn't yet done. He said Wednesday that he will offer more details about his plans at the Conservative Political Action Conference later this week.
Language has been added to reflect the most recent polls from NBC/SurveyMonkey.
Calling all HuffPost superfans!
Sign up for membership to become a founding member and help shape HuffPost's next chapter
BEFORE YOU GO
PHOTO GALLERY
Ben Carson Through The Years