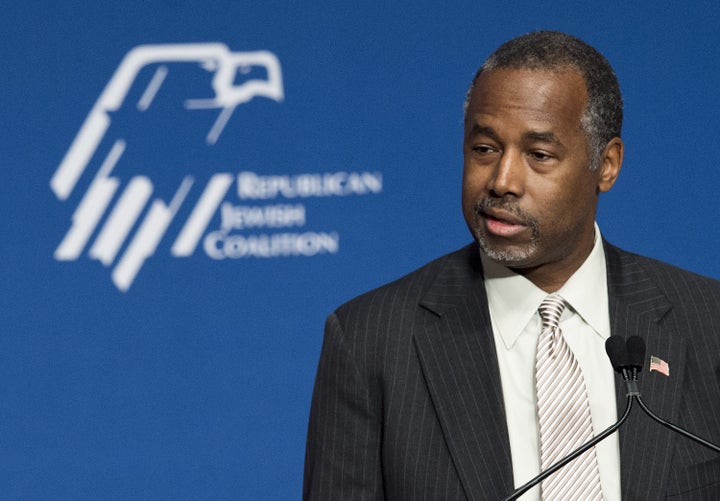 CEDAR RAPIDS, Iowa -- Ben Carson told veterans at an event in Waterloo, Iowa, on Saturday that the military is not the place to deal with the "transgender thing."

"I do not appreciate using our military as a laboratory for a social experiment," Carson said at a town hall hosted by Concerned Veterans for America. "You know, we have too many important things to do."

The retired neurosurgeon and Republican presidential hopeful questioned allowing people who identify as transgender to serve in the military. His comments come as Pentagon officials prepare the logistics of integrating transgender troops into the armed forces next year.

"When our men and women are out there fighting the enemy, the last thing we need to be doing is saying what would it be like if we introduced several transgender people into this platoon," he said.

The GOP hopeful continued: "Give me a break. Deal with the transgender thing somewhere else."

Carson said he prefers the "don't ask, don't tell" military policy, which was repealed in 2010 with bipartisan support in Congress.

"I mean, why do you have to go around flaunting your sexuality? It's not necessary, you don't need to talk about that, we need to talk about how to eliminate the enemy," Carson added.
(Carson should probably do a little more research on what it means to be transgender -- it has nothing to do with a person's sexuality, but rather, their gender identity.)
Currently, transgender individuals are banned from serving in the military. An estimated 15,000 transgender people serve in the armed forces, but continue to conceal their gender identities.

Speaking with reporters Saturday following his speech at the Rising Tide Summit in Cedar Rapids, Iowa, Carson defended his comments, emphasizing the importance of the military's role of protecting the American public.

"The military has a very important job, their job is to protect us," Carson said. "The last thing they need are a bunch of distractions."
PHOTO GALLERY
Ben Carson Through The Years
Calling all HuffPost superfans!
Sign up for membership to become a founding member and help shape HuffPost's next chapter