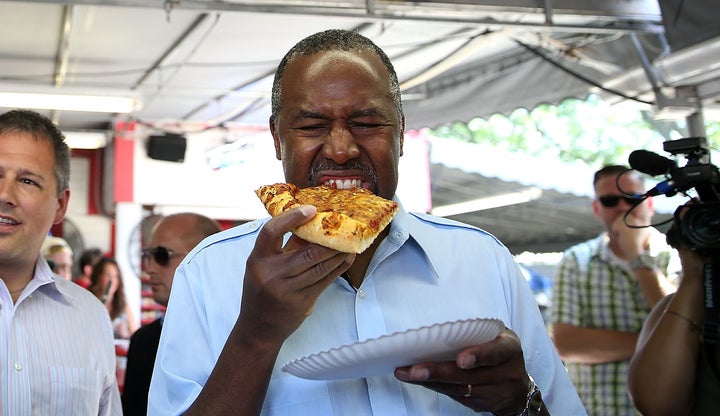 The polls are looking good for Republican presidential candidate Ben Carson, a retired neurosurgeon whose latest surge has put him at the front of the pack.
Carson has only grown in popularity since the Republican candidates took the stage for their first national debate in August, as he's become increasingly known for his soft-spoken tone and affinity for Nazi comparisons.
And just like a certain someone, Carson is a vegetarian -- in fact, he is the only openly vegetarian candidate that we're aware of currently pursuing the presidency, maintaining a mostly meatless, but not strict, vegetarian diet. He's probably closer to winning the White House than a non-meat-eater has ever been.
The HuffPost Politics podcast discussed Carson's surge this week:
Michele Crockett, editor-in-chief of Vegetarian Times, is thrilled that such a prominent political person follows a plant-based diet.
"Anyone who's in politics, or in a job that requires a lot of travel and a lot of navigating different food situations, to be able to stick to an eating plan is commendable regardless of your politics," Crockett said. "So cheers to him."
The Vegetarian Times ran a lengthy story on Carson's eating habits in 1990, in which the good doctor attributed his meat avoidance to his faith (he's a Seventh-day Adventist), but mainly to health concerns, since eating meat can be unhealthy. Earlier this year, a Carson campaign spokesman confirmed to Politico that Carson remains a vegetarian, though he occasionally indulges in chicken.
Some might say that makes Carson more of a reducetarian than a vegetarian. Brian Kateman, president of the Reducetarian Foundation -- an organization that promotes eating less meat instead of outright abstention -- served up some praise.
"While Ben Carson is wrong about almost all scientific matters, he's right about this: eating less meat is a great way to improve one's health," Kateman said in an email. "The overconsumption of meat is a bi-partisan issue affecting our health and the environment. Heck, if Ben Carson can eat less meat, you can too!"
Kateman continued: "If chickens could vote, they would vote for Ben Carson."
Charles Stahler of the Vegetarian Resource Group suggested Carson's diet sets a good-government example.
"As one of many avenues to lower health care costs and governmental budget deficits, we hope Ben Carson and all the candidates will promote preventive health measures," Stahler said.
The unhealthiness of meat consumption is a matter of intense public interest at the moment. Right when Carson's front-runner status solidified last week, the World Health Organization concluded that eating certain meat products can cause cancer.
Gene Baur, president of Farm Sanctuary, an animal welfare organization that shelters farm animals, also noted the virtues of meat avoidance.
"Ben Carson is known for his medical expertise, so it's not surprising that he's a vegetarian," Baur said in an email. "Eating plants instead of animals reduces our risk of heart disease and other preventable health problems that have become rampant across the U.S. It is also good for animals and the earth."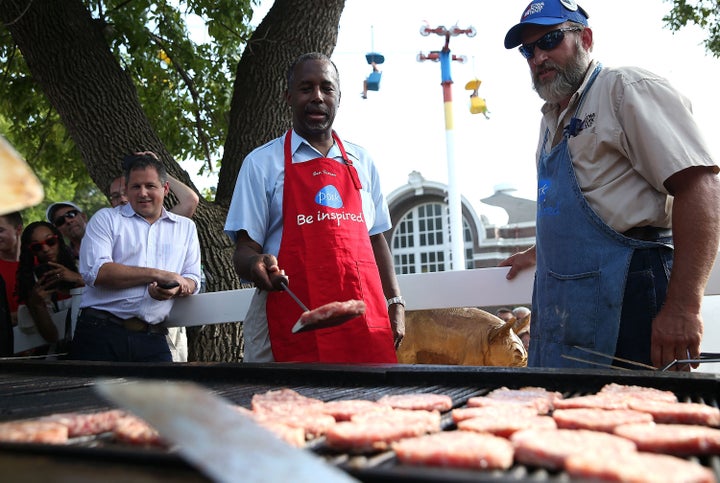 It's no easy feat maintaining a meat-free diet on the campaign trail. Iowa, a critical primary state, has a booming meat industry. And its state fair, a huge campaign stop for presidential candidates, boasts delicacies like the iconic pork chop on a stick, pork burgers and cornbrats (that's bratwurst dipped in corndog batter). Carson was spotted flipping pork burgers at the Iowa State Fair back in August. It's not clear whether he had a bite.
Carson may have just been trying to be polite. In a book written for young adults that Carson published earlier this year, he tells a story about trying not to offend some friends who served pork at a dinner party. He said he tried to pretend to put a piece of pork on his plate while scooping up the food next to it, but the mere flavor from the pork having touched the rest of the food "made me so nauseated that I could not eat."
Carson's campaign did not respond to HuffPost's request for comment or additional information for this story.
Carson told the Vegetarian Times in 1990 that he believed the vegetarian diet would catch on.
"It might take 20 years," Carson said. "But eventually there will no longer be a reason for most people to eat meat. And animals will breathe a sigh of relief."
Crockett said the Vegetarian Times doesn't have any plans to interview Carson again.
"I'm not sure this would be of huge interest to our audience," she said. "Their favorite thing that we bring them are recipes."
PHOTO GALLERY
Politicians At The Iowa State Fair
Calling all HuffPost superfans!
Sign up for membership to become a founding member and help shape HuffPost's next chapter