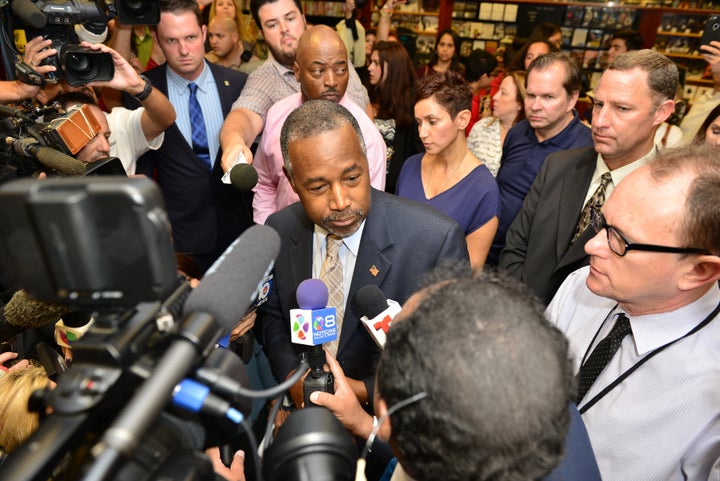 NEW YORK -- Republican presidential candidate Dr. Ben Carson slammed CNN's investigation into his oft-repeated stories of violent youthful acts as a "bunch of lies" during a Friday morning phone interview on the network.
"This is what it is, a bunch of lies, attempting, you know, to say I'm lying about my history," Carson told "New Day" co-host Alisyn Camerota. "I think it's pathetic and basically what the media does is they try to get you distracted with all of this stuff so that you don't talk about the things that are important."
The soft-spoken Carson has described several violent acts from his youth in books, interviews, and on the campaign trail, including hitting a classmate with a lock, nearly striking his mother with a hammer, and trying to stab his friend "Bob" only to have the knife snap on the boy's belt buckle. The episodes are a critical part of Carson's redemption story, in which he has described finding God and moving beyond that violence stage of his life to grow up to be a world-class surgeon. 
What Carson is now facing is to be expected as the media typically vets candidates' biographies more thoroughly as they rise in the polls. National journalists began examining Democratic candidate and Vermont Sen. Bernie Sanders' personal biography and 40-year-old alt-weekly essays after he began drawing thousands of people at events and began to pose more of a threat to Democratic frontrunner Hillary Clinton. And after Carly Fiorina's strong Republican debate performances, the media looked more critically at her record while she was CEO of Hewlett-Packard and her failed 2010 Senate bid. 
Since Carson has reached the top of the Republican field, he's inevitably going to be under more scrutiny, not only over his policy positions, but also accounts of his life. Carson's campaign admitted Friday he never received a full scholarship to West Point after Politico raised questions about the claim. 
When it comes to the teenage stabbing incident, The Daily Beast's Gideon Resnick recently wrote about how Carson's account had shifted over the years. CNN's Scott Glover and Maeve Reston followed up with an investigation Thursday, which found that "nine friends, classmates and neighbors who grew up with Carson ... have no memory of the anger or violence the candidate has described."
The CNN reporters' inability to find direct witnesses to the events doesn't mean Carson is lying. But the investigation raised legitimate questions about stories that Carson included in his biography. Carson's campaign didn't respond to CNN's questions, but instead called the investigation a "witch hunt," and the candidate himself bristled that afternoon at a book signing when asked about the network's report. 
"Why would you be able to find them?" Carson said of the people described in his stories. "What makes you think you would be able to find them unless I tell you who they are?"
"I never use the true names of people in books, you know, to protect the innocent," he told Fox News' Megyn Kelly. Carson said he had spoken to the person that day, but the individual wants to avoid the media spotlight. 
On CNN Friday, Carson not only criticized the network's reporting on him, but suggested President Barack Obama's life story wasn't similarly vetted. 
"The so-called vetting that you all did with President Obama doesn't even come close -- doesn't even come close to what you guys are trying to do in my case," Carson said. "You're going to keep going back, trying to find, 'he said this 12 years ago.' It is just garbage. We have too many things that are important to deal with."
Camerota pointed out that journalists examined Obama's recollections from his memoir Dreams of My Father, including a past girlfriend, who the president acknowledged is a composite character.
The news anchor then shifted to other topics, such as Syria and the refugee crisis, before returning to Carson's media critique by playing a clip of him, in which he said the U.S. would "be Cuba if there were no Fox News."
Carson suggested he didn't literally mean the U.S. would turn into a communist country, but argued that "the general mainstream media all seems to move in the secular progressive direction."
Fox News, he said, has provided a necessary counterbalance to the traditional news media, which became "very partisan and very ideological."
"That's what I mean having Fox come in to counterbalance what you've done," he said. "Others have come in and joined since that time.  It's good that they have but it's unfortunate that that has to happen."
This article was edited slightly after publication to reflect updates made to a Politico article about Carson.
Calling all HuffPost superfans!
Sign up for membership to become a founding member and help shape HuffPost's next chapter