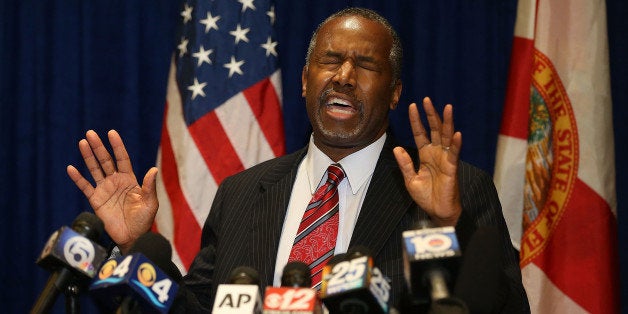 Presidential Candidate, Ben Carson's recent controversy over whether he purposely lied about being offered a "full scholarship" to West Point military academy has grown into an ugly media frenzy that highlights the puerile and superficial state of American politics, but it is also a beast of Carson's own creation.
The central bone of contention is that Carson claimed to have been offered a free ride to West Point even though West Point does not offer scholarships and instead, anyone accepted receives a free education. The controversy would be considered entirely superficial and unnecessary if Carson simply explained that he confused an interest by recruiters who invited him to pursue admission with the idea of a "full scholarship", a considerable honor and a completely plausible scenario given Carson's meteoric rise through the ROTC program in Detroit. Carson's campaign manager, Barry Bennett, responded to the issue in an e-mail to Politico, exactly how it should have been addressed,
He was introduced to folks from West Point by his ROTC Supervisors...They told him they could help him get an appointment based on his grades and performance in ROTC. He considered it but in the end did not seek admission.
That should have been the end of the story, but instead of following his campaign managers lead, Carson's inexperience and rigid adherence to the tired and worn principle of "the media hates conservatives", led him to lash out at the media and dredge up old conspiracy theories about president Obama's college years. He said:
All of you guys piling-on is actually going to help me. ... This is a witch hunt...I do not remember this level of scrutiny for one President Barack Obama when he was running. In fact, I remember just the opposite, I remember people saying, 'Oh, we won't talk about that.'
Carson could have snatched the red meat from the media's starving gullet, but instead he let them gather around him like hyena's circling a wounded giraffe. He gave them exactly what they wanted and while the whole bizarre exchange was entertaining, his misguided strategy of claiming that the press does not thoroughly vet liberals, is as wrongheaded as it is just plain wrong.
When Hillary Clinton embellished her personal narrative about taking fire on a trip to Bosnia, the press investigated her with equal vigor, and rightly so. When Barrack Obama campaigned for a second term the press poured over every nook and cranny of his autobiography where he was guilty of embellishing as well. Politico reported in 2012 that Obama's autobiography contained an anecdote in which he had a racial argument with an unnamed white girlfriend after taking her to an "angry" black play in New York. It was later revealed that the event did not happen in New York, but in Chicago and that the woman was a "composite". Obama addressed the issue and admitted that it was done for effect,
That was an example of compression I was very sensitive in my book not to write about my girlfriends, partly out of respect for them. So that was a consideration. I thought that [the anecdote involving the reaction of a white girlfriend to the angry black play] was a useful theme to make about sort of the interactions that I had in the relationships with white girlfriends. And so, that occupies, what, two paragraphs in the book? My attitude was it would be dishonest for me not to touch on that at all ...so that was an example of sort of editorially how do I figure that out?
I often advise my students to create composites of characters and compress events to make personal narratives more interesting and as long as the beating heart of the story is true, readers will forgive a little embellishment. I have no doubt that the heart of Carson's story is true. He was an impressive and accomplished young man who would have certainly gotten in to West Point had he chosen to pursue it, and he should be forgiven for such an benign exaggeration. The reason the press didn't create a frenzy around Obama's exaggeration is because rather than play the victim and blame the media, he took ownership of it and effectively made it a non-story. Carson would do well to follow Obama's lead. By not doing so, he ironnically runs the risk of becoming the the typical politician he and his supporters are rallying so fervently against.
It's disappointing that an inspiring story about a boy from such humble beginnings being asked to join one of our most prestigious and elite colleges is diminished not by a forgivable exaggeration, but by Carson's lack of accountability to admit the exaggeration. Of course, that's politics; dishonest, and illusory.
Since the West Point kerfuffle, more questions have emerged regarding his resume including his violent past and an implausible and elaborate hoax that paints him as the most honest student at Yale. His personal story is impressive and his accomplishments are substantial on their own, but for some reason Carson does not see it as enough.
Why would Carson need to invent the persona of a bad kid turned saint or fabricate a George Washington chopping down the cherry tree story? Only Carson can say for sure, Most of these embellishments occurred way before his presidential ambitions so, perhaps he never imagined reaching this stage. It's also quite possible, though, that he is letting the mythology linger to sucker a gullible electorate, hungry to believe in an everyman rising to the highest office in the land.
There is plenty of time to set the record straight before the 2016 election, but it appears as though Carson has fastened himself to the creature he built and is flying the beast recklessly toward a blood-thirsty media clamoring for conflict and chaos. The only thing that might throw them off the scent is to own up. Nothing tranquilizes the media more than the truth.
REAL LIFE. REAL NEWS. REAL VOICES.
Help us tell more of the stories that matter from voices that too often remain unheard.