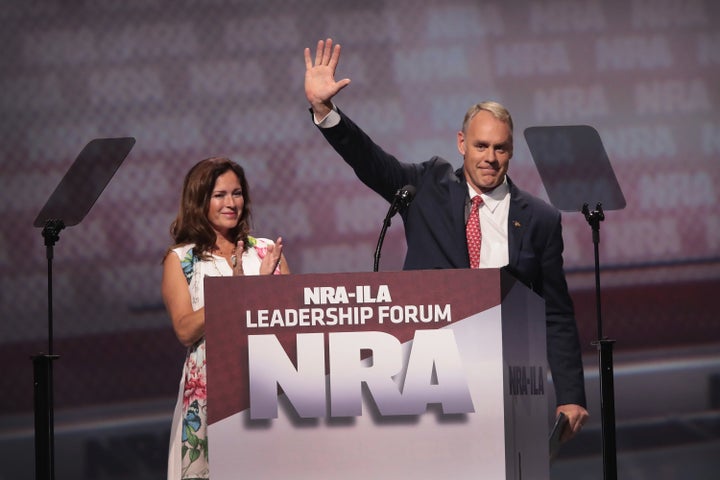 Ben Cassidy, who left a high-paying lobbying gig at the National Rifle Association last year for a powerful post at the Interior Department, appears to have played a sizable role in getting the agency's wildlife conservation board off the ground, even though one of his former colleagues is a member of the advisory council.
HuffPost reported this month on Cassidy's apparent violations of President Donald Trump's ethics pledge, which for two years bars former lobbyists in the executive branch from participating in matters on which they lobbied. The pledge also prohibits appointees from participating "in any particular matter involving specific parties that is directly and substantially related to my former employer or former clients."
Cassidy was appointed as Interior's senior deputy director for intergovernmental and external affairs in October, after nearly seven years as an NRA lobbyist. In 2017 alone, he lobbied Congress on a slew of legislative proposals that would have directly affected the agency he now works for, including bills dealing with trophy imports, revising the Endangered Species Act and international conservation grants for elephants, tigers, apes and other threatened animals, according to lobbying disclosure reports.
In early February, a little more than a month before the council's first meeting, Cassidy and several other Interior officials joined agency chief Ryan Zinke in his office for a briefing on international conservation — a discussion that almost certainly focused on hunting and trophy imports. It's one of two meetings that have drawn scrutiny from ethics officials.
That Cassidy appears to have acted as a liaison for the International Wildlife Conservation Council is another potential conflict of interest, said Virginia Canter, the chief ethics counsel at Citizens for Responsibility and Ethics in Washington, a government watchdog group based in the capital.
"It does raise red flags," she said.
The documents, released this month in response to a public records request from environmental nonprofit Sierra Club, show that Cassidy was a primary contact for a two-hour afternoon reception with Zinke on March 15, as well as a coffee event the following morning with Interior Deputy Secretary David Bernhardt. Both private events were held at the agency's headquarters.
Cassidy and Greg Sheehan, the principal deputy director of the Fish and Wildlife Service, joined advisory council members for dinner at a restaurant on March 15, internal emails show. That gathering was not sponsored by the Interior Department, according to an event schedule.
It's unclear if council members discussed policy issues during the private events or if Cassidy received an ethics waiver or other special authorization to participate.
Cassidy and the Interior Department did not respond to HuffPost's requests for comment, including questions about whether Cassidy played a role in selecting council members. In a post to Instagram in May, however, celebrity archer and trophy hunter Cameron Hanes thanked Zinke and Cassidy for believing in him and giving him a seat on the council.
Hanes has called Cassidy (who is seen in the video below) his "best @usinterior buddy" and "on [sic] of the best guys you'll meet."
Last year the Interior Department lifted Obama-era bans on importing elephant and lion trophies from Zimbabwe and Zambia. The decision was first made public by Safari Club International, a trophy hunting advocacy group with close ties to Zinke. Along with the NRA, SCI sued to block the 2014 ban on elephant trophies from Zimbabwe.
Facing widespread public backlash, Trump swiftly suspended his administration's decision. In a post to Twitter, he condemned big-game trophy hunting as a "horror show" and said he's unlikely to allow such imports. Despite his pledge, the Fish and Wildlife Service issued a formal memo in March that it would consider issuing permits to import elephant and lion trophies from certain African nations on a case-by-case basis.
SCI President Paul Babaz and several other people currently or previously affiliated with SCI were also appointed to the wildlife council.

Popular in the Community