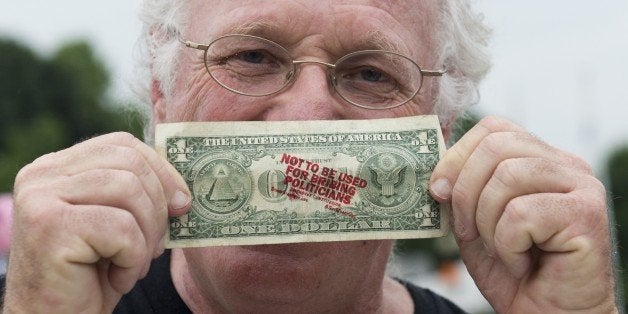 Since opening my first scoop shop in Burlington with Jerry, I've given the gift of ice cream to friends and family each Christmas. Cherry Garcia for Jerry. Wavy Gravy for, of course, Wavy. And new flavors like Americone Dream for Stephen.
But this Christmas is different. With money corrupting politics, partisans shuttering government, and brinksmanship replacing leadership, this Christmas I'm giving the give the gift of democracy -- rubber stamping technology that's designed to stamp big money out of politics from the StampStampede.org. The Stampede is a grassroots organization with tens of thousands of people legally stamping messages on hundreds of thousands of dollars in order to support reforms that will get money out of politics and stamp out corruption.
I'm sending my friend Jostein Solheim, Ben and Jerry's CEO, the stylish, executive model pocket stamp, so he's prepared to stamp "Not to Be Used for Bribing Politicians" on any bill he uses during the day. It's a folding compact wonder of a stamp that is sure to impress and amaze while making other CEO's envious.
For so generously helping the Stamp Stampede get thousands of stamps in the hand of citizens who want their democracy back, David Crosby, Steven Stills & Graham Nash will get a special, limited edition CSN branded stamp to take out on tour with them. Thanks for doing your part spread the message that "The system isn't broken, it's fixed!"
I am sending the hard workers with Communication Workers of America hundreds of stamps with the message "Stamp Out Big Money in Politics" for their Christmas stockings.
For the national organizations like Move to Amend, Free Speech for People, People for the American Way, RepresentDotUs, Common Cause, Public Campaign, American's for Campaign Finance Reform and Public Citizen -- who are working to stop corruption and promote clean election laws and campaign finance reforms that will restrain unbridled election spending, I am sending them a special "Not to be Used for Buying Elections" self-inking stamps for rapid fire stamp action.
My list runneth over. What about yours? This year, give your friends and family the gift of democracy. Help them join the thousands of Americans who are already stamping dollars bills with messages like "Not to Be Used for Bribing Politicians." Every stamped bill will be seen by an average of 875 people and will help grow the movement to #GetMoneyOut of politics. Stamp 5 bills a day for a year and that's a million eyeballs.
We're already making big waves. So far, 16 states and over 500 municipalities have passed ballot initiatives calling on Congress to propose a constitutional amendment that says: 1) Money is not free speech; and 2) Corporations are not people. Over 150 congressmen and President Obama say they would support an amendment. 80 percent of Americans -- Democrats and Republicans -- think there is too much money in politics. But change won't happen if we sit back and let other people do the dirty work.
If your friends join with my friends and go to stampstampede.org to get stamps (sold at cost), and their friends and friends of friends start stamping too, pretty soon we'll have a national petition on steroids to take our democracy back right there on the money we use everyday.
Together we can create a stamping tsunami to clean up Washington and restore our democracy.
Ben Cohen is the co-founder of Ben and Jerry's Ice Cream and the founder and Head Stamper at the StampStampede.org campaign, whose goal is to help build the movement to amend the constitution to get money out of politics.
Popular in the Community