This is the twelfth installment in a series titled "FABRICATIONS" that elevates the work of up-and-coming queer individuals working in the fashion world. Check back at HuffPost Gay Voices regularly to learn more about some of the designers of tomorrow and the way their work in fashion intersects with their queer identity.
Originally hailing from the United Kingdom, Ben Copperwheat is a queer fashion designer and artist living and working in New York City. His clothing is heavily informed by both his background in screen printing and his work throughout a variety of facets of the fashion industry, and his designs have appeared on the likes of Boy George, Liza Minnelli and Pat Cleveland. Read the interview below to learn more.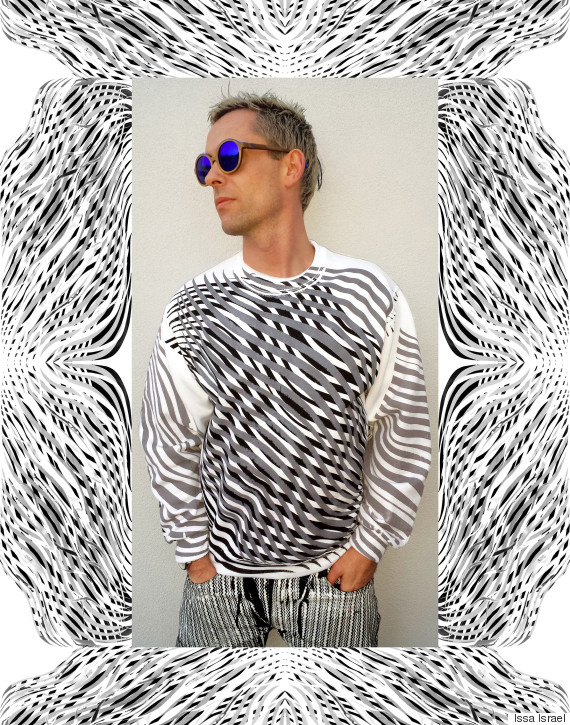 The Huffington Post: What has your journey as a queer artist and fashion designer entailed?
Ben Copperwheat: I was born in Luton, England, 30 miles north of London and lived the first 28 years of my life in the United Kingdom. I had an interest in art at a very young age and drew pictures of Disney characters in my childhood and Madonna in my teens while listening to the pop music my mum would play. At 18 I enrolled in the local art college and, with the nurturing of wonderful tutors, I went on to complete a bachelor's degree in Creative Arts at Bath Spa University. My aspirations led me to London and the Royal College Of Art of which I graduated with an MA in Printed Textiles in 2001. This jumpstarted my career and since then my journey has been a wondrous ride of exploration and growth.
After graduating I taught textiles for fashion at Northumbria University in England. This was great as I enjoy working with students, but it also enabled me to pursue print design projects with a variety of different people and companies. After two years working in London I felt ready for a big change. It doesn't get much bigger than New York City! I had visited New York twice before and had fallen in love with its fizzy energy and sky-high possibilities. My cousin was already living in NYC, so this made the transition easier.

Upon arrival in 2003 I applied for jobs, and almost immediately I was offered a position as a print designer at Calvin Klein Jeans. I worked at CKJ for five years and I had a great time. I learned a huge amount about the fashion industry, met some lifelong friends and travelled the world to cities such as Tokyo, Hong Kong, Berlin, Paris, London, Barcelona, Dehli and Jaipur, shopping for inspiration. During my time at CKJ I also designed print collections for Stephen Burrows, Sue Stemp and Peter Som. In 2008 I desired more freedom so I left my job and transitioned to a freelance print designer.
In 2009, in partnership with my cousin Lee Copperwheat, came the formation of the clothing label COPPERWHEAT. We produced five seasons for New York Fashion Week in a variety of venues including Soho Grand Hotel, the Maritime Hotel and Cappellini store in SoHo. This was a huge learning curve, a tumultuous ride, the outcome of which was some beautifully made, very cool clothes. Ultimately, this label and partnership was not meant to be. In 2012 we went our separate ways, at which point I threw my creative energy into what I know best: screen printing. This juncture felt like a new beginning, and came with it a freedom of expression more vibrant and unrestrained than I had previously experienced. With a print area built into my duplex apartment in Bushwick, I went for leather and printed clothing, wallpaper and interior fabrics. I started selling pieces in Patricia Field's store on the Bowery and producing commissioned outfits for clients.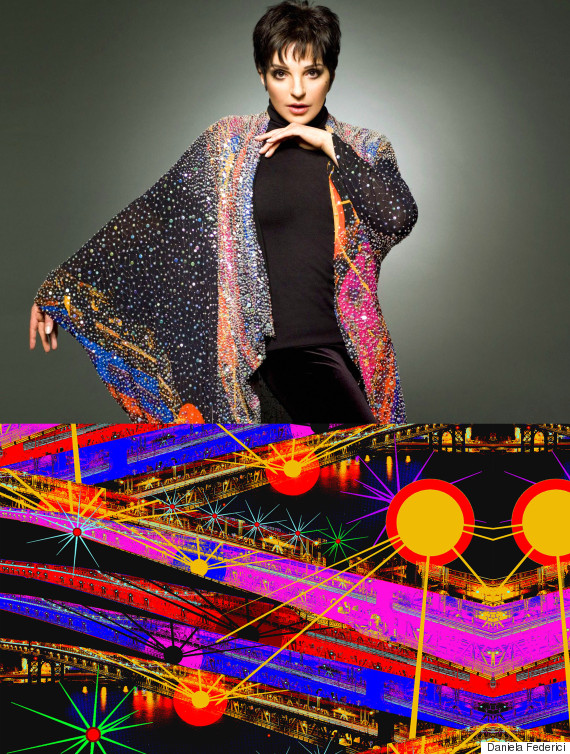 Where have your designs appeared?
Through my work with Stephen Burrows, my prints have adorned the bodies of Liza Minnelli, Pat Cleveland, Gail O'Neill, Alva Chinn, Anna Cleveland and Lily Cole. With the label COPPERWHEAT we were featured in Dazed, Surface Magazine, Vogue Italia, Style.com, collaborated with Palladium Boots, Singer Miguel and Bruno Mars. For my own brand, Ben Copperwheat, my prints have been worn by NBA star Russell Westbrook, commissioned for Will Sheridan, Rod Thomas of Bright Light Bright Light and, most recently, I designed the stage outfit for the Boy George/Culture Club reunion tour and merchandise T-Shirts. Boy George debuted this outfit on "American Idol" in March 2015.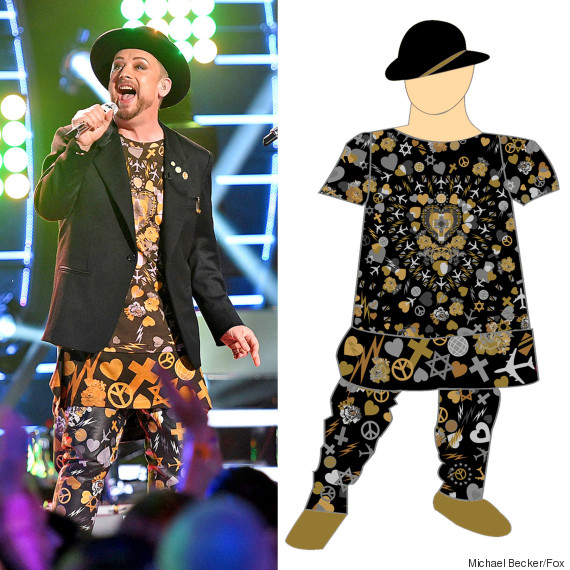 What does it mean to you to be a queer designer? How does your queer identity intersect with your work?
Queer has always been a tough word for me to embrace, as growing up in England I was bullied for my sexuality from as early as I can remember to the age of 8. Queer was one of the words I was called, along with "bent" and "puffter." I feel, as time goes on, the word "queer" is becoming more of a friend. So, therefore, to be a queer designer, living in New York City is a gift. I feel incredibly grateful to have the freedom to express myself through my clothing, art and interactions in such a vibrant culture -- especially when there is so much oppression and suffering throughout the world. I have been openly gay/queer for over 20 years, so my queer identity is without a doubt synonymous with my work. Bright color and graphic pattern are predominant features in my designs, which is not the norm in current fashion and art. I feel "queer" represents that which is not the norm.
Who does Ben Copperwheat design for? Who is your audience and how do your designs cater to them?
I design for anyone who is looking for something different and visually exciting. My designs are a cross between artistic streetwear and high-end fashion. Whomever wears them brings their own personality and dimension to the prints. I have fans and clients of all ages and backgrounds. I wear my designs daily as I find this to be the most comfortable form of self-expression and I am regularly stopped on the street by a cross-section of admirers. I am inspired by the world around me -- in particular New York City -- and I feel my work reflects this.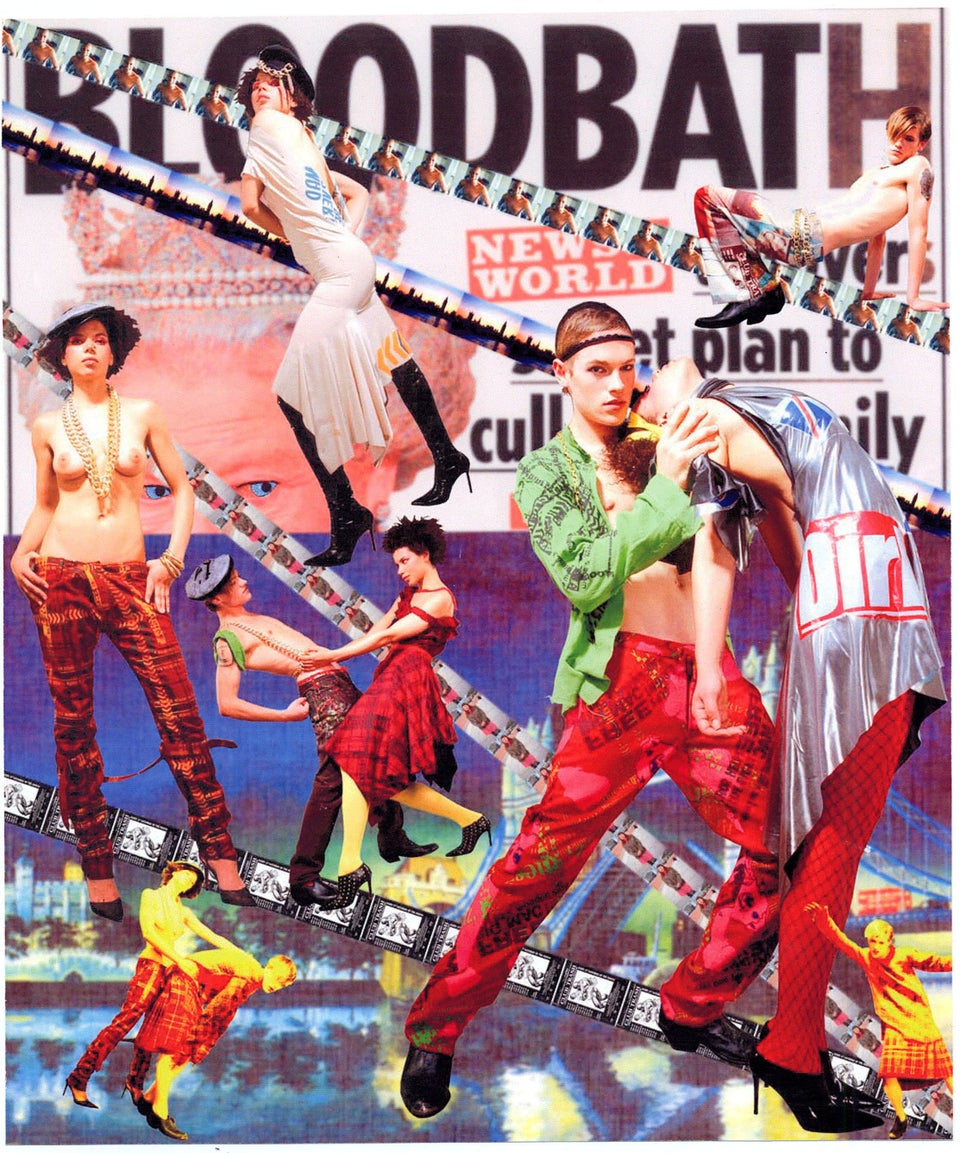 Ben Copperwheat
Historically the fashion world has been extremely queer friendly -- what role do you think the fashion world has played within mainstream acceptance of LGBT identity?
I feel it definitely has played a part in mainstream acceptance, especially Vivienne Westwood, with her embracement of all things queer. Also, other designers in tandem with popular music, specifically artists such as Madonna working with Jean Paul Gaultier, Lady Gaga with Alexander McQueen, Pet Shop Boys with Jeffrey Bryant to name a few. On the other hand, designers such as Dolce & Gabanna and Giorgio Armani are trying to turn the clock back with recent comments. Such is the push and pull nature of progress.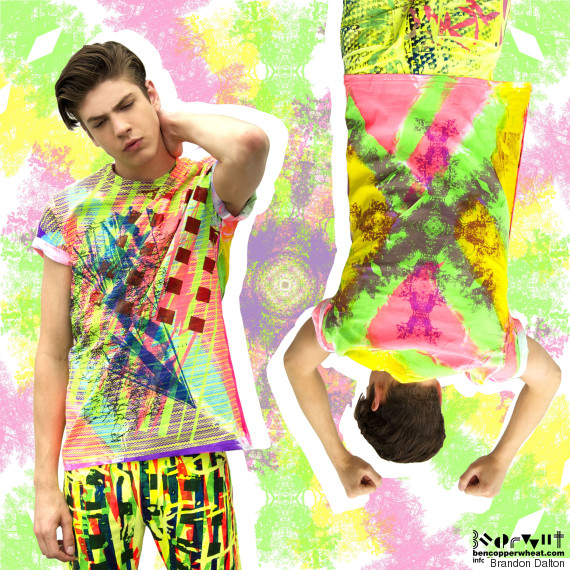 What does the future hold for Ben Copperwheat?
With 15 years working as a designer and turning 40 this coming September, I feel that I am only just starting to realize my full creative potential. To be an artist/designer is a lifelong vocation, so with, I hope, at least another 40 years left on this planet I have many great things to come. I am currently in a group show curated by my friend Walt Cessna, "#INTERFACE Queer Artists Forming Communities Through Social Media" at the Leslie-Lohman Museum in New York. I am also planning work for a solo art show in NYC. I would like to show solo again at NYFW when the time feels right -- branch out more into interiors (wallpaper/murals/fabrics). I am turning my apartment into a "museum" of my work, where every surface is printed/painted. Design costume and sets for theater. Get back to painting -- I started out as a painter while at art school. Continue to nurture relationships with recording artists and performers and design more stage outfits. My ethos is that prints can be applied to anything. The nature of my work is very versatile, and I intend to continue to evolve in this way.
Want to see more from Ben Copperwheat? Head here to check out the website. Missed the previous installments in this series? Check out the slideshow below.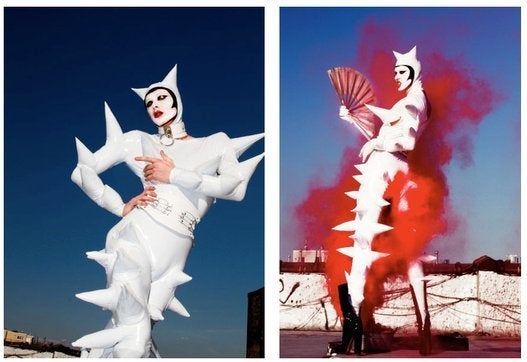 FABRICATIONS
Popular in the Community