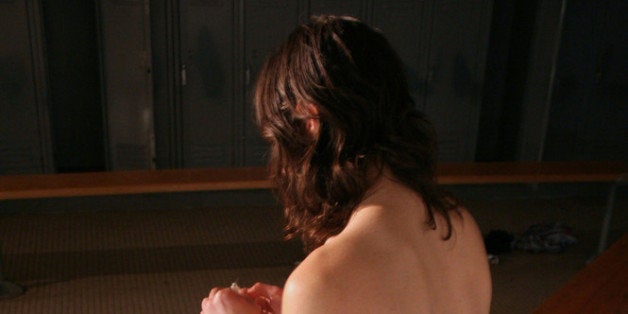 I discovered the work of Los Angeles-based interdisciplinary artist Ben Cuevas through his installation Jock Strap (a work in progress) (link NSFW), for which he sat nude in a men's locker room and knitted himself a jockstrap out of wool. Ben's fascinating work spans installation, sculpture, fiber, photography, video, performance, and sound. While he appears to have a particular interest in the vascular, his vision also expands to reflect intelligently on watershed moments of wider queer history. He reflects on the condition of embodiment, which he says raises the question: "What does it mean to have a body, to inhabit a body, to be a body incarnated in, and interacting with, this world?"
Mark Adnum: When did you learn to knit?
Ben Cuevas: I learned to knit at home, when I used to live in Hollywood back in 2007. My good friend Jessica Ruvalcaba taught me. She was totally at master status, since she'd learned the craft as a child from her grandma. We had a lot of fun hanging out at my apartment, watching Weeds and knitting together. (I still love to watch TV while knitting. It makes me feel productive in my leisure time.) At first I didn't think knitting would work its way into my art. I really just thought of it as a relaxing, meditative pastime. But then, when Jess showed me how to shape a hat's crown, it dawned on me how sculptural knitting could be, that those same techniques could be applied to create any form. The body and anatomy have always interested me, so the human heart was the first thing I ever sculpted by knitting. I've been exploring the sculptural qualities of yarn ever since. I had to take it beyond sculpture eventually, though. I think it's interesting to see what happens when you move between disciplines while working with the same material (yarn in this case). And when I was studying performance art at Hampshire College, I wanted to experiment with knitting as performance while playing with its history as a gendered craft. That's how the Jock Strap piece came about.
Adnum: In your artist's statement for the original knitted jock strap, you said that you wanted to reenact the performance in a locker room that gets more foot traffic and videotape people's reactions. Have you had a chance to do that?
Cuevas: No, I haven't yet! I'm still itching for the opportunity. I see that original piece as a sort of sketch for what I really want to do with this idea. I'd love to get access to a locker room where I could video myself knitting the jock strap from start to finish. And then, later, in a gallery or museum space, I'd install a row of lockers with a bench. One of the lockers would be open, with a video screen peeking out of athletic shorts and a gym bag, playing back the documentation of the performance. And in the installation the jock strap would be thrown askew on the bench, as if left there by some forgetful gym-goer, a sort of documentation in and of itself, breaking the fourth wall that's inherent to video.
Adnum: I don't wear jock straps of any fabric; they feel confusing to me. Is a woollen one comfy? Do you wear it mainly in the winter?
Cuevas: [Laughs.] No. A knit jock strap is not terribly comfortable. Since I made it out of wool, it's a little itchy and makes your balls sweat. I guess it depends on what material you make it out of, though. I made mine out of wool because it's such a classic and iconic fiber. It's emblematic of knitting to me. I've only ever worn it once, right after the original Jock Strap [link NSFW] performance. I guess I'm worried about anything happening to it. And in my mind it's an art object, a document of a performative act, not an article of clothing. In any case, I think it has more to do with context than intent. I feel similarly about my piece Duality #1: Masculine/Feminine. Even though the crux of that piece, the real meat of it, is the jumpsuit for two [that] I constructed out of knit swatches referencing male and female genitals, the piece is not the piece unless it's shown on the mannequins I chose to be part of that work. I didn't want that piece to be associated with any particular bodies; instead, I wanted to touch on cultural ideals of masculinity and femininity, which the mannequins represent. For example, if instead it were worn by a male and female model, it would have a whole other set of references and connotations associated with it and [would] definitely be more a piece of "wearable art" than a piece of "art." It's context. Remove it from its context and it becomes something else.
Adnum: In reference to your most recent installation, Kint Veins: Fiber of Our Being, you've said that "blood holds a special significance for us queer, male-bodied, HIV-positive artists: it is the bringer of both life and death," which strikes me as being a refreshingly retro point of view. Not coincidentally, you mentioned David Wojnarowicz in the same conversation. Likewise, your Ghosts of the Trucks of the West Side Highway project offered, in your words, a "ghostly after-image of a moment in queer culture lost to AIDS and gentrification." What queer artists, filmmakers, and writers are, like you, comfortable with exploring the dark and visceral shadow spaces of HIV/AIDS, a worthy exploration that's sadly all-too-rare in the conversation around HIV/AIDS these days?
Cuevas: Well, I think you hit the nail on the head. There aren't enough artists willing to further the HIV/AIDS conversation in their work, at least not ones who are getting attention from the media or the art world. But Ron Athey comes to mind right away. He continues to use his "post-AIDS body" to confront viewers with their fears of HIV, which I think is just brilliant. I like Aiden Shaw's [link NSFW] writing a lot. He writes about his experiences as a sex worker, drug user, porn star, and (eventually) an HIV-positive man with radical honesty and vulnerability. And We Were Here, directed by David Weissman and Bill Weber, is an incredible film that documents the impact of AIDS in San Francisco in the '80s and uses firsthand accounts from people who were caregivers to HIV/AIDS patients at the height of the epidemic.
Adnum: Can you introduce us to BenBot 5000, your musical alter ego?
Cuevas: Oh, gosh, that's like a whole other conversation. In short, he's an intergalactic recording artist from a parallel dimension. You can read all about him in this fictional Q&A with Rolling Stone. I use this persona I invented as a jumping-off point for work in a variety of media. It deals with some of the same ideas as my other work (the body, sexuality, gender) but in a totally different way, and it also gives me the space to explore themes that don't fit into the rest of what I do. It's great to have a different creative outlet. Why don't you check it out for yourself? BenBot 5000 just released a new single [that] you can download here for free. And be sure to check out this video of BenBot performing "Get Money Get Paid" at Planet Queer.
Adnum: I'm going to end with the question that Jackie O, when she was a cadet photojournalist, always asked her interviewees before she asked them anything else: "Do you consider yourself normal?"
Cuevas: [Laughs.] No! Would a normal person knit naked in public spaces or give an alter ego the freedom to develop a fictional career as a pop superstar? I don't think so. But I decided a long time ago that being "normal" wasn't for me. Why be normal when you can be exceptional?
Check out some of Ben Cuevas' work below: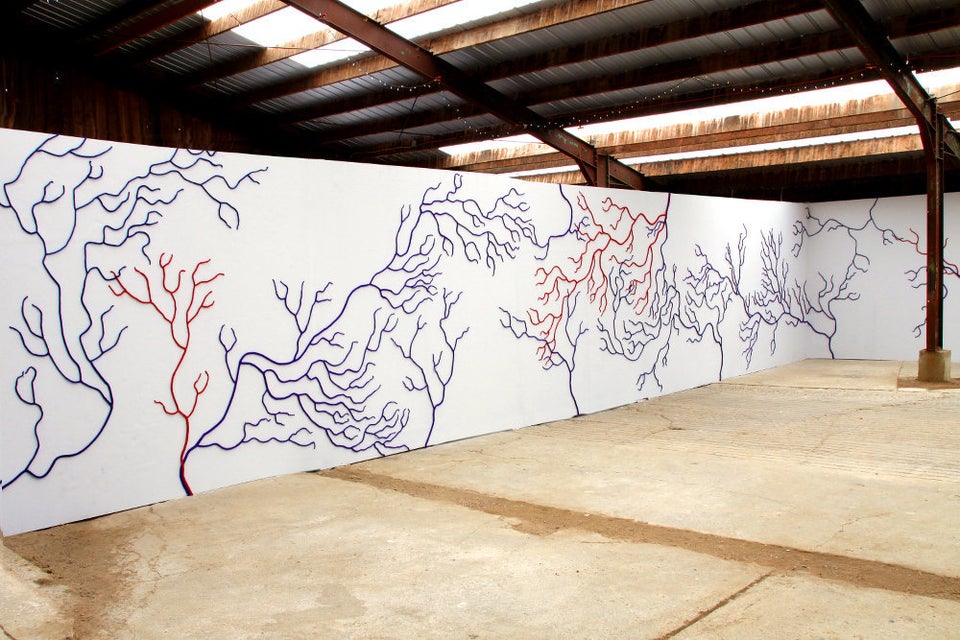 The Work Of Ben Cuevas
This interview was originally published at Nightcharm (link NSFW).
Popular in the Community