Husband-and-wife film team Keith R. Clarke and Joni Levin say that their new remake of the classic film "Ben-Hur" is all about forgiveness, and that its lessons are as relevant now as they were at the start of the production's first century setting.
They spoke at the second of a two-night Boston Jewish Film Festival special screening at the downtown Loews theatre, a cineplex as grandiose as the film's stirring cinematography.
"It started with a novel; I started with the novel," said Clarke, who first wrote the reimagined script. He told viewers, who gave the film a rousing applause at its finish, that the biblical epic remains an important tale of brotherly, and universal forgiveness.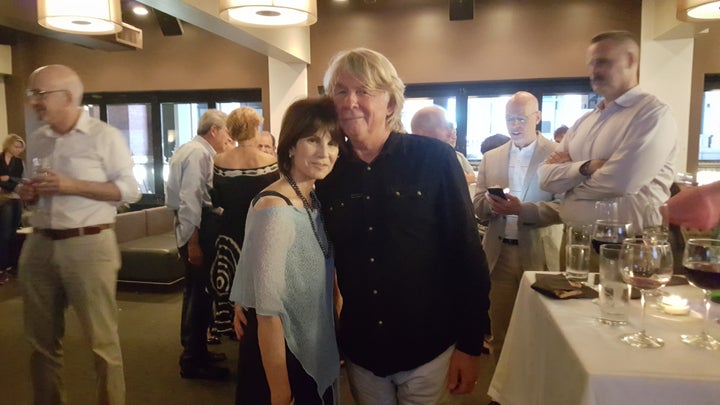 "The story of two brothers fighting and then coming back together in forgiveness is relevant to today," he said to BJFF Artistic Director Ariana Cohen-Halberstam, who moderated the Q&A and queried the coupl on their interpretation of the tale's continued meaning. Levin interjected that Clarke was also long influenced by what Nelson Mandela did for his country.
"We went to Israel four years ago," she recounted. It was Easter time, and the couple wondered if there was ever a solution to the everpresent strife in the region. "At that moment, we thought about the Ben-Hur film of 50 some-odd years ago," she said. "Could it be a next project?" She said that they answered the question with a "why not?"
The retelling of the tale of falsely-accused Jewish prince Judah Ben-Hur, who survives and escapes from years of slavery to achieve vengeance on Messala, his Roman adopted brother and best friend, is based on the best-selling 1880 novel "Ben-Hur: A Tale of the Christ" by Lew Wallace, which was adapted into the 1959 MGM film "Ben-Hur" that garnered eleven Academy Awards.
Clarke, whose writing credits include 2010's "The Way Back" and 1994's "In Search of Dr. Seuss," explained that there are three parts to movies: writing the script, shooting the movie, and seeing it in editorial.
He told the audience that the Jerusalem depicted in the film was actually the southern Italian town of Matera. Located on the border of Basilicata and Puglia and known for its landscape of cave homes, it's where Mel Gibson filmed "The Passion of the Christ." One attendee commented that electricity was only bought into Matera in 1959.
Asked about the epic's cost, Levin quoted $130 million, but subtracting Rome's generous film rebate credits, it was $106 million.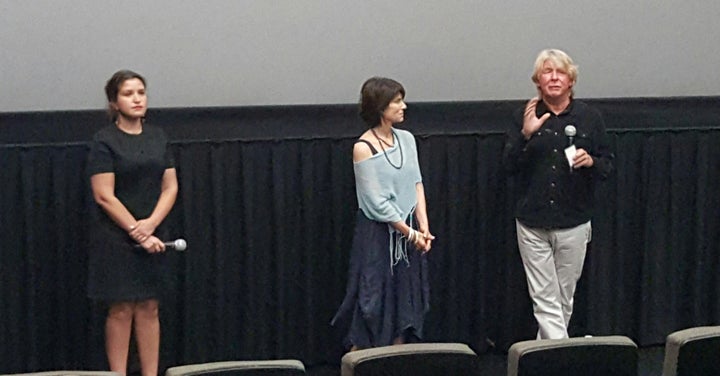 "MGM snapped it up when they saw that it was a different version of the classic tale," said Clarke. An MGM executive had pushed for it. "Within two years, we were in pre-production," added Levin, who co-produced the work with Mark Burnett, Sean Daniel and Duncan Henderson (Enzo Sisti is the line producer in Italy).
An attendee asked Clarke which scene resonated most with him.
"When they confronted each other at the end and asked for forgiveness, that was the culmination of all of my effort to see it through, from the blank page," he said.
Clarke and Levin noted that no horses were hurt in the production of the film. To that end, computer generated imagery, or CGI, needed to be used at times. "The flipping over was stunts, and the falling was CGI," said Clarke, who added that 46 horses were trained in Hungary to chariot race. "We had cameras everywhere on the chariots, so that you could see from underneath," he said.
"We wanted to make sure it matched 1959, although they did lose horses in that one," he said.
"As a writer with the knowledge that a lot of it can go to CGI, how does it affect the overall production?" asked an audience member.
"The cool thing is, I don't think about it," Clarke responded. "That's why you give it to a producer."
One attendee probed the religious angle. "It is a Jewish and a Christian story, so how is that balanced?" he asked. "After all, in the book, Judah accepts Christ." Clarke responded by stating that as he is not a Christian, he didn't go into it with a certain storyline. "Rather, it is just that his teachings have relevance in the world today," he said.
"It is faith-friendly, but not necessarily faith-based," said Levin. "It's about universal themes, and that's how I've always looked at it.
"If everyone can just put it all down somewhere, the problems with family, friends, and move on..." she said, quoting a line from the film: "The bigger the sin, the bigger the forgiveness."
"I thought that the scene that was most compelling was when Messala had to decide whether to support his family or support the Romans, said Joanne Linowes Alinsky of Medfield, Massachusetts, referring to a scene where Judah took the blame for an anarchist who shot an arrow at the Romans.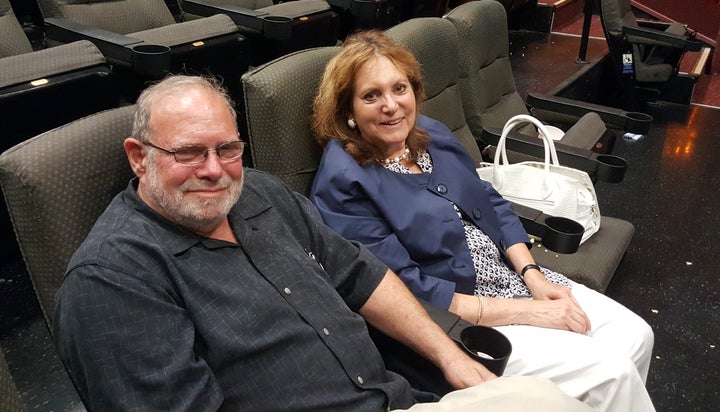 "He had to decide whether he was going to protect his family or protect the kid, and he chose to protect the kid at the expense of his family," said her husband, Lee David Alinsky, who is the son of famed Chicago author and community activist Saul Alinsky (recently maligned by former candidate Ben Carson at the GOP convention). "He was protecting freedom of expression on the part of the rebels," his wife agreed.
At the BJFF's post-Hur reception at Abby Lane in Boston's Theater District, Clarke explained that he wrote the original script, which was then reworked by fellow executive producer John Ridley, a screenwriter, film director and novelist known for his Oscar-winning "12 Years a Slave." (Other executive producers were Roma Downey and Jason F. Brown.)
"All the execs collaborate in a communal effort within the studio system," Clarke said. "That's how producers and studio executives work."
But the script did not come back radically changed. "I was working on it as every rewrite came back for notes," he explained, "so I was constantly giving suggestions."
Clarke said that Rome's fabled Circus Maximus field, where the chariot race was shot in the 1959 film, wasn't big enough this time. "But we filmed other scenes exactly where they did the shooting in '59," he said, adding that they built the Coliseum at the amusement park at Cinecittà, the largest film studio in Europe.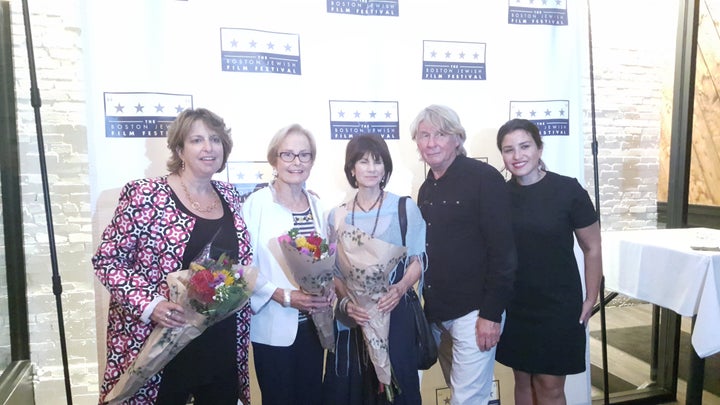 "The chariot race is great, the galley scenes are great — it's all thrilling," he reflected. "But the profound scenes for me are those between the characters — the human interaction," he observed, drawing further parallels to the tragic Abrahamic brother-versus-brother dynamic that also continues today. "The choices that they made then are the same choices being made nowadays."
BJFF Executive Director Jaymie E. Saks said that the Christian and Jewish tale was wholly appropriate for their offerings. "It has a Jewish hero," she said. "And we are really honored to host this special screening, and to have the writer and producer here with us."
Founded in 1989, the BJFF screens over 60 films per year — at its annual festival as well as special screenings — at 10 to 15 locations around Greater Boston. Premieres have included Oscar winners "Nowhere in Africa" (2001), "The Pianist" (2002), and "Son of Saul" (2015).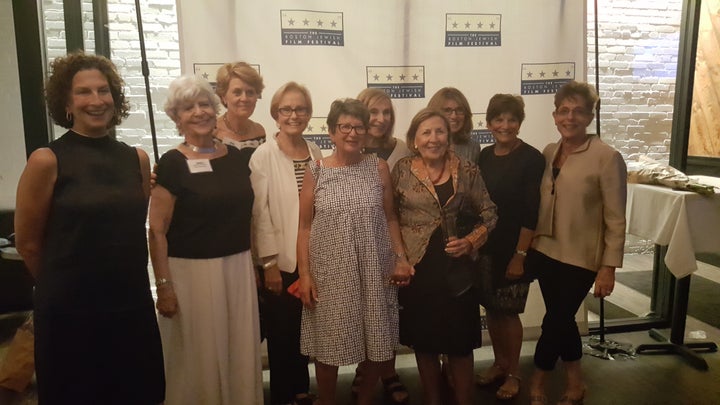 Judy Ganz, who is Levin's sister and a BJFF board member, approached Levin about pre-screening the film in Boston following an August 16 premiere in Los Angeles and prior to its August 19 nationwide opening at 3000 nationwide theaters.
Clarke and Levin will next, respectively, be directing and producing "A Mystery Guest in Paris", which is based on the memoir "The Mystery Guest" by Grégoire Bouillier.
Susie Davidson tweets at @SusieDavidsonMA.