Former NAACP President Ben Jealous is seeking the Democratic nomination for governor of Maryland, the civil rights leader announced in Baltimore on Wednesday.
Jealous, 44, is the second Democrat to jump into the race against incumbent Republican Gov. Larry Hogan, a relative moderate up for re-election in November 2018. Alec Ross, a 45-year-old technology entrepreneur and former adviser in the Barack Obama administration, announced his candidacy in April.
Jealous' candidacy is liable to nationalize the primary, turning it into yet another proxy war between the party's progressive and establishment wings. Jealous endorsed Sen. Bernie Sanders (I-Vt.) in the 2016 presidential election and now sits on the board of the campaign legacy organization Our Revolution. 
But during his campaign announcement outside Baltimore Blossom Studio, a floral shop his cousin opened after civil unrest in the city in 2015, he trained his fire on Republicans, claiming Hogan has failed to stand up to President Donald Trump.
"Every week our governor becomes a little more like the lion in 'The Wizard of Oz': all strength and no political courage," Jealous said. 
"We have for 50 years, as progressives as civil rights activists, bemoaned the transfer of power from the federal government to our states," he added later. "But in this moment, when extremists are running our federal government, let's just celebrate what is, make full use of the power we have and move our families forward together no matter what they do in Washington."
Every week our governor becomes a little more like the lion in 'The Wizard of Oz': all strength and no political courage.

Ben Jealous
Hogan said ahead of the election that he wouldn't vote for Trump, claiming he was "not pleased with the candidates in either party."
Since the inauguration, however, Hogan hasn't been as antagonistic toward the administration as his Democratic peers in other states. He appeared alongside Education Secretary Besty DeVos at a school in Bethesda in March, and ignored a request by the state's Democratic attorney general to challenge Trump's travel ban. Maryland's Democratic legislature subsequently empowered the attorney general to pursue lawsuits without the governor's approval.
Hogan also announced last week that he plans to veto paid sick leave legislation, a move that rankles liberal activists in the state.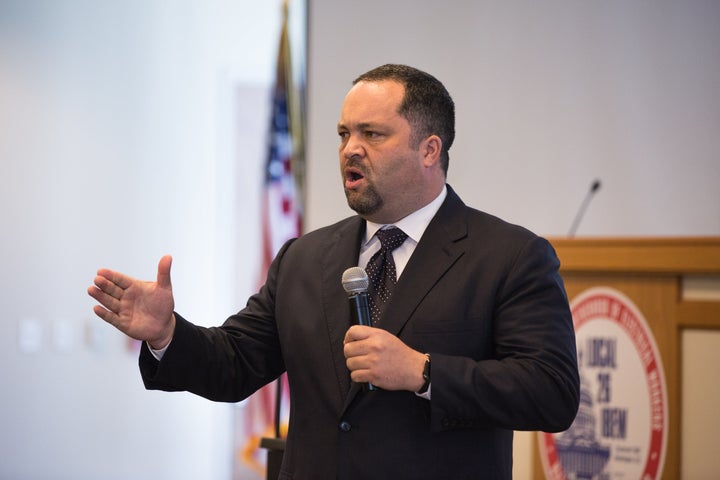 Jealous is running on a firmly progressive platform of raising the minimum wage to $15 an hour, ensuring quality teachers in every classroom, reducing student debt, protecting the Chesapeake Bay, investing in clean energy, ensuring affordable health care and upgrading public transportation.
He said he plans to pay for new investments with such tactics as closing corporate tax loopholes and reducing the state's incarceration levels.
Jealous addressed both police brutality and rising levels of violent crime, two issues that have scarred the city. 
"We will cut the murder rate," he said. "We will lock up the shooters."
"And we will restore trust by both better training officers, but also, yes, by also holding officers who kill unarmed civilians fully accountable," he added, eliciting loud applause from those assembled to support him.
Jealous is a partner at Kapor Capital, a venture capital firm in Oakland, California, that focuses on socially progressive investments. In his remarks on Wednesday, Jealous suggested his experience there equipped him to attract investments from tech companies that might want to diversify their workforces, because Maryland boasts a high rate of black scientists and engineers.
In 2008, 35-year-old Jealous became the youngest person to ever lead the NAACP. Over the course of his five-year tenure at the organization, Jealous presided over significant membership and revenue growth, registered hundreds of thousands of voters, and participated in successful fights to ban the death penalty in Connecticut and Maryland.
Jealous was born and raised in California, but his mother hails from Baltimore and he frequently visited his grandparents there. His parents met in the city, but they couldn't get married there because his father is white and Maryland prohibited interracial marriage until 1967.
Jealous is likely to become the progressive favorite in the race, thanks in no small part to his work on behalf of the Sanders campaign and Minnesota Rep. Keith Ellison's bid for chairmanship of the Democratic National Committee.
The national office of Our Revolution, which live-tweeted Jealous' announcement, has said it will base its endorsement in the race on who its Maryland chapter supports. 
"I am glad to see a life-time organizer with a track record of advancing civil rights and equality for the people who need it most in this country pose a REAL challenge to the status quo," Winnie Wong, co-founder of the People for Bernie, said in an email. Wong is also a chief organizer of the People's Summit, a national gathering of progressive activists in Chicago later this month at which Jealous is scheduled to speak. 
Rep. John Delaney (D-Md.), former Attorney General Douglas Gansler, Prince George's County Executive Rushern Baker, Baltimore County executive Kevin Kamenetz, Baltimore attorney James Shea and state Sen. Richard Madaleno are all reportedly considering running for Maryland's Democratic gubernatorial nomination.
Calling all HuffPost superfans!
Sign up for membership to become a founding member and help shape HuffPost's next chapter
BEFORE YOU GO
PHOTO GALLERY
U.S. State Capitol Buildings