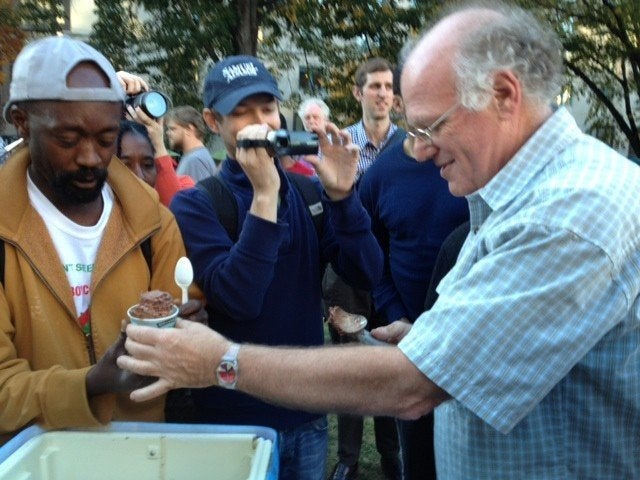 WASHINGTON -- Occupy DC demonstrators in McPherson Square received a tasty treat Tuesday afternoon when the co-founders of ice cream giant Ben and Jerry's, Ben Cohen and Jerry Greenfield, stopped by to scoop ice cream and show their support.
"Ben and Jerry's has proved that a corporation can support the community and use its power to improve the quality of life for everybody and still make a profit," Cohen told reporters at the event. "As our business supports the community, the community supports us back. ... I think it would be great if other corporations could follow suit."
Although they are admittedly part of the 1 percent that the occupiers continuously criticize, the legendary ice cream entrepreneurs are touring the country in support of the anti-corporatism movement and have issued a statement on their website supporting Occupy demonstrators.
"I think that there's a lot of people in the 1 percent that believe that the laws in our country have been rigged to support the wealthy," Cohen said. "It shouldn't be surprising that people are advocating for things that don't necessarily help them, but help the community in general," he said, adding that a constitutional amendment could "solve the problem" of corporate personhood in politics.
At least a hundred occupiers flocked to the free ice cream station, shaking hands with the ice cream celebrities and discussing the movement's potential.
"They came themselves and that's what makes the difference," Heather, an Occupy DC protester, told The Huffington Post, refusing to give her last name. "Meeting us in person really showed it wasn't just something they wanted to say they did."
When Cohen was asked if he saw potential in any of the potential presidential candidates for 2012, he answered that no one currently fit his criteria.
"I'm waiting for some politician who's going to support a lot of the things the Occupy movement is talking about," Cohen told HuffPost. "I think we've got a ways to go."
And any hope for an Occupy-inspired ice cream flavor?
"There's been lots of talk about it, but it's not in the works right now," Cohen said.
Calling all HuffPost superfans!
Sign up for membership to become a founding member and help shape HuffPost's next chapter