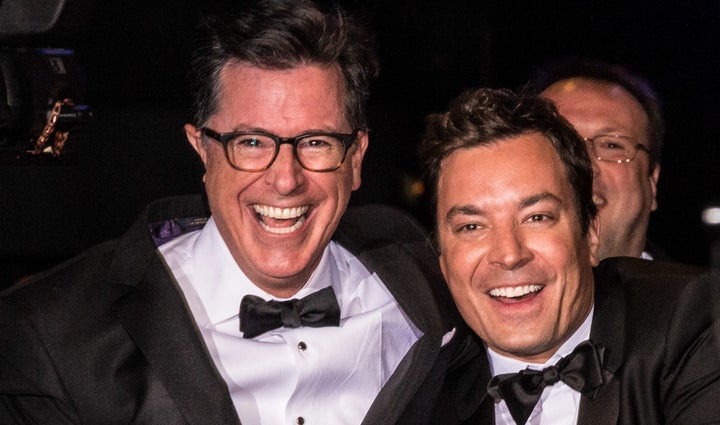 In the summer of 2015, during the promotional rounds for his debut on "The Late Show," Colbert appeared on Howard Stern's radio show. To a skeptical Stern, Colbert claimed that he and Jimmy Fallon had gotten drinks to specifically quell the possibility of a late night war starting.
The legendary tradition of late night hosts feuding had certainly defined the relationships of the their predecessors ― David Letterman and Jay Leno. This time it would be different.
But during Colbert's first week, Fallon went out of his way to maintain ratings supremacy, booking popular guests like Justin Timberlake and Ellen DeGeneres to perform in the show's most popular sketches ― a satirical history of rap and a lip sync contest. According to the preeminent expert on late night wars, Bill Carter, a "prominent late-night" source told the journalist that Colbert facing those guests was like "going up against Hiroshima and Nagasaki."
That is, of course, a gross over-exaggeration. Perhaps North Korea's resources would be better spent creating the next Timberlake rather than a warhead, but that's beside the point. No blood has been shed in this battle. Still, the two shows have spent the last two years intensely vying for ratings supremacy.
The battle has so far been too close to call. Last month, reports that Fallon's side had once again bested Colbert's in ratings ended up being overturned by a final viewership count. So as the struggle for supremacy continues to heat up, it seems an apt time ― especially in this summer heat ― to swing the focus of this fight to their ice cream.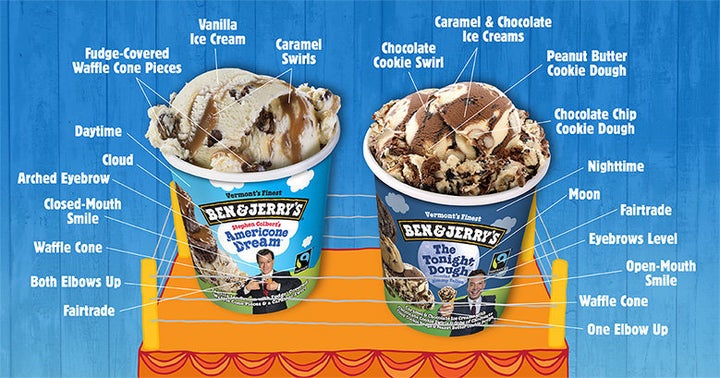 "From Tesla and Edison to the Hatfields and McCoys, human history is filled with rivalries," a PR article on Ben & Jerry's website, timed to the debut of Colbert's new show, jokingly hypes. "Of all the famous feuds, we say that none impacts modern society more than the one between Jimmy Fallon and Stephen Colbert."
Ben & Jerry's debuted Colbert's ice cream flavor, Americone Dream, back when he still hosted "The Colbert Report" in 2007. Fallon's own "Late Night" flavor was retired when he took over "The Tonight Show" ― his current flavor, The Tonight Dough, debuted in early 2015.
Mirroring the shows' receptions, Fallon's new flavor "almost overnight turned into a fan favorite," according to Ben & Jerry's senior brand manager, John Henry Siedlecki. Colbert's flavor has had slow and steady growth. At the end of 2016 ― the first year both flavors had a full 12 months of distribution ― Americone Dream was the sixth most popular Ben & Jerry's Flavor. The Tonight Dough was fifth.
"They're both neck and neck," Siedlecki added. In fact, according to new 2017 rankings provided to HuffPost, they remain super close ― still at both sixth and fifth, respectively.
"Their two careers have sort of collided in a new late night spot and it's kind of cool to see the intersection of their ice cream flavors as well," Siedlecki said.
Ben & Jerry's recently began offering Americone Dream as mini-cups and pint slices, meaning Colbert might begin to get an edge in ice cream supremacy at roughly the same time his show did.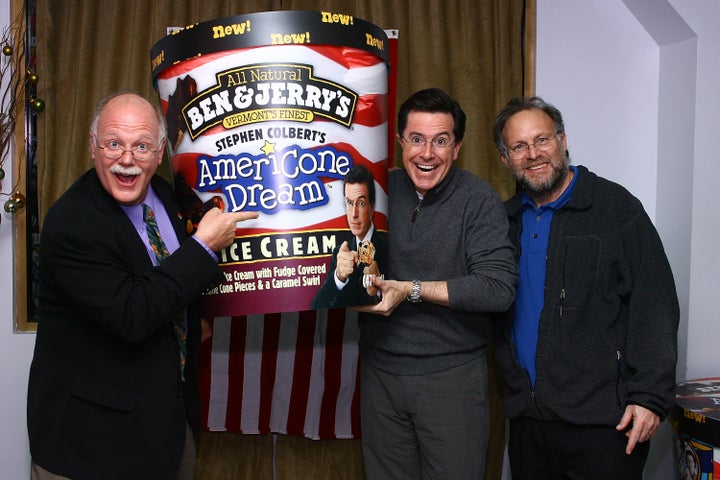 Colbert's success is deeply connected with his views on Trump's presidency, which could be a challenge for Ben & Jerry's as they try to sell his ice cream across the country. On the Ben & Jerry's website page previously mentioned, there are only two comments, both from 2017.
The first is from a woman who claims she put Americone Dream back after she realized it was Colbert-themed, citing his brand of comedy. "After what he said about Trump, time to boycott this ice cream company," wrote a second woman, although it's unclear if she was referring to Colbert or Fallon.
Siedlecki was hesitant to talk about whether politics have provided new difficulties for the company.
"I think that the shows have always stood on their own," explained Siedlecki. "We're supportive of our flavors just as they are supportive of our flavors. I think we sort of let them handle the comedy and we handle the ice cream. We've kept that nice separation of church and state."
Colbert's and Fallon's flavors have maintained their place in the overall Ben & Jerry's rankings, so any hesitation on behalf of Trump supporters seems to be relatively negligible so far. In June, Fallon celebrated that sales of The Tonight Dough had raised over $1,000,000 for his charity, SeriousFun Children's Network. Colbert's flavor has similarly raised quite a bit of money for The Stephen Colbert AmeriCone Dream Fund.
In this late night war, there is still no clear winner. Fallon may have had more success in the ice cream battle, but his current lead is far from decisive. Ben & Jerry's Founders Bennett Cohen and Jerry Greenfield don't even have a definitive favorite, at least according to Siedlecki.
"I'm sure they love them equally." 
On a hot summer day, you could always get both. It's just come night that you'll have to make a choice.
Calling all HuffPost superfans!
Sign up for membership to become a founding member and help shape HuffPost's next chapter
BEFORE YOU GO