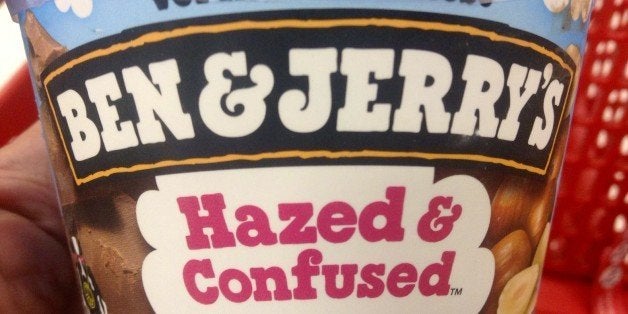 Ben & Jerry's is refusing to rename its "Hazed & Confused" flavor.
The ice cream company said last month that it would consider changing the moniker after Lianne and Brian Kowiak of Tampa, Florida -- whose son, Harrison, was killed in 2008 while pledging a fraternity -- complained that the name made light of the dangerous college tradition of hazing.
But after reviewing its marketing, the Unilever-owned ice cream brand said it found nothing that "condoned hazing, supported hazing, or even inferred hazing," according to a report on Bloomberg.
"It didn't make sense for us to change the name," Sean Greenwood, a Ben & Jerry's spokesman, told Bloomberg. "We named it because it's a pop culture reference."
A Ben & Jerry's spokesman confirmed this statement in an email sent to The Huffington Post Monday morning.
The chocolate and hazelnut flavor's moniker alludes to a hit song by Led Zeppelin and a 1993 cult-classic film by Richard Linklater.
Ben & Jerry's tongue-in-cheek ice cream names have stirred controversy before. In 2012, the company apologized for being racially offensive over "Taste The Lin-Sanity" -- a limited-release flavor named for basketball star Jeremy Lin that contained lychee honey and chunks of fortune cookie. Lin, the son of Taiwanese immigrants, was born in California. Before that, the company's "Saturday Night Live"-inspired "Schweddy Balls" was protested by groups who said it was inappropriate for children.
Popular in the Community