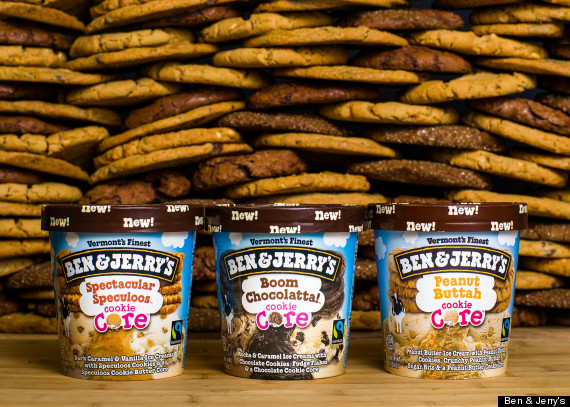 Pros at improving and expanding upon golden ideas (in December they introduced Peanut Butter Half Baked, a peanut-buttery version of its now most popular flavor), Ben & Jerry's has just taken its core technology to the next level. Today, Ben & Jerry's is releasing their newest creations: Cookie Cores.
Just like the original Core flavors, Cookie Cores contain a column of deliciousness running down the middle of the pint, so that each scoop, from the top to the bottom of the carton, contains at least a bit of the Core filling. Instead of the previous incarnations, which had jam, caramel or peanut butter running down the middle, the new Cookie Cores are made of cookies and cookie butter. That means spoonable cookies, just so everyone's clear.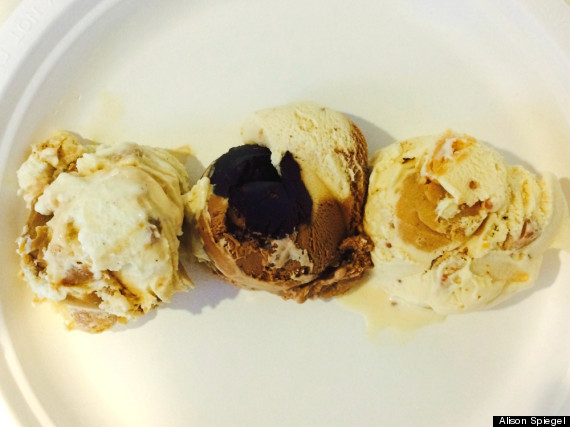 The new flavors, pictured above in order from left to right, include Spectacular Speculoos Cookie Core, Boom Chocolatta! Cookie Core and Peanut Buttah Cookie Core. In addition to making traditional speculoos cookie butter into a Core, Ben & Jerry's turned chocolate cookies and peanut butter cookies into a spoonable cookie spread. Not only does each pint contain a cookie Core, but each one also contains cookie pieces.
Cookie butter, for the uninitiated, is a spread composed of pulverized cookies. Think peanut butter, made from cookies instead of peanuts. The most well-known cookie butter has always been Biscoff Spread, from the maker of the speculoos cookies you see on Delta flights. Like Biscoff cookies, Biscoff's cookie butter is something of a cult favorite -- or at least, it's not as well known as it should be. In the last few years, however, cookie butter has transitioned from general obscurity to the mainstream, due in no small part to Trader Joe's, which sells its own line of cookie butter. Leave it to the Flavor Gurus at Ben & Jerry's to recognize a good thing, and incorporate it into their own ice cream technology (our favorite kind of technology, obviously).
Spectacular Speculoos Cookie Core is dark caramel and vanilla ice cream with speculoos cookies and speculoos cookie butter Core. The texture of the cookie butter is spot on.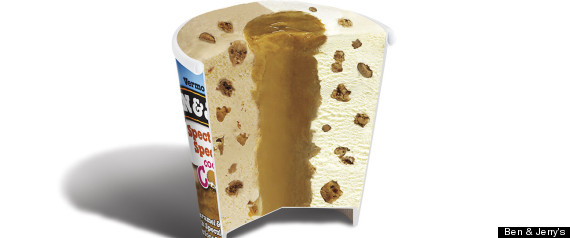 Peanut Buttah Cookie Core is peanut butter ice cream with crunchy peanut butter sugar bits, peanut butter cookies and a peanut butter cookie Core. First of all, how could you not love an ice cream with "buttah" in the name? But more importantly, Ben & Jerry's perfectly captured the grainy quality we love so much about sugar-coated peanut butter cookies.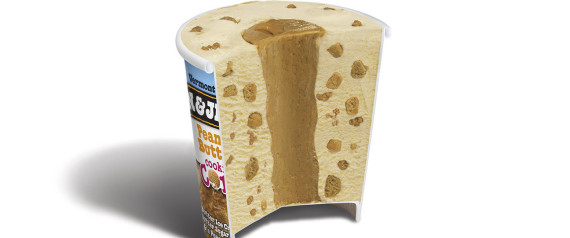 Boom Chocolatta! Cookie Core is mocha and caramel ice creams with chocolate cookies, fudge flakes and a chocolate cookie Core. This was our favorite of the lot. The gravelly texture and rich flavor of the Core worked flawlessly with the not-too-sweet ice creams. Even if you're not a fan of coffee ice cream, we almost guarantee you'll love this one, because the coffee flavor isn't too strong and adds an X-factor to this already dreamy pint.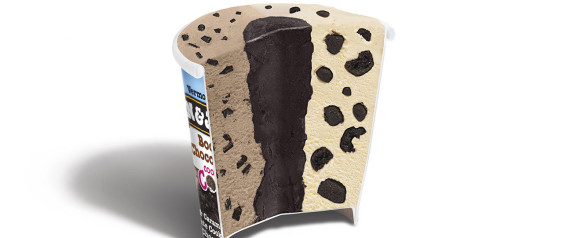 "These are cookies you'll want to spoon!" Ben & Jerry's CEO Jostein Solheim accurately stated in a press release. He's not wrong. We're hoping for a chocolate chip cookie butter Core next, but in the meantime, we'll be plenty busy with these three new flavors.
The new Cookie Cores will be sold for $4.89 a pint, and will start hitting retailers and scoop shops nationwide today.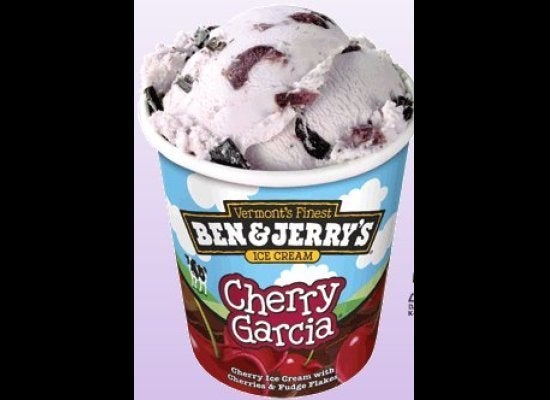 Funniest Ben & Jerry's Flavors
Popular in the Community