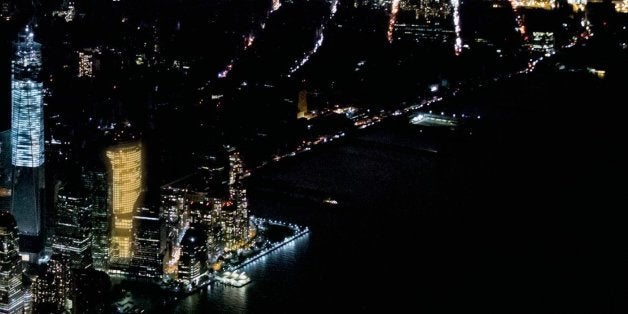 10:04
by Ben Lerner
Faber and Faber, $15.00
Publishes September 2, 2014
The Book We're Talking About is a weekly review combining plot description and analysis with fun tidbits about the book.
What we think:
While staked out at an observation deck in Marfa, Texas, angled towards the town's famous mythical lights -- colorful, undulating, and believed to be aliens, but actually the result of compressed pockets of desert air -- Ben Lerner, or a protagonist who closely resembles Ben Lerner, decided to write a different kind of book. He'd received a huge cash advance for an idea about fraudulent letters, but instead set out to tell "a work that, like a poem, is neither fiction nor nonfiction, but a flickering between them." His new book
10:04
isn't quite a "novel from life," as we've seen in recent years from authors like Sheila Heti and Akhil Sharma, but a reflection on the ways in which art imitates life, and life imitates art.
He takes the reader (whom he addresses directly on occasion, effectively asking "does this make sense to you?," or, "do you relate?") to a number of exhibitions -- Donald Judd's aluminum boxes, a friend's display of "totaled" works, Christian Marclay's "The Clock" -- examining the worth of the pieces with the same desperate need for understanding with which he approaches, say, his aortic root, or his apparent fear of fatherhood.
Lerner's perceptiveness makes his writing not only engaging but funny; while visiting the Natural History Museum with an elementary school student he regularly, if anxiously, mentors, he quips, "I told him, probably sounding as if I were giving orders for a suicide mission, that if we somehow did lose each other, we should meet by the Tyrannosaurus rex skeleton. He smiled, but didn't say anything; I wondered if he was embarrassed for me."
Though most of the book is comprised of original writing, it contains within it a few previously published components -- a poem, a few scenes that ran in The Paris Review, and a short story that ran in The New Yorker titled "The Golden Vanity." Just as 10:04 is meant to be a living replica of Lerner's life, "The Golden Vanity" is meant to imitate the life of 10:04's protagonist, who initially turns down the magazine's offer.
Lerner's shot at capturing the flickering light between art and life, and his declaration that this is his goal, is reminiscent of a sort of thesis statement that wraps up another recent literary hit, Donna Tartt's The Goldfinch: "between 'reality' on the one hand, and the point where the mind strikes reality, there's a middle zone, a rainbow edge where beauty comes into being, where two very different surfaces mingle and blur to provide what life does not."
It is irksome, then, that Lerner, whose writing commits the same conventional "no-no's" as Tartt's (the first sentence of 10:04 contains not one, but two unnecessary adverbs -- are poets not praised for their economy? Humbug!) has garnered praise from her primary denouncers, Lorin Stein and James Wood. One questions why; one considers gender. Or, at least, the triumph of the Author over the Reader, the idea that books serve the purpose of bestowing readers with the gift of their authors' heightened awareness, rather than providing avenues for open-ended discussions spurred by plots redolent of personal, emotional memories.
While Tartt's meditations cumulate to form an immersive cloud, Lerner and his structural, pause-worthy sentences, his estrangement from reality ("An increasingly frequent vertiginous sensation like a transient but thorough agnosia in which the object in my hand... ceases to be a familiar tool and becomes an alien artifact") keep you at a fumbling distance, and seem to serve the purpose of reminding the reader that he is the discerning one, he is the Author.
And he is an Author whose discernments are worth reading, particularly because his past work as a poet endows him with a certain sensitivity -- of a childhood memory he writes, "the radiator sputters in the corner because November in the past is often cold."
His artful sentences may make losing yourself in his story impossible, but nearly all of them are worth savoring. Just when you find yourself relating to his characters -- say, when a fumbling pair of close friends attempts to have sex for practical purposes, to conceive a child -- he extracts you from the scene with a magical non-sequitur: "we both started laughing, producing what felt like instant flaccidity. I rolled off her and we laid there together on our backs. There are identical soil formations in photos that, according to their captions, were taken miles apart."
What other reviewers think:
NPR: "He's self-conscious, funny and smart: His riffs on everything from wisdom teeth extraction to the space shuttle Challenger disaster flash by your eyes with the urban fluidity of silverfish."
The New York Times: "Mr. Lerner is among the most interesting young American novelists at present for several reasons, one being that he's akin to a young Brooklynite version of the Norwegian novelist Karl Ove Knausgaard. That is, in his books, little happens, yet everything happens. Small moments come steeped in vertiginous magic."
Entertainment Weekly: "Lerner shuns commercialism for a funny, deeply observational metafictional romp."
Who wrote it?
Ben Lerner's first novel, Leaving the Atocha Station, won the Believer Book Award. A poet by trade, he's been a finalist for a National Book Award, and teaches at Brooklyn College.
Who will read it?
Those interested in Realism and/or poetic prose. Fans of Geoff Dyer, whose meandering, contemplative style is echoed throughout, and who called Lerner's previous work "luminous."
Opening lines:
"The city had converted an elevated length of railway spur into an aerial greenway and the agent and I were walking south along it in the unseasonable warmth after an outrageously expensive celebratory meal in Chelsea that included baby octopuses the chef had literally massaged to death."
Notable passage:
"When he got out of bed late the next morning and had his coffee -- iced so as not to disrupt the clotting -- he realized: I do remember the drive, the view, stroking Liza's hair, the incommunicable beauty destined to disappear. I remember it, which means it never happened."
Rating, out of ten:
10. By imbuing his philosophical reflections with remembered scenes from his own life, Ben Lerner tells a story that moves and provokes.
REAL LIFE. REAL NEWS. REAL VOICES.
Help us tell more of the stories that matter from voices that too often remain unheard.
BEFORE YOU GO