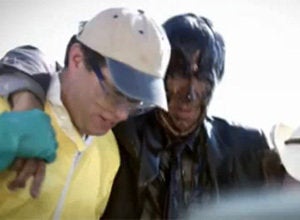 A coalition of progressive and environmental groups is up with the first batch of an $11 million ad campaign pushing the U.S. Senate to act on comprehensive energy legislation. And in a playful and provocative take on the current spill in the Gulf, the organizations depict Sens. Ben Nelson (D-NE.), Richard Burr (R-N.C.), and Mike Johanns (R-NE) -- three early targets -- as oil-soaked pelicans.
The spots, sponsored by SEIU, VoteVets.org, the League of Conservation Voters and the Sierra Club, are noteworthy for the extent to which they incorporate the oil spill crisis (and its more indelible images) into a somewhat tongue-in-cheek pitch for reform. The coalition isn't doing solely negative advertisements. They are also releasing thank-you spots for Senate Majority Leader Harry Reid (D-NV) and Sen. Claire McCaskill (D-MO) for their support of climate change/energy legislation. Future ads are sure to be in the works, meanwhile, since the trio of organizations has set aside a large sum of money.
But the willingness to go after Nelson, above others, stands out. The Nebraska Democrat was similarly targeted by D.C.-based groups on health care reform. And while the prevailing concern was that those ads would drive him further away from the legislation, in the end he voted yes. Getting his support on energy and climate reform may prove a similarly difficult task, in large part because Nelson took a beating in the polls for his health care vote; but mainly because of the senator's skepticism of a carbon cap-and trade system (one of the more contentious components of the final legislative product).
The coalition is hoping to drum up popular support for the measure in state by airing the ads in Nebraska both on broadcast and cable television. But the more likely route to securing Nelson's vote seems to be the one being pursued in the Senate, where the cap-and-trade model that had been the keystone of the legislation is being watered down to impact only the utilities sector.
UPDATE: Senator Nelson made the following comment about the ads being run in his state:
"It seems special interest attack ads are the only thing bipartisan about Washington."
Popular in the Community