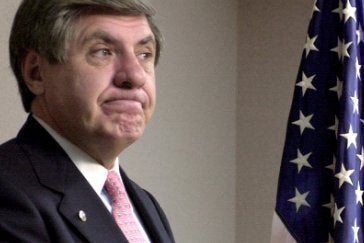 One of the toughest Democrats to corral in the Senate confirmed on Thursday that he is not committed to helping his party block a Republican filibuster on health care legislation.
Sen. Ben Nelson (D-Neb.) has long been a skeptic of Democratic-led health care reform, specifically the public option for insurance coverage. But in the wake of Paul Kirk's appointment as a temporary replacement for the late Senator Ted Kennedy -- which gives the party 60 caucusing members -- leadership and allied Democratic groups have renewed their hopes that the Nebraskan would commit to voting for cloture, the 60-vote hurdle that would allow health care to be considered by up-or-down vote.
As of now, however, Nelson is still insisting that such a promise would be premature.
"Senator Nelson has not said he will vote for cloture even if he opposes the health care reform bill," his spokesman, Jake Thompson, wrote in an email to the Huffington Post. "He doesn't even have a bill at this point to consider. Quite the opposite, he has said hasn't made any commitment one way or the other on procedural issues, that his not on autopilot, and his voting record backs that up."
"He has said that a few times in the past he voted for cloture on a bill he opposed," Thompson added. "So he was yes on cloture, no on the bill in the final up or down vote. But he explicitly has said he's made no determination on how he will vote on cloture regarding health care reform."
Thompson's email came in response to a Huffington Post story on Wednesday, which reported that Nelson had "indicated that he would support cloture even if he ultimately votes against the bill." That line was drawn from an earlier Huffington Post story in which Bud Pettigrew, the chair of county chairs for the Nebraska Democratic Party, said that Nelson told him he would vote for cloture on health care reform.
"I really think Bud Pettigrew misheard or misinterpreted what Sen. Nelson said," Thompson explained, pointing to an early September article in The Hill, in which Nelson similarly indicated that he might oppose cloture. "But I wasn't in the room during the call. I can imagine him saying he could vote for cloture then no on the bill--which he has done before. I would be surprised if he said he would--particularly because at the time he couldn't have known what kind of bill would be before him on the Senate floor."

Should Nelson defect on cloture, it would all but ensure that Republicans successfully filibuster health care legislation.
Popular in the Community