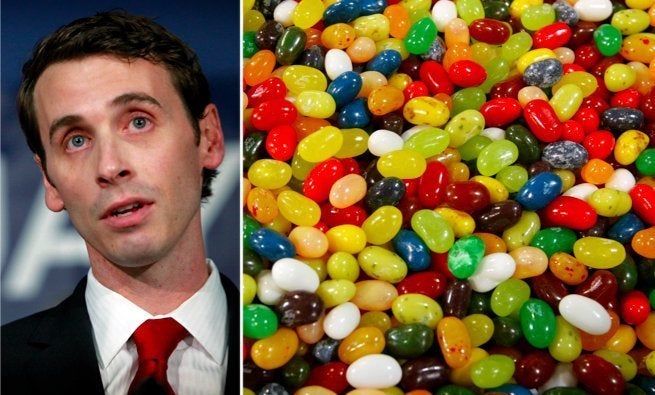 Rep. Ben Quayle (R-Ariz.) dissected the meaning of jelly beans given to him by former President Ronald Reagan when he was a child in an op-ed for Politico published over the weekend.
In the piece commemorating Reagan on the 100th anniversary of his birth, the GOP congressman, son of former Vice President Dan Quayle, wrote:
When I was a child, President Ronald Reagan was the nice man who gave us jelly beans when we visited the White House.

I didn't know then, but I know it now: The jelly beans were much more than a sweet treat that he gave out as gifts. They represented the uniqueness and greatness of America -- each one different and special in its own way, but collectively they blended in harmony.
While the meaning extrapolated by Quayle is certainly debatable, a report released by ABC News on Sunday highlights the fact that jelly beans have become a part of Reagan's legacy:
Perhaps the most coloful display for Reagan's birthday will be a giant six-foot-by-six-foot birthday cake that will be served to visitors at the newly renovated Reagan museum in California. It's topped with 20,000 jelly beans -- the president's favorite candy -- and emblazoned with the presidential seal and photos from his life.

Reagan fans who can't make it to the museum can order commemorative 50-flavor Jelly Belly jelly bean packages, complete with the former president's likeness and bonus posters featuring "words to lead by." Volunteers fanned out across the nation's capital this week, giving commuters jelly bean mementos of their own, complete with a special Reagan fold-out card inside.
In honor of President Ronald Reagan, the Bush White House switched from M&Ms to jelly beans as the office candy staple for the week.

The San Francisco Bay-area maker of Jelly Belly started supplying Reagan to help him quit smoking during his first term as California governor, and the jelly beans became a favorite at Reagan's White House Cabinet meetings.
The same year, Fox News reported on portraits made of different colored jelly beans at the Jelly Belly factory in Fairfield, Calif. honoring the former president:
About 500,000 visitors a year tour the factory in Fairfield, posing for pictures in front of the Reagan portraits that have had a place of honor at Jelly Belly for years.

One shows him in front of the American flag, depicted in cherry, coconut and blueberry jelly beans. Another is a swirl of strawberry daiquiri, bubble gum and other flavors that depicts him with wife Nancy.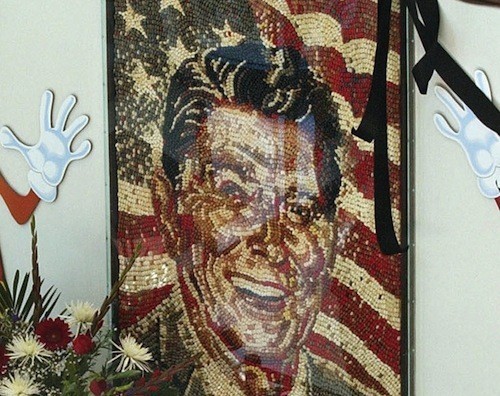 Popular in the Community