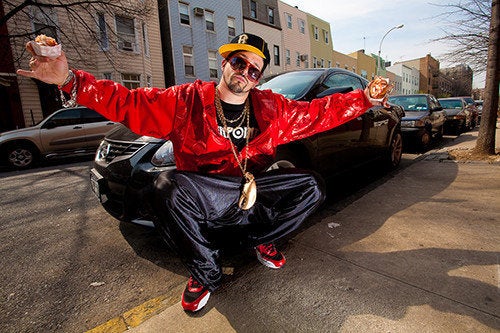 I recently caught up with my friend, chef Ben Sargent, host of Cooking Channel's Hook, Line and Dinner. The affable, rising star has a tough alter ego named Dr. Klaw, who dons a streetwise style and a sizable pet lobster in tow.
TG: What is the new direction for the show?
Seafood has always been my brand. I love to fish and I love to cook fish on the beach! Hook, Line and Dinner did really well for three seasons, but I wanted to cook more with locals and really get my hands dirty so we are looking for a new idea that very well might include fishing and all the things I love, but maybe with a new "hook" (pun intended) for direction. The important thing is that I love to meet people with a passion and the folks I met along my Hook, Line and Dinner travels became my friends and I'm still in touch with most of them. It's been wild ride and I'm so thankful to Cooking Channel for giving me this platform. What will come next? You'll have to wait and see. More adventure, higher stakes and a big reveal at the end!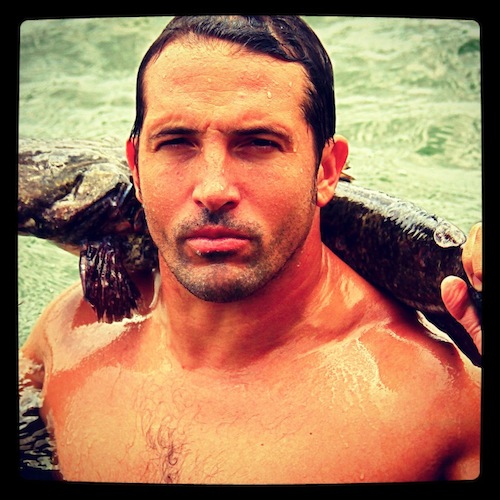 Photo credit: Christina Kim

TG: Tell about your cookbook coming out this summer.

BS: Well, the cool thing about the book is I caught or have caught every fish in there with my own hands. In some cases, like with the catfish, my own bare hands, actually!

The book is a collection of stories and recipes from fishing trips and seafood experiences dating back to when I was a little kid. The book starts with me at age five sitting in the principal's office. I had no idea what I had done wrong but later found out I had been called in for eating live minnows. I was shocked to see my parents sitting there too. They didn't look too worried. When the principal asked them if they were horrified by my actions they both laughed. "I'm afraid we are to blame for that," they said. "We actually taught him how to do that."

The recipes are easy to follow. It is written for the traveling fisherman, surfer or vacationer who just needs a little inspiration. The fish featured are all from sustainable waters. It is a real touchy subject because some of the fish you might have seen such as octopus are not high in numbers in some parts of the world. The waters I fish for them in however are all sustainable such as in Oahu, where octopi numbers are actually quite strong. I am very clear about that in every chapter. I think with fishing being threatened, as it is right now, people need to start thinking about really taking the pressure off the obvious fish. It is a fun time actually, because you need to become a creative eater and try a sea robin and a snakehead if you are doing your part for the industry. I hear many people say, "I love seafood." Well, if you are eating blue fin tuna, trust me, you don't love seafood, because that fish is not going to be around for your kids to enjoy.

Throughout the book tour, I'll be on my motorcycle. So you can catch me this summer for a signing at your local bookstore or tackle shop! My hope is to really see this book not just in the bookstores, but also in fishing stores, tackle shops and bait shops and more. It is just that kind of a book. I hope to meet many people on the road. I will be starting up north and heading south with my rods, my book and few clean pairs of undies!
TG: Who is Dr. Klaw? Is he your alter ego? The last I heard of him he was profiled in the local news, a shady street thug delivering lobster rolls to the who's-who of NYC.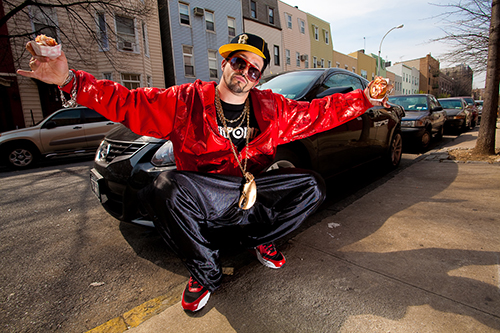 Photo credit: Cody Raisig
BS: A lot of people ask me if I am Dr. Klaw? ...Well, that is a hard question to answer. Most people don't know me from my days of selling illegal lobster rolls to the stars... But in a way that is when everything changed for me. I got busted, and shut down and a character was born out of necessity.

BS: Dr. Klaw, is a reference to Inspector Gadget's nemesis whose face was never seen through the entire airing of the cartoon. So, Dr. Klaw had to take his lobster roll business to the streets after being busted. It was an alias that actually worked and allowed him to work undercover for a while. It was out of that experience that Dr. Klaw met a lot of other people doing cool food things in their basements and, racked up a good amount of secret customers in his cell phone all willing to do whatever it takes to have the next yummy underground thing to eat!

TG: What happens on Dr. Klaw's & Famous Fat Dave's "Back Door Tour" in Brooklyn?

BS: I can't really speak for my friend Dr. Klaw but I do know "What happens on the "Back Door Tour" stays on the tour." I know about this for a number of reasons. I had some very high status clients, or "patients" as I liked to call them. They used to come for lobster rolls. It was a little bit of an unwritten rule that I would not talk about who they were. This was a safe haven for them, a little get away where they would not be spotted. Along those same lines, I was really just in the process of getting people laid. I mean, my lobster rolls were very good, but if you were on a date and said to your date "Are you hungry, do you like lobster?" and 15 minutes later some shady, thugged out lobster rolling guy from South Boston drops a paper bag in your hand with two steamy hot toasted lobster rolls inside, you are getting some action that night. Trust me.

Anyway, so this tour is really stringing the friends of Dr. Klaw together who are doing cool interesting and hard to find cuisine. We are giving you a VIP experience. Dave and Klaw think about the tour as a meal, each bite is orchestrated; each stop has an order to it. They are thinking about the bite you just had and they are going to pair it with something perfect at the next stop.

Anyway, it takes them about a week to plan out each tour. There is a waiting list for that reason. Only four people because that is all the cab will fit. But, that sounds so fun to roll with FFD and Klaw for an underground night on the town. I love it.

TG: Have you been on the tour?

Ben: No, I'm not VIP enough to get on their tour. Please, Dr. K and notorious FFD...I knew both of them before they were high lobster rollers. I'm sure a lot of planning goes into this and you will get your money's worth if I know anything about that duo! That is all I can tell you at this time. This message will self-destruct in 30 seconds.