WASHINGTON -- Sen. Ben Sasse (R-Neb.) says he won't vote for Donald Trump, even if he becomes the GOP presidential nominee.
Sasse, who is in his first term, put up a lengthy Facebook post Sunday night, going after the Republican Party frontrunner for the fact that his "relentless focus is on dividing Americans and talking like he's "running for king."
"Conservatives understand that all men are created equal and made in the image of God, but also that government must be limited so that fallen men do not wield too much power," Sasse wrote. "A presidential candidate who boasts about what he'll do during his 'reign' and refuses to condemn the KKK cannot lead a conservative movement in America."
Sasse added, however, that he won't vote for the Democratic candidate either, but will look for some "third option."
While Republican politicians have consistently criticized Trump, many have stopped short of saying they won't back him if he becomes the nominee. But as the prospect of him winning the nomination becomes more real, the last-ditch plans to stop him are also shaping up. The New York Times reported that at "least two campaigns have drafted plans to overtake Mr. Trump in a brokered convention, and the Senate majority leader, Mitch McConnell of Kentucky, has laid out a plan that would have lawmakers break with Mr. Trump explicitly in a general election."
But Trump has started to pick up some establishment support in recent days. Most notably, New Jersey Gov. Chris Christie (R) endorsed him Friday. Christie was quickly followed by one of his most loyal surrogates, Maine Gov. Paul LePage (R), who just a week earlier had been plotting how to take down Trump.
Before You Go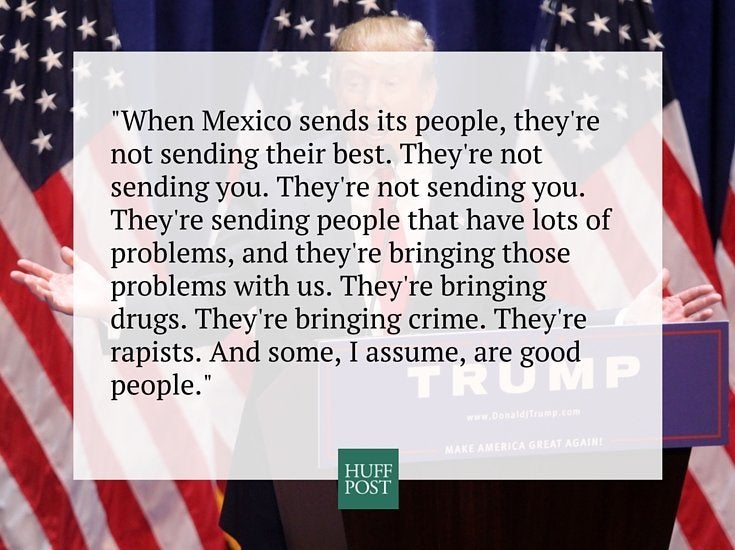 9 Outrageous Things Donald Trump Has Said About Latinos
Popular in the Community