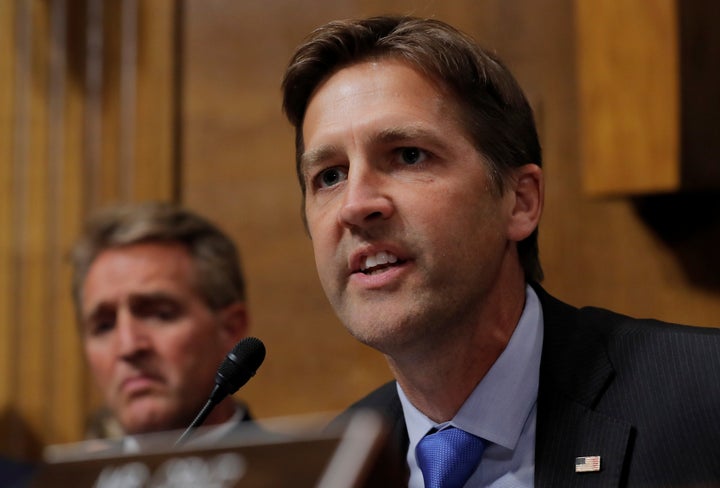 Sen. Ben Sasse, a Republican from Nebraska, took to the Senate floor on Wednesday night to deliver an impassioned and at times emotional speech about the "very important" Me Too movement, the "widespread legacy of sexual assault" in America and the deep hurt and damage that Supreme Court nominee Brett Kavanaugh's confirmation process has wreaked on the country.  
Sasse, one of the 11 Republicans on the Senate Judiciary Committee who voted last week to move Kavanaugh's nomination forward, stressed, however, that a vote for the federal appellate judge should not be a "proxy" for validating women's claims of sexual assault. Sasse didn't say he would not continue to support Kavanaugh's confirmation.
This confirmation vote is "about one vacant seat on the Supreme Court" and not a "giant binary choice about the much broader issue of whether we do or don't care about women," he said. 
In his speech, Sasse condemned President Donald Trump's recent "mockery" of Christine Blasey Ford, the Palo Alto University research psychologist who has accused Kavanaugh of sexually assaulting her when they were teens. Sasse added that he'd urged the president in "June and early July" to nominate an unspecified woman for the Supreme Court seat.
"Although I've said many complimentary things about Judge Brett Kavanaugh and his distinguished record of 12 years of service on the D.C. circuit court, I will say that I urged the president back in June and early July to make a different choice — before he announced this nomination," Sasse said.
"I urged him to nominate a different individual. I urged the president to nominate a woman," he continued.
His voice breaking, Sasse later told the story of two "dear friends" who had been victims of rape and cited statistics about the credibility of the vast majority of allegations of sexual violence. 
"I've wept with the victims of sexual assault, and I believe the advocacy groups' data that between one-fifth and one-third of American women have been sexually assaulted at some point in their lives," Sasse said, adding that, though the Me Too movement was "complicated," it's been a "good thing." 
Still, the lawmaker said Kavanaugh's vote should not be viewed through the lens of Me Too.
"This is not about choosing between believing our daughters and protecting our sons. That choice is false," Sasse said. 
The vote should not be a "proxy for the validation and validity of claims of sexual violence," he concluded. 
Some Twitter users reacted to Sasse's speech with skepticism, saying the senator was trying to "have it both ways." 
"If you are serious ... the world is watching," author Maureen Johnson tweeted.
Minutes after Sasse's speech, Senate Majority Leader Mitch McConnell (R-Ky.) pushed forward with a key procedural vote on Kavanaugh — despite the fact that the FBI investigation into Ford's allegation against the judge has not been concluded.
Calling all HuffPost superfans!
Sign up for membership to become a founding member and help shape HuffPost's next chapter
BEFORE YOU GO