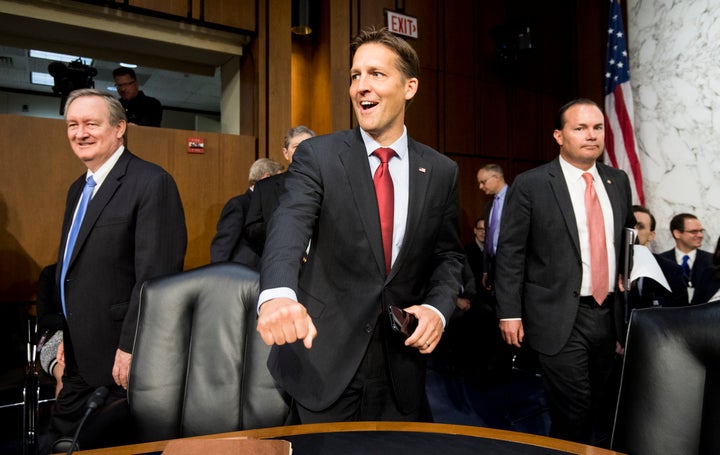 Sen. Ben Sasse (R-Neb.) acknowledged on Saturday that he "regularly" considers leaving the Republican Party, making the admission as part of a series of tweets in which he decried the increasing role conspiracy theories play in today's politics and media.
Sasse, elected to his seat in 2014, said he feared the U.S. was "headed toward a place where hefty majorities of both sides of the electorate are going to regularly embrace unsupported and blatantly false assertions."
When one of his followers asked him if he ever considered switching parties, just as she switched from Democrat to no-party, Sasse replied: "yep, regularly consider it."
Sasse is one of President Donald Trump's most vocal Republican critics in Congress. He attracted attention during the 2016 presidential campaign when he said he would not vote for Trump but instead would back a third-party candidate. Since Trump's election, Sasse regularly taken issue with the president's behavior ― last year, for instance, the lawmaker criticized conservatives for backing Trump's attacks on the media.
On Sunday, he blasted the unrelenting "drama" that marks the Trump White House during an appearance on NBC's "Meet The Press."
"I don't have any desire to beat the president up, but it's pretty clear that this White House is a reality-show, soap-opera presidency," Sasse said. "Right now, it feels like there's just way too much drama every day."
Last week, Sasse called out the president for assailing Attorney General Jeff Session over the Justice Department pursuing federal criminal charges against two Republican House members, both of whom were early and staunch supporters of Trump.
Sasse has also identified himself as an "independent conservative who caucuses with the Republicans."
Still, even as he doesn't hesitate to publicly lash out at Trump, Sasse can be counted on to back the administration's legislative agenda. According to the FiveThirtyEight website's congressional tracker, Sasse votes in favor of Trump's policies 86.7 percent of the time. He also is expected to vote to confirm Trump's controversial Supreme Court nominee, Brett Kavanaugh.
The 46-year-old Sasse, who's up for re-election in 2020, insisted last week that he's not focused on his own political future.
"I'm the second or third most conservative person in the Senate by voting record, and I don't hide any of that," he said during a Wednesday appearance on MSNBC's "Morning Joe." "But most of what I care about isn't stuff that we're actually debating in the Congress. So I'm not really that interested in incumbency."
Meanwhile, the senator's advisers told The Washington Post not to take seriously his suggestion that he might abandon the Republican Party.
Hayley Miller contributed reporting. This story has been updated with Sasse comments on "Meet the Press."
CORRECTION: A previous version of this story misstated the year Sasse was elected to his seat.
REAL LIFE. REAL NEWS. REAL VOICES.
Help us tell more of the stories that matter from voices that too often remain unheard.