Ben Shapiro didn't take college too seriously.
But he substituted first-hand knowledge for ideology and anecdote, leaving us with this bit of insight:
I took Jewish studies courses when I was at UCLA. There are only two reasons to take a Jewish studies course. The first is to meet girls and the second is to get an easy A. And that's why most students are taking ethnic studies courses.
Fox News Host Megan Kelly laughed as University of Pennsylvania sociologist Camille Charles appeared to roll her eyes.
Supporters of the Tucson classes praised the program for boosting student achievement and graduation rates in a majority-Latino school district. A state-commissioned, independent audit recommended expanding the courses.
Kelly objected to Tucson students studying works that use the term "gringo" to refer to white people, wondering if parents would object to student reading books with the "n-word." Charles pointed out that students already do study books like that, citing Mark Twain's Huckleberry Finn.
Kelly singled out Tucson literature teacher Curtis Acosta, saying he was "stirring up some anti-race sentiments" against white people by talking about "occupied America," the title of a classic Chicano history text authored by Rodolfo Acuña.
In fact, Acosta describes himself as biracial and doesn't hate the white part of himself, or his white colleague Sally Rusk, who also taught in the controversial Mexican American Studies program at Tucson Unified School District. Fox News apparently didn't ask him.
At any rate, to put Shapiro's comments in context, he doesn't just have a problem with ethnic studies. The author of a book called Brainwashed: How Universities Indoctrinate America's Youth, Shapiro argues that pretty much all of academia is dragging the country down. According to the Christian Science Monitor:
Of U.S. professors in general, Shapiro makes sweeping - and many would say absurd - charges that they promote atheism, absolute sexual freedom (including pedophilia and statutory rape, which are crimes), and rampant environmentalism to the point of urging the annihilation of the human species.
Take a look at the entire segment below. Let us know what you think in the comments.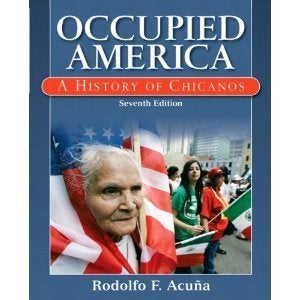 Latino Books Once Banned In Arizona
Popular in the Community