 Chances are, you're pretty familiar with Pinterest, the tremendously addictive site that allows users to "pin" any image from the Web -- from drool-worthy casseroles to out-of-this-world travel destinations -- onto virtual boards. Maybe you even used it to plan your wedding.
What you may not have heard as much about is the site's Iowa-born founder and CEO, Ben Silbermann. That's because he rarely speaks to the the press.
So we were delighted when he decided to sit down with us for an interview following a talk he gave at Camp Mighty, a recent weekend-long conference in Palm Springs, Calif., devoted to helping the mostly female blogger-and-online-entrepreneur-participants accomplish their life goals.
Over breakfast at the Ace Hotel & Swim Club's King's Highway restaurant, Silbermann opened up about the biggest myths about success in Silicon Valley, the most unfair criticism of the site and some of his scariest moments with Pinterest.

Huffington Post: There was a long period from when you launched the site to when you actually started to see a critical mass of visitors, right?
Ben Silbermann: Yeah, we launched in March [2010]. By June we had a few thousand users. These days, expectations are very high. Instagram hit 1 million users in three weeks. Some games hit 2 million users in two months. So the growth felt really slow by comparison.
How did you hang in there during those first slow months?
I always read about these stories of entrepreneurs -- it's like they're in the desert with no water, and they're the ones that survive. But I've been really fortunate to have people on my team who are optimistic about the future and who know that if you work through hard times that there's usually something good at the end.
What was the moment you knew the site was catching on with users?

There were two moments. One was when I realized that people really seemed to enjoy the site and the content. They really used it. I've worked on products that a lot of people used, but it was very light usage. This was different.
The second was, we had a meet-up at a store in San Francisco called Rare Device. A lot of real users came, and it was clear they had a genuine connection with each other, even if they didn't know one another. The process of sharing the things they were proud of connected them -- when people make a pinboard, it's how they literally see the world -- so that was very cool.
I use Pinterest for everything. Book collections, trips, hobbies. It's all there. I planned my wedding on it. When I had a kid, I planned all his stuff on it. So it was nice to discover that I wasn't the only one.
Wait, you planned your wedding on Pinterest?
Yeah! I found my wedding photographer on it!
We didn't build [Pinterest] specifically with women in mind. I personally believe that finding other people in the world that appreciate your tastes and interests is not a gender-specific thing. I think that our goal is to build a service that everyone in the world can use. We want to try to give you that moment where you find the collection or person and you think, "Oh my gosh -- I don't know that person, but they totally get me." It's like when you walk into a shop and half of you is like, "How is this happening? I thought I was so unique," and the other half is like, "Yes!"
Once the site started to take off, what aspect was most nerve-wracking?

I used to wake up and look at our analytics and think, "What if yesterday was the last day anyone used Pinterest?" Like, everyone collectively decided, "We're done!" Over time I got more confidence. But I still feel tons of urgency to make it better, to hurry up and fix all the problems.
Is that urgency just in your nature, or is it something about Pinterest itself?

Both. Definitely it's who I am. I always just want to move along to the next step. And it's also a function of the industry. When I worked at Google, we were [housed] in the [former] SGI [Silicon Graphics] buildings. The Facebook offices are in the [former] Sun Microsystems buildings. In tech, history is so recent. We've seen companies -- even since we've started -- get huge and then fall off, so there's this urgency to try to build something really valuable in a short time.
How does that manifest in the way you manage your team?

I'd never managed anyone before, so I don't have a lot of experience. But I'm lucky -- I have a lot of team members who have a really honest relationship with me. And there are definitely times when they're like, "You need to calm down."
Like when? You seem like a very calm person.

It's not like I'm jumping around the table throwing things, but one thing that's been hard to learn is that different people are motivated and inspired by different things. I'm not the kind of person by nature who celebrates everything. I just am like, "OK, great, let's move on, let's get better." [But I've realized] it's important to celebrate -- to let the whole team enjoy the moment without becoming complacent about it -- especially as you build teams.
And that's something you've had to learn?

Learning. We're having a holiday party and people are like, "What do you think the holiday theme should be?" And I'll be like, "I'm not a party planner."
So many copycats have sprung up in the wake of Pinterest's success. Do you consider those competition?

I think when it comes to places people go to find inspiration, there's a lot [of competition] both online and offline. And I'm neurotic -- I can name every competitor. We obviously pay attention to what's going on in the market, especially if there's a design that looks really, really similar -- and we've seen that. But I don't know if [those sites are] really competition per se. They're just different. The asset we're always competing for is time. That part of your day when you're willing to relax and invest in yourself. We're trying to make that time really rich. Come January, our users shouldn't look back and be like, "Oh my god, what a terrible waste of my time."
What's been the most unfair criticism of the site?
People say, "Oh, Pinterest is only about decadent desserts or cupcakes that look like hydrangeas." But I think there are actually a lot of people who use the service in a lot of different ways. Obviously there are trends, but I don't think the service is about the trends; the trends are a byproduct of people looking at things that they really love. And there's a big difference. I think as we get better and the site continues to diversify, we'll try to more and more quickly get you to things that you care about versus what everyone else cares about.
You're famously private. You said at one point that you had a press email account you didn't check or respond to for months. Why was that?
Early on we were just really focused on the site. There were three of us. We thought, "Should we make the product a lot better or deal with press?" Yes, we should have been more responsive. But the press took it as "OMG, these guys hate press. Who do they think they are?" And you know how press is. Even if you don't give them anything, they still have to write something. And then usually when we talked to them and they visited the office, they'd be like, "Oh, I get it. It makes sense. They're busy." Also, I'm sort of introverted. And when you take a sort of introverted person and ask him a lot of questions on the phone, sometimes good things happen and sometimes bad things happen. That's been the best thing about being able to hire people -- you can hire people who know all this stuff you don't know.
You won't discuss your business model or even if you make money. So what can you say about the future of the business?
When Pinterest works well, it helps you find things that are meaningful to you. We want to build a system that helps you do that. Some of those things are commercial and some of them aren't. In the best products, the monetization of the product doesn't feel like a tax on what you're there to do. I think there's an opportunity to do that, but it will take a little time to build. We're obviously not just gonna splash banner ads all over.
You have 80 people on your team now?
Yeah, and growing. It's kinda crazy.
In your Camp Mighty talk, you said your philosophy is about constantly positioning yourself at the intersection of terror and joy. What has been the most recent manifestation of that?
We just moved our office to San Francisco from Palo Alto. I've always been very thrifty. When you sign a lease for an office, it's a multiyear lease. We have an office space we rented that is a former women's shoe store we're going to convert that can accommodate 250 to 300 people. When I walk by, I think, "That's so cool." And then I also think, "Holy crap. Look at that big-ass building." It's exciting, but it's also like, "I'd better not fuck this up."
Below, check out images from this year's Camp Mighty in Palm Springs, Calif.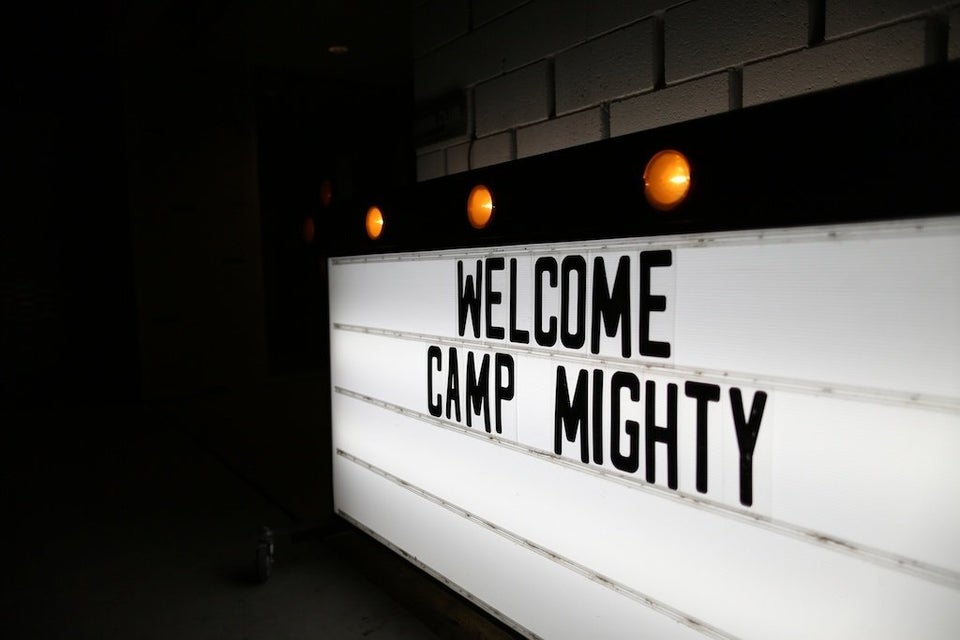 Camp Mighty 2012
Related