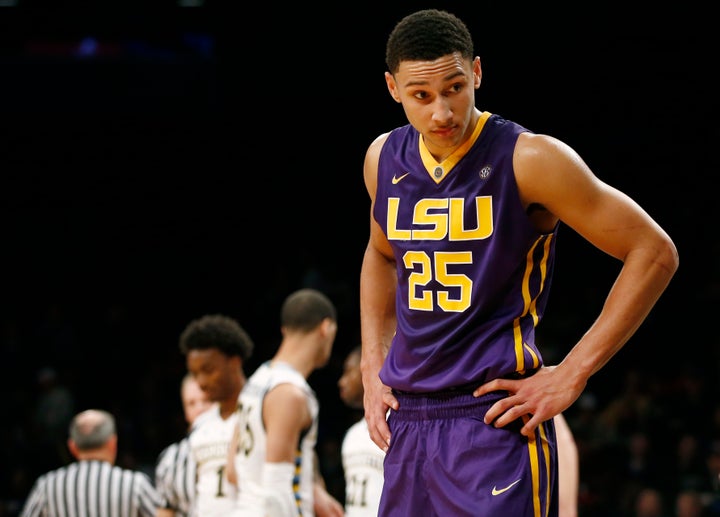 Before we could start to speculate Monday about what the future holds for LSU freshman Ben Simmons, he had to pass the "alien test." It's a simple, optics-based examination -- the sort of thing "Moneyball" railed against. The test is this: If an alien came down to earth to watch the warmups for this meaningless game, which player would the alien pick out as the biggest star on the court based on looks alone?
From my seat at the LSU-Marquette game in the Barclays Center in Brooklyn on Monday, it was clear that Simmons won. Doing lay-up line drills alongside teammates and standing amongst Marquette players, Simmons' body confounded. We love to compare prospects to pros, but Simmons, the 2016 NBA Draft's prospective No. 1 pick, just doesn't look like anyone. He has no comparable and might just be alien himself. The Australian point forward is 6-feet-10-inches and 240 lbs. with a 7-foot wingspan, but, like an NFL running back hitting the gap, he can uncoil, explode and then glide to daylight at a moment's notice -- and he can do so with the ball in his hand.
WELCOME TO BROOKLYN, BEN SIMMONS.
With LSU alum and New York Giants wide receiver Odell Beckham Jr. sitting courtside and a gaggle of New York-based relatives presumably watching closely, Simmons put up 21 points, 20 rebounds and 7 assists. That's an eye-popping box score, but in person, what was even more eye-popping was how effortless it all looked. Rebounding is a gritty, dirty task, and it should take maximum effort to collect 20 of them. But for Simmons, a well-timed hop and full wingspan extension was enough against relative ants. Playing with an unassuming look, Simmons' effortlessness could have been described by cynics as passiveness -- the same critique that once dogged Andrew Wiggins -- but that wasn't the reason here. His team really just didn't run much stuff through him.
Had they, and had his teammates knocked down more of the open looks Simmons created for them (the team shot 37 percent on the night), he would've easily had a triple-double. LSU barely used him as their primary ball-handler. Simmons only took the ball up the court in open, fast break transitions, but oh, my, did he use those precious moments terrorize backpedaling defenders to ooh and aah us.
Matched up against 6-foot-10-inch freshman Henry Ellenson, Simmons effectively played center all night, which made the inglorious work of rebounding, protecting the rim and setting screens his main responsibilities, which felt like a waste of his supernatural passing genes. That was disappointing, even if it was well-done and protected him from having to shoot from the perimeter (his jumper is a legitimate weakness in his game), because the crowd was itching to see more of this:
And this go-ahead bucket too. Just give Simmons the ball!
Simmons had to pace himself to a degree -- he literally played the entire game. But it was almost impossible not to imagine what Simmons would look like with the keys to the offense and more than a "FanDuel Legends Classic" trophy on the line.
It's no wonder why some college basketball types have dubbed him as the game's first "point-center." LeBron James, Larry Bird and to a much lesser extent, Lamar Odom, pushed the "point-forward" tag into our basketball vocabulary, but Simmons is single-handedly inventing a new position. He'll groove the ball through tight spaces for an assist on one play, crash the glass for a board over a big man on the opposite end, and then dunk all over fools for fun. There's seemingly no right way or wrong way to use him, which is why he's pegged as a savior for any NBA franchise. Just slide him in and let him work.
Crappy NBA teams, let the "Break and Bend for Ben" 2016 campaign begin.
Popular in the Community