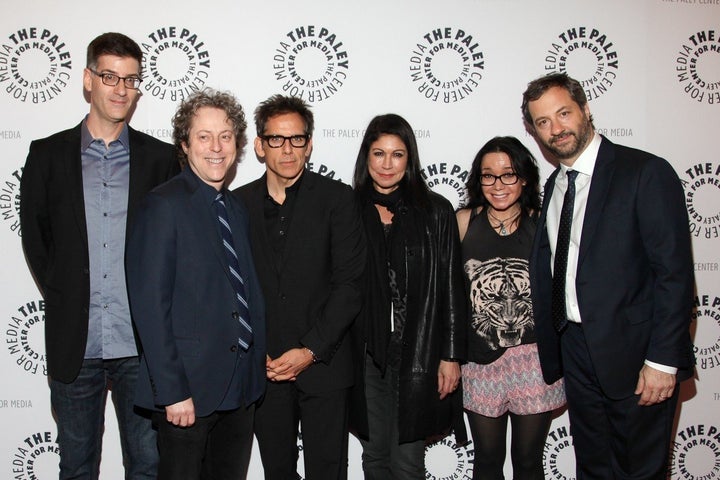 NEW YORK -- Perhaps the single best decision made before Saturday evening's reunion of "The Ben Stiller Show" cast at the Paley Center for Media on Saturday was to allow Judd Apatow to host the discussion in lieu of a traditional moderator. After all, Apatow served as a co-creator and producer of the short-lived MTV series, and his intimate relationship with the show allowed the conversation to flow better than an outlier's moderation would have provided.
In the two-hour program, which was part of the annual New York Comedy Festival, Apatow led a talk that included Stiller as well as cast members Janeane Garofalo, Andy Dick and via Skype, Bob Odenkirk. Staff writers Robert Cohen and Jeff Kahn were also in attendance.
Time has been kind to "The Ben Stiller Show." It only ran for one season in 1992-93, but after being canceled, the show won an Emmy for Outstanding Writing in a Variety Series. It also propelled Stiller to direct and star in feature films, starting with "Reality Bites" after the show ended. Apatow, of course, went on to work for "The Larry Sanders Show" and co-create "Freaks & Geeks" and "Undeclared" before his successful film career, and the other cast members, Odenkirk, Garofalo and Dick, went on further fame and fortune in their own right after the show ended.
But the entirety of Saturday's talk was devoted to discussing the series, now a cult favorite 20 years after it aired. The panel had a tone of old friends catching up over dinner: At first guarded, sticking to safe topics of discussion, but gradually swapping stories and "Remember when...?" memories of the show.
WATCH: "The Grungies," a sketch that parodies "The Monkees," but with '90s-era rock acts.
As each cast member noted, the show's cast and crew had a green, naive view of show business, rejecting network notes and creating fake resumes so they could hire their friends. But this tight camaraderie seemed to cultivate a creative atmosphere that gave the show its palpable sparkle.
And sometimes, that friendship had long-lasting effects. Perhaps the most memorable takeaway from the night was the revelation that Garofalo and Cohen, then dating, had an impromptu Vegas wedding in 1992, and that marriage had never been dissolved -- until now. She told the crowd that they had technically been married since then (although they split up years ago) and only on Saturday evening did she legally end their marriage.
Cohen quipped, "I'm going to get all that 'Reality Bites' money."
WATCH: "Melrose Heights," a teen melodrama parody.
Another highlight of the evening was the surfacing of long-held tensions over a fight that only could have taken place in the "Ben Stiller Show" writers room. In a parody of Woody Allen's "Husbands & Wives" (Stiller sarcastically questioned why mainstream audiences rejected them when he spent a sketch lampooning Sydney Pollock), Dick portrayed Woody Allen (as a mummy -- don't ask).
Dick's impression is spot-on, but he and writer Jeff Kahn spent a good ten minutes recounting an intense fight about who should get to play Allen. The fight ended with Kahn telling Dick that he "can't act your way out of a wet paper bag" and punching a wall in anger.
In retrospect, the image of two red-faced comedians having a Woody Allen-off in an office is a unique kind of laughable. But these moments seemed to shape the sensibilities of everyone on the stage, and would follow them throughout their career.
Dick himself got choked up at the end of the panel. The comedian has famously found his personal troubles in the tabloids, and he gave a heartfelt thank you to Stiller and Apatow for giving him the opportunity to be a part of a show beloved so many years later.
The sentiment was echoed by all on the panel. Odenkirk, who went on to create "Mr. Show with Bob and David" and produce several Adult Swim series, felt he created one of the most pure products of his career while on the show.
"I've never had a show that was this much fun," Odenkirk said. "I got to write what I wanted."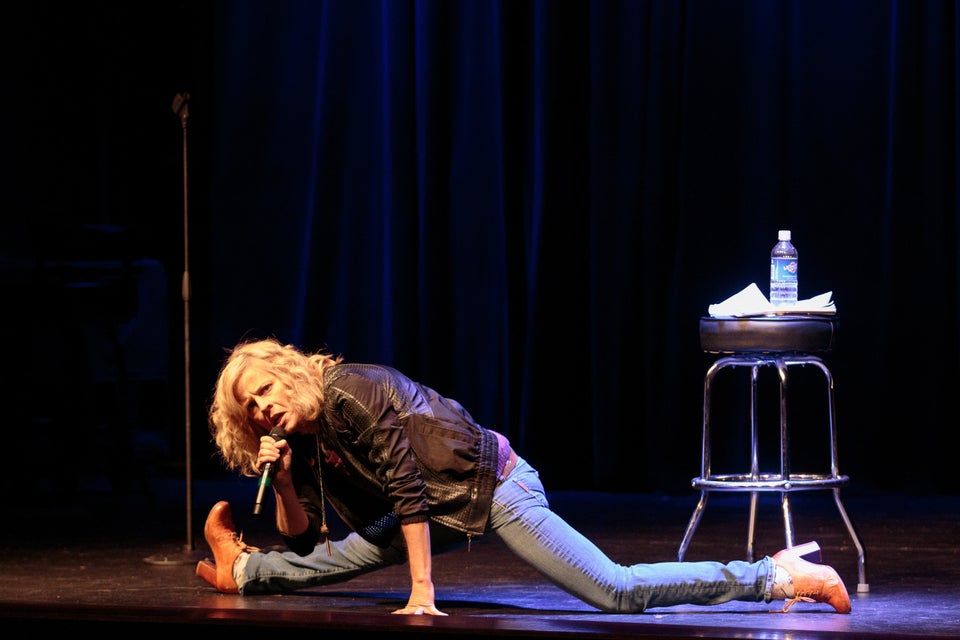 Funny Women We Love
Popular in the Community