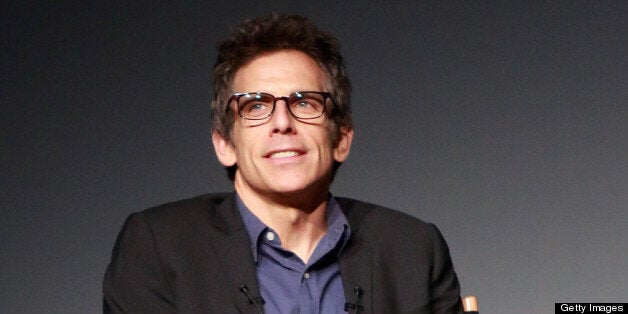 Ben Stiller and Jay Roach have known each other since first working together on "Meet the Parents" in 2000, and those 13 years of friendship made the pair's conversation at the Tribeca Film Festival on Sunday afternoon just that: a conversation. As part of the Tribeca Talks: Directors' Series, Stiller and Roach, both directors, discussed all matter of moviemaking and seemed to come to one unavoidable conclusion.
"It's really hard to get most movies made," Stiller said about the current state of the industry. "Especially independent films, and even just regular, mid-range budgeted dramas. The genre movies and sequels are obviously what becomes the thing."
Which is what makes Stiller's newest film such an anomaly. The 47-year-old directs and stars in the upcoming 20th Century Fox film "The Secret Life of Walter Mitty," an adaptation of the James Thurber short story of the same name. That work, which was originally published in The New Yorker in 1939, was previously turned into a musical with Danny Kaye in 1947; as Stiller noted on Sunday, however, his version will eschew singing and dancing. "I don't sing and dance," Stiller deadpanned.
"The Secret Life of Walter Mitty" has been Stiller's life for some time. Back in June of last year, he spoke to The New Yorker about the project and revealed just how difficult it was to get the studio on board.
"If I say to Fox that this movie is like 'Little Miss Sunshine' or 'Eternal Sunshine of the Spotless Mind,' they freak out, understandably, because they're spending real money and they need to sell it as a big comedy," Stiller, who has directed four feature films in addition to "Walter Mitty," told New Yorker writer Tad Friend. "So I keep referring to 'Forrest Gump,' because it wasn't a big comedy, really, but it also made a ga-zillion dollars. I'm trying to do two things at once: make a movie that brings in a lot of people, but also one that will be really good, and will last."
At the Borough of Manhattan Community College on Sunday, Stiller said that keeping the audience on its toes was an important part of filmmaking.
"I think movies that are good and sometimes defy tone are really interesting to me," he told Roach, who has experience with varying tones, having directed the HBO films "Recount" and "Game Change," two projects that mixed comedy and drama. "['Walter Mitty] is kind of its own tone. There's definitely comedy in it, but what I liked about Steve Conrad's script was that he was in touch with the emotion of this story."
"The Secret Life of Walter Mitty" is about a day dreamer (played by Stiller), who retreats into his inner life to live out fantasies. Kristen Wiig, Sean Penn, Kathryn Hahn, Adam Scott and Shirley MacLaine are among the film's stars.
"It got into some interesting areas that weren't only surface," Stiller said of Conrad's script. "At the end of the day, though, if the movie takes you in and you are in that world, you're not questioning what it's supposed to be. I think that's the director's job: to create the world that the audience feels comfortable in and can enjoy the ride."
Thus far, the ride is being praised. At CinemaCon in Las Vegas last week, Fox screened roughly 20 minutes of "Walter Mitty" for press and theater owners to glowing reviews. "'Secret Life of Walter Mitty' looks like an Oscar contender for Fox," tweeted Indiewire writer Anne Thompson.
"'Walter Mitty' feels like it could be a really special film, one that doesn't come along every year," wrote Slashfilm editor Peter Sciretta. "Heartfelt, funny, but with fantastical moments that are meant to be seen on the big screen in an audience full of strangers."
Not that Stiller would be too comfortable with those early raves. The actor said he stopped reading reviews around the time of "Zoolander" and, as he and Roach discussed, test-screening features isn't always the greatest arbiter of a film's worth. "Austin Powers," which Roach directed, scored in the 50s during previews. "For a comedy, if you don't score above a 70, you're going to get buried," said Roach. The "Austin Powers" franchise earned over $675 million at the global box office.
"Things that are familiar test better. Movies that people have seen before," Stiller said of the problem with pre-screening off-beat projects for general audiences. "We had the same thing with 'Zoolander.' I think it got in the high 50s or something. We were really excited because it got to a 60 and then the producer said, 'Take it to New Jersey, see what they think.' It went down, like, 50 points."
"The Secret Life of Walter Mitty" is out in theaters on Christmas Day.
PHOTO GALLERY
Tribeca Film Festival 2013
Calling all HuffPost superfans!
Sign up for membership to become a founding member and help shape HuffPost's next chapter
BEFORE YOU GO