It's hard to stop the fiery tour de force that is Ben Vereen. Recently seen introducing a production number for Jesus Christ Superstar on the Tony Awards telecast -- the man starred in a "JCS" back in the '70s -- the quintessential performer nabbed Tony and Drama Desk awards for his breathtaking work in Pippin nearly 40 years ago, and later went on to charm television audiences in Roots and Ben Vereen: His Roots (which garnered seven Emmys).
Although he's turned heads in numerous screen and stage works since, Vereen is suddenly jazzed about a new venture, something that's taking him back to the place where, he says, his career officially took flight: San Francisco.
Vereen got some of his first big breaks in the city in the early '70s, which should make his new Rrazz Room show, dubbed Steppin' Out Live With Ben Vereen all the more interesting. The show, which runs June 12-17, is slated to hit New York City later this summer -- a CD of the same name has also been released.
Think of the new outing as a high-energy tribute to the music of Broadway. There are a number of musical selections made famous by Frank Sinatra and Sammy Davis, Jr., among others, but audiences will also hear Vereen perform other classics such as "Life Is Just a Bowl of Cherries," "Mr. Bojangles," "Defying Gravity," that latter of which comes from all that he absorbed after appearing in Wicked in the mid-2000s. In a candid interview, the performer discusses the world of entertainment today, but also opens up about some of his own life challenges -- and chats about being Usher's godfather -- and the key to keeping one's spirits high... no matter what corner of sky you find yourself occupying.
Your new show sounds promising.
It's based on my CD. So, we're doing songs from my career plus some Frank Sinatra, Sammy Davis Jr., Bob Fosse. As a matter of fact, I did my first act in San Francisco, in a theater (off Broadway) -- the South Broadway Theater, and launched my career in the early '70s. From there, I went on to do Jesus Christ Superstar. It's going to be great to be 'home.' The show goes to Australia after San Francisco and opens in New York (at 54 BELOW) on July 10.
You've an amazing career -- from Broadway to screen. What's the secret to longevity, for you?
Perseverance. Never lying down. My mother had a saying. 'If you stand still long enough, they will throw dirt on you. Never lay down.' I had a teacher, he was 86 years years old and his name was Luigi in New York City, and he said, 'Never stop moving. You get to reinvent yourself.' So you have to find ways to reinventing yourself. Especially today, because it's a whole different market -- social media is so important.
Can you talk about that some more? How are you embracing the social media thing?
I have kids. [Laughs] I go to my grandchildren. They keep their grandpa informed on what's going on.
You seem to be good at reinventing yourself. Your career has spanned many decades and people respond to your work and what you're creating. What do you do to keep yourself going strong, even when you don't feel like 'going...?'
First of all you have to keep yourself healthy. Secondly, stay informed of what's going on -- know what the people want and service them with that information. You know, my godson is Usher...
And that's a good godson...

Yeah, a good kid. He's doing great work in the world. He keeps his fingers on the pulse on what's happening. Also, I coach young people. I have a group called BTP -- Broadway Theatre Project. [Vereen is BTP's artistic director.] We have a three-week intensive of singing, dancing and acting for kids from all across the country. And we're taking it to another level, called 'Beyond,' which will give them aspects on how to live life. So I talk to them and find out what's going on in their lives and, together, find out what they are looking for for their life.
You're keeping it fresh, that's good.
Got to. Also what it does for them, is that it gives them a sense of their foundation on where they are going; where they are coming from. And it shows them the responsibility of keeping a legacy going.
What are some of the ways theater has changed your life?
It gave me structure and a sense of discipline. It gave me a sense of a place to explore my dreams and my imagination... to be free. That's important for young people. I'm trying to give them a program where they can see that hunger of the arts. The theater gave that to me. And I want to give them a chance to explore that opportunity in life on a positive note, rather than a negative one. You know, I could have stayed on the street and ending up doing other things; being disruptive. But I came across something you can do in life that is 'life' itself. Because life itself is an art form. But we forget that. We're busy teaching kids to make a living instead of showing them how to live. BTP is also giving kids this opportunity, and at a time when we are struggling economically, but the arts will always carry us over to the next side.
You seem to be a positive and optimistic person.
You know something... it beats the alternative. A friend of mine, when asked how he is, he says, 'I am above ground.' And you know, when you are above ground, you have possibilities. It's a choice. I'm not saying that every day is milk and honey -- no. There will days when your head is going into the dark side, but it's your choice to stay there and play the victim, or get up and become the victor. I choose the victor -- today. And that's what I try to implement in my show. When people come and see my show, I try to infuse into them that they can walk away feeling like their lives are a victory.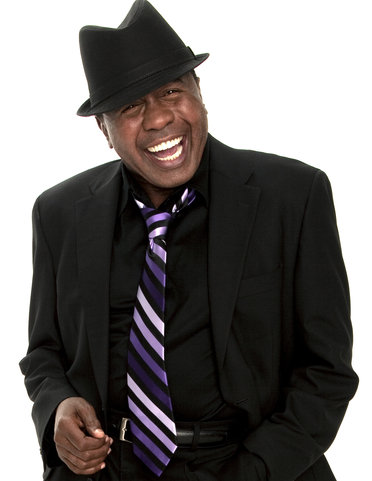 Photo: courtesy of Isak Tiner
You're also involved with S.T.A.N.D. (Start Taking Action Now For Diabetes)
It's about infusing people with the positive aspects of how to live with diabetes. Changing the dialogue: You're not suffering from diabetes, you're living with diabetes. You don't have a challenge with diabetes; you have an opportunity to a healthier way of life. And it's very simple -- change your eating habit, exercise, check your blood sugar and work with your doctor. If America would follow the regimen of changing eating habits and exercising, we'd have a healthier country.
It's about standing for a better way of life -- standing for a better country; for a healthier world; for a healthier future for our children. When I was diagnosed [in 2007] -- Christmas '07... that was my Christmas gift -- there were 23 million people with diabetes in this country. Today there are 26 million people, so we haven't done our job. S.T.A.N.D. is about changing the consciousness of the planet for the people living with diabetes.
What went through your mind when you were diagnosed?

Fear. When you are hit with something that is a tragic, or something that can cause death, right away, fear came in. I am not negating, that if you don't take care of yourself, things will happen. Yes. If you do the proper things -- change your eating habits, work with your doctor -- you can live a good life. I didn't know this at first, so fear jumped into my head right away. It was, 'Oh my God... how I am going to live with diabetes? Oh my God... they are going to take my leg. Oh my God... I am not going to be able to eat sugar... Oh my God, everything has sugar in it so how am I going to live?' Those fears came in, but once I became aware, all the fears went away.
Who were a few of your prominent influences growing up?
Sammy Davis Jr. He was the first one. He was the first black man I saw on TV doing it all. Then James Earl Jones. And then... Marlon Brando, Jack Nicholson were influences. But In the beginning it was Sammy Davis.
What are your thoughts on the entertainment world today?
It has changed because we are in changing times. Promoting is a different species now with the social network. There's so much, but we have to look closer to find the gem inside -- it's still there. Today, there are so many more ways to get out there and make it, but don't forget the foundation from where you came from -- bring that with you -- so you are not the flavor of the minute.
What do you love most about performing?
What I love about it? I am with the people... and they feed me and I feed them. It's a love fest. And I love it. I try to service them -- 'thank you for allowing me to service you.' I love service. And that's what I love about show business. It allows me to serve.
What's some of the best advice you've been given about life?
Best advice I've been given about life... is to live it. It's simple. Don't hurt anybody. And especially, don't hurt yourself.
And, what's the most interesting thing you've been learning about yourself lately?
That I continue to grow. I love that. I am in the school of universal learning and spiritual enlightenment and I am constantly growing and learning every day. But I must remain open to possibility. It's like if you close you hand, and make a fist, you can't receive the goodness which is being served. If you open your hand, you can receive all the good, because you have an open heart, and an open mind and with that comes an open spirit ...

Learn more about Vereen here. Watch a rare, televised "Pippin" moment from the early '80s, below:
Calling all HuffPost superfans!
Sign up for membership to become a founding member and help shape HuffPost's next chapter