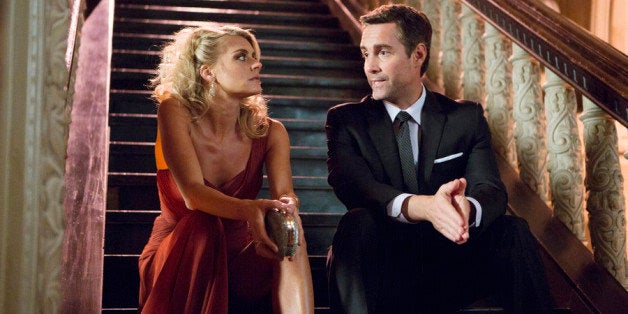 It's not too much to ask that a mainstream half-hour comedy A) be funny, B) know how to use its cast well and C) have a good idea of what it wants to accomplish.
But look at the lackluster fall we've endured, in both the hourlong and half-hour arenas: New comedies that fulfill all three criteria are not exactly thick on the ground. Fox's "Enlisted" is the last comedy I can think of that had the kind of assurance that USA's "Benched" shows in its early episodes, and if the USA show meets the gone-too-soon fate of "Enlisted," I may just have a "This is why we can't have nice things!" meltdown.
I've only seen three episodes of "Benched," and it's too soon to say whether it will scale the amazing heights "Enlisted" reached in its first and only season. But each episode of the USA comedy improved on the last and made me want to see more. If the pilot, about a disgraced lawyer, is a little broad at times, I didn't mind, because that's just the nature of most comedy pilots these days. In any event, the next two episodes are even more sprightly and amusing than the first, and everything I saw assured me that we are very far from the frustrating territory of "Bad Judge," NBC's recent attempt at a legal workplace comedy. That show may well be the poster child for half-hours that simply don't have a clear fix on their lead characters are or have a firm idea about how best to use the talented actors they have on hand.
Truth be told, I would have been slightly crushed if "Benched" had been wonky, because it stars two veterans of shows I really loved. In "Benched," Eliza Coupe of "Happy Endings" is Nina, a corporate lawyer whose career tanks in the opening minutes, and Jay Harrington plays Phil, a scruffy, cynical lawyer who schools her on the ins and outs of her less lucrative new job at the public defender's office. Harrington was the superb straight man on the late, lamented workplace comedy "Better Off Ted," and if you don't spend chunks of your life watching and re-watching that show on Netflix, I question your life choices.
"Benched" was created by Michaela Watkins ("Saturday Night Live," "Trophy Wife") and Damon Jones, an actor/writer who has worked with the Los Angeles-based comedy troupe the Groundlings, and the fact that both are performers may account for the confident way the comedy deploys not just Coupe and Harrington but the amusingly skewed ensemble around them. The sweetly loopy presence of Maria Bamford, who plays a fellow public defender, is a delight, and Oscar Nunez ("The Office") and Jack McGee ("Rescue Me") perfectly nail the roles of a frustrated office drudge and the gang's cranky boss, respectively.
Coupe is often asked to play wound-up, Type A characters, and she always does that with terrific energy and precision, but Nina is a little messier and less controlling than the actress' "Happy Endings" character, and that's not a bad thing. Nina's various crises give Coupe a chance to nail the show's nicely calibrated emotional moments, and the actress' status as one of the show's two leads gives her more scope to display her impressive physical-comedy skills. Watching Nina try to climb over a half-wall in a tight skirt is a whole lot of fun.
As for Harrington, it's easy to see Phil as a version of Ted Crisp who has been chewed up and spit out by the heartless corporate machine ("Worse Off Ted," perhaps?). Phil is a seedier, sadder character than Harrington is usually asked to play, and the actor clearly relishes the chance to bring texture and even heft to a role that could have been just another burned-out lawyer.
Despite his cynical demeanor, Phil fits in with the quietly energetic momentum of the show. True to the aspirational USA brand, Phil and Nina are characters who have a shot at bettering their lives, but "Benched" is too smart to beat the audience over the head with grating or cloying story lines about redemption. What's most plain and obvious about "Benched" in the early going is that its leads simply mesh well, which is something to celebrate. Coupe and Harrington take almost no time at all to establish the kind of comic connection that some shows taken entire seasons to find. Both actors make the big, goofy moments work, but they also excel at quiet put-downs, sly asides and flashes of insecurity. Perhaps down the road, Phil and Nina will be an item, but for now, the show is content to let its core duo percolate and its talented ensemble bounce off each other in amusing ways.
Speaking of Jack McGee, he may vanish from "Benched" at some point if his new CBS sitcom, "The McCarthys," does well. In that show, McGee plays the patriarch of a sports-obsessed Boston family whose gay son wants to distance himself from the suffocatingly close clan. I think of "The Millers," another CBS family sitcom, as the show that the prevents me from seeing Margo Martindale being great on "The Americans" and from enjoying Beau Bridges on "Masters of Sex," and now I will think of "The McCarthys" as the comedy that allows the terrific Laurie Metcalf to add to her bank account without inducing her to use much of her range.
I have nothing against "The McCarthys," which is broad, occasionally loud but generally competent, if not much more than mediocre most of the time. The thing is, it's a multi-camera family sitcom, a genre that has never appealed to me in general (as a critic, this is my Kryptonite, but at least I'm honest about it). That said, "The McCarthys" isn't terrible and Tyler Ritter is a nicely understated presence in the lead role.
But of the comedies premiering this week, "Benched" is the one I'll be following with avid interest. According to a recent report, USA is pivoting away from original scripted comedies, and it'd make me sad if "Benched" got lost amid the the network's desire to refocus on drama. It's rare to come across a comedy that displays such admirable focus and delivers such smartly packaged slices of diverting escapism.
"The McCarthys" premieres Thursday at 9:30 p.m. ET on CBS.
REAL LIFE. REAL NEWS. REAL VOICES.
Help us tell more of the stories that matter from voices that too often remain unheard.
BEFORE YOU GO
PHOTO GALLERY
Best TV Halloween Costumes